Witney Carson is in it to win it!
"Dancing With The Stars" enters its final week of competition tonight -- and with just two teams separating the 22 year old and partner Carlos PenaVega from the mirror ball trophy, Carson knows it could be anyone's game!
The star and the "Big Time Rush" singer topped the score boards last week, tying with Derek Hough and Bindi Irwin. The "Crocodile Hunter" star's daughter and her partner have been the one's to watch all season long, so does Witney think they're her stiffest competition?
"From the beginning, they were kind of pegged as the front runner throughout the entire season," she admits. "Now that there's four couples left, I feel like all four are just as equally as good as everyone else. I think that anyone could win at this point, I think it's anyone's game. Literally, all of the other three couples are competition right now!"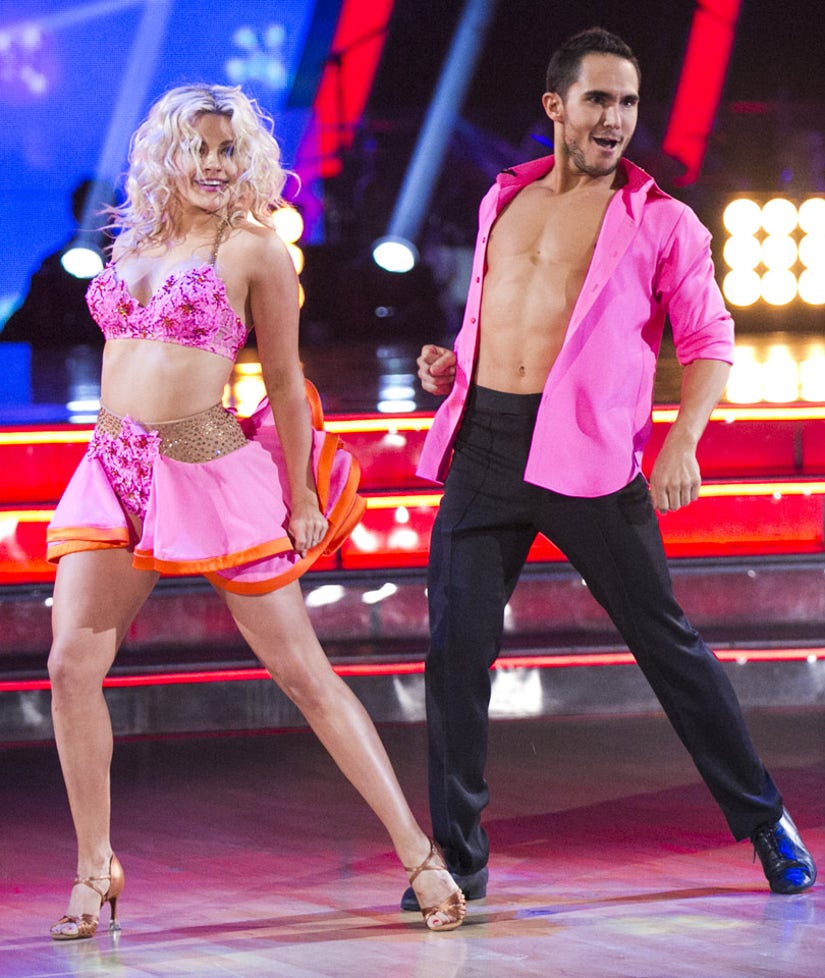 ABC
The "So You Think You Can Dance" alum already has one win under her belt, after taking home the trophy in Season 19 with partner Alfonso Ribeiro.
This time around, Witney was paired with one half of the series' first competing couple, Carlos and his wife Alexa Vega. Alexa was eliminated during week nine of the competition, something that was very emotional for Carlos.
"I definitely think it was the big shocker. They knew that point was going to come where it was going to be between them," Witney explains. "I don't think they thought it was going to be as brutal as it was. It was tough even being in that situation, they told us that we were both in jeopardy and we knew one of us was going to go home. It was really heartbreaking to see them go through that because you go through something together for so long, and then to all of sudden not have them anymore, it's super sad."
Something else that's shaken up the show this season are the health scares the celebrity contestants have faced during the competition. Kim Zolciak was eliminated early on after suffering a mini-stroke, while Tamar Braxton was forced to withdraw after being hospitalized. Witney admits that the competition can be especially hard on the celebs who've never danced, calling the injuries this time around "scary."
"Throughout every season anything can happen, we are pushing our bodies to the limit, especially the celebrities who've never done it before," says Witney. "They don't know what to expect, they're in rehearsals five to six hours a day, their bodies are tired. It definitely has been a season though where more injuries have happened, I don't know why."
It's also been a busy season for Witney off-screen, as the star got engaged to her longtime love Carson McAllister in October. Carson is the Utah native's high school sweetheart -- and she's already started wedding planning!
"We have been wedding planning it's been super fun," she exclaims. "I thought it was going to be way more stressful than it actually is with the season and everything, but it's actually been super fun, so I'm really happy and excited!
We'll also see some familiar faces on her big day. Witney revealed that the "Fresh Prince Of Bel-Air" star will be in attendance at her wedding and that his adorable 2-year-old son Alfonso Jr. will be her ring bearer!
Watch the entire interview above to see what Witney said about designing her dream wedding gown and tune into "DWTS" season finale tonight at 8pm and Tuesday at 9pm on ABC!