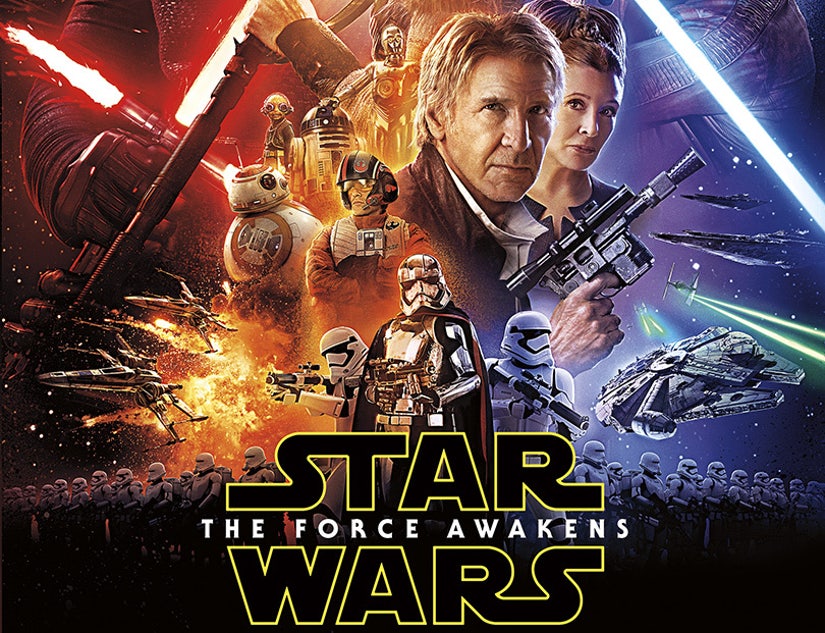 Lucasfilm
In less than two weeks, the moment "Star Wars" fans have been waiting 32 years for will finally arrive, as Han Solo, Princess Leia, Luke Skywalker, Chewie and their droid friends return to the big screen in "Star Wars: The Force Awakens."
The new flick -- helmed by J.J. Abrams and starring familiar faces mixed with a crop of new talent -- has been shrouded in secrecy since it was announced. Press covering the film's junket over the weekend weren't even allowed to screen the movie first, as Disney is working hard to keep coverage as spoiler-free as possible.
That being said, the cast and crew did reveal a ton of fun tidbits during two 30-minute press conferences, moderated by closet "Star Wars" superfan Mindy Kaling -- with the gang getting candid about everything from drinking on set to the one creature Harrison Ford wouldn't allow back for the sequels.
Here are the biggest takeaways!
1.) We could watch Carrie Fisher talk for hours
Fisher was, by far, the most entertaining person in the room -- and says her on-screen alter-ego Princess Leia has a sense of humor as well.
"She would have to. Wearing those hair pieces," she joked. "I do now have a baboon ass hairstyle. I mean that with love. So you need a sense of humor for that sort of thing. It keeps it lively and fun when you're getting shot at in everything. I had a kind of classy gas station attendant look. Look at it! I'd say I was an airplane repairman with a nice vest over that and different hair than most airplane mechanics would normally have."
When comparing her experience working on the new film vs. the original trilogy, she said the biggest difference was the booze.
"I was the only girl on an all boy set, which was really fun. You know, put things in their drinks, stuff like that," she said. "We drank through the whole trilogy in the beginning, this was a sober set. That's what J.J. brought, sobriety."
Fisher added that she had trouble remembering her lines this time as well too -- and was very nervous.
"It's been 40 years, it's been a long time and I don't like looking at myself at this age in a large way so that was scary and remains so," she added.
Her one disappointment: She couldn't get her dog Gary a role in the film.
"I wish, I begged J.J.," she explained. "Gary was willing to sleep with J.J.! I mean nap. He didn't like him on the set!"
2.) Gary wasn't the only one not wanted on set
The Ewoks and Jar Jar Binks are two of the most controversial members of the "Star Wars" canon. While the furry creatures from Endor were a welcome addition to "Return of the Jedi" in the eyes of children back in the day, most adults were not fans. The same can be said of the oddly-accented sidekick from "The Phantom Menace," who was thankfully sidelined in the following prequels.
But will either return in the new flick?
When asked whether we'd see any Ewoks, Abrams replied, "Living?" -- a response that was met with much laughter.
"There are no Ewoks in this film. There are rumors that some snuck onto set," he added. "But there are a lot of them in 'Return of the Jedi.'"
Lucasfilm president Kathleen Kennedy later added that "Harrison insisted on it" that the Ewoks not return, though it's unclear if she was joking. He definitely didn't seem like a fan!
She also confirmed Jar Jar wouldn't pop up either.
Lucasfilm
3.) Brienne of Tarth is breaking new ground
Gwendoline Christie stars as the franchise's first female villain, Captain Phasma, a role that was originally conceived as a man. Much has been made of Phasma's chrome costume, which was initially pitched for Adam Driver's character, Kylo Ren.
"The most difficult [costume] was Kylo Ren. We went through I don't know how many hundreds of thousands of iterations and different versions," explained JJ. "One of the great things about that was, over the course of that, the costume for Captain Phasma was designed. It was actually pitched as a Kylo Ren costume at first. For many reasons it didn't make sense, it didn't work, but we suddenly realized 'Oh my god, this is one of the greatest looking costumes I've ever seen' and he, then she, became one of my favorite characters in the movie."
"It makes me think this is what people want to see, a more diverse reflection of society," Christie says of taking on the powerful role. "If anyone else wants to offer me any other work, then I am very grateful and willing to listen," she added, commenting on fan support for her to play Captain Marvel.
The "Game of Thrones" star said she'd love to step into Han Solo's shoes too -- adding she thinks she has "a modicum of swagger as opposed to the Grand Canyon of it at the other end of the sofa," referencing Ford.
Phil Lord and Christopher Miller, you paying attention?
4.) Oscar Isaac and Carrie Fisher had the party trailers
At one point, Mindy said there's always one trailer on set where everyone goes to get high -- adding that she's sure nobody did that on this film, but asking who's trailer everyone hung out in.
"I went to my trailer," joked Oscar Isaac. "It was mostly going between Carrie and my trailers. The party trailers." Oscar even said his uncle went MIA while visiting the set one day -- and was later found kicking back with Carrie and Gary!
As for Oscar's on-screen activities, he teased a very unexpected love connection for his character, Poe Dameron.
"I think mostly with BB-8," Isaac said with a laugh. "Inter-droid? What would you call that? There's a real warmth there. There's a give and take, and that's who's got his back in that X-Wing. If there's any romance for Poe, it's with those two little balls."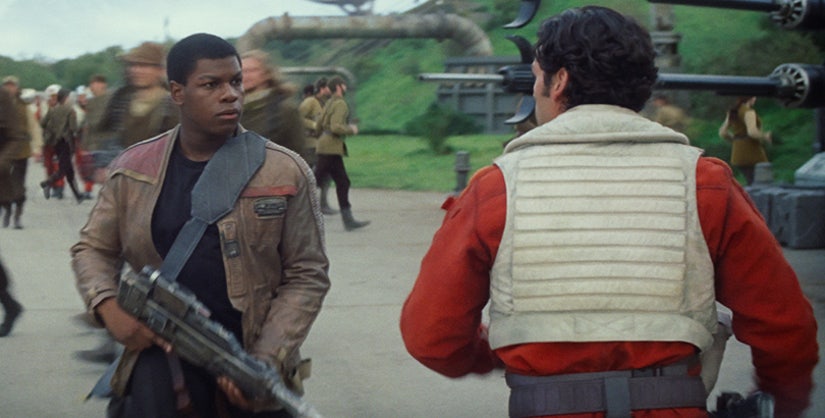 Lucasfilm
5.) John Boyega is living the dream
Boyega is living out what most "Star Wars" aficionados only dream of -- as he was already a huge fanatic before being cast as Finn in the new films.
"I get to wear a stormtrooper suit, a Rebel jacket, I use a lightsaber, a blaster, and get to hang out with Han and Chewie," he excitedly said during the press conference.
He also had quite the run-in with another franchise alum.
"I remember reading this theory that Finn is Mace Windu's grandson," explained Boyega, referencing Samuel L. Jackson's character in the prequels. "And I was at a party, and someone behind me just tapped me on the shoulder and was just like, 'Yo. Black Jedi!' And I turned around and it's Samuel L. Jackson!"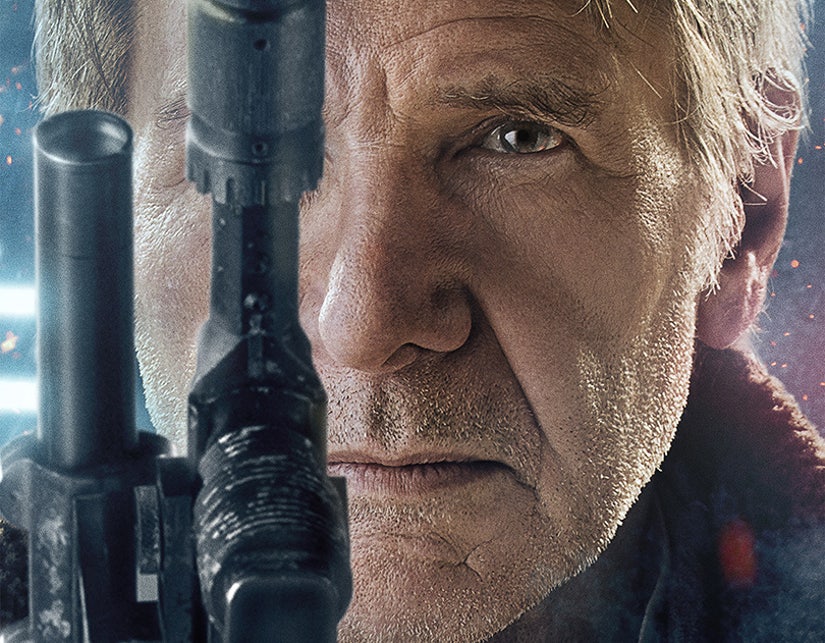 Lucasfilm
6.) Harrison Ford is cool, no matter what his kids think!
For someone who's been less-than-enthused about his "Star Wars" resume in the past, Harrison Ford seems genuinely excited and thankful to be part of the new films. That being said, it's not winning him any "cool points" at home.
"My kids do not think I'm cool, and being in this movie is not going to convince them otherwise," he said. "They're just glad to see dad is still working."
When the stars were reminiscing about their favorite scenes from the original trilogy, Christie said she was inspired by Princess Leia's badassery. What Ford said next was just perfect: "I assume you're not talking about the scene in a snake-bikini sitting on Jabba's lap? Because that's my favorite."
We're sure he's not alone.
Whoever survives "Episode VII" will start filming the next chapter in January. And don't expect any tease for that film when the new one opens; JJ promises there's no post-credit scene, adding that "All the scenes are actually in the movie."
"Star Wars: The Force Awakens" opens December 18.