Yolanda Foster is defending her kids.
Following Tuesday's episode of "The Real Housewives of Beverly Hills," the reality star took to social media and her Bravo blog to set the record straight, after Lisa Vanderpump questioned whether her costar's children have Lyme disease.
During the episode, Lisa claimed that Yolanda's ex-husband Mohamed Hadid did not believe that their kids, Bella Hadid and Anwar, suffered from the same chronic illness as their mother.
After the episode aired, the former model took to Instagram to share her thoughts, along with a photo of the 19-year-old daughter receiving treatment last year.
"Watching my brave babies suffer in silence in order to support me in my journey has struck the deepest core of hopelessness inside of me, it is because of them that I continue to fight relentlessly," she said in the caption. "I will not allow them to live a life of pain and suffering. I will prevail and walk to the end of the earth to find a cure for them and millions of others debilitated by this invisible disease!!!! We all deserve to live a healthy life, don't you think?"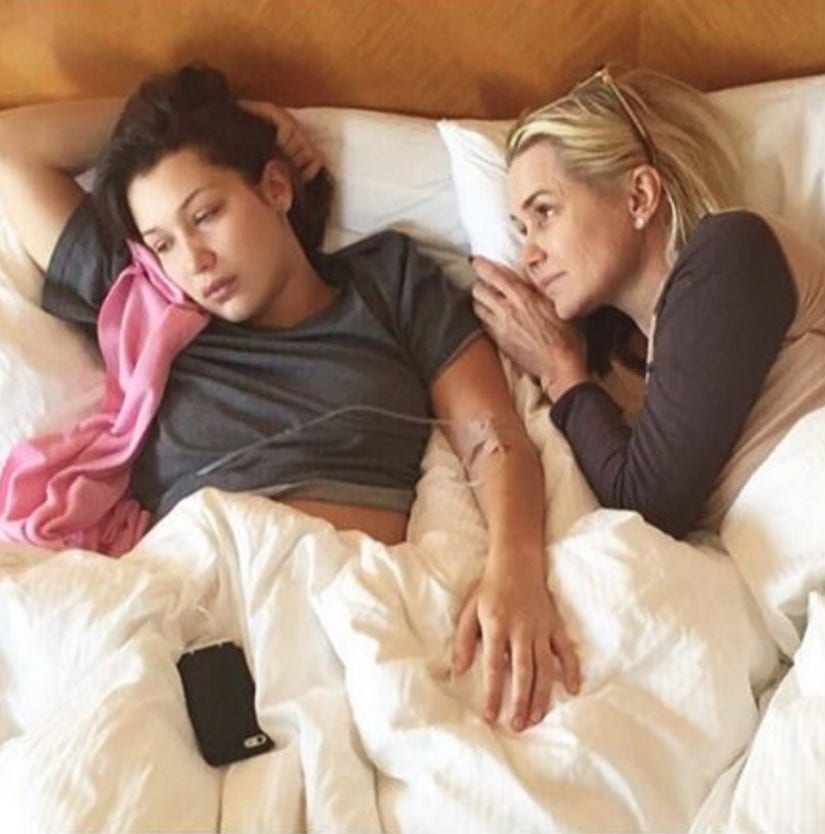 Instagram
But Foster wasn't done there. She went into even more detail about the events from the episode in a blog post.
"Tonight's show was disheartening. Still, I am the subject of conversation amongst 'friends.' Looks like I got out of dodge right on time at that barbecue," she wrote. "The only thing I saw grilling was gossip. I have nothing to prove and know that my journey is public due to the job I've chosen as a Housewife, but I can't accept something so delicate as my children's health being talked about in such a way. I know I'm not the only mother who would speak to this… It's one thing when your integrity is doubted, spoken of behind your back, but it strikes another cord when it's your children."
Yolanda explained that both her children were diagnosed at the end of 2013, after spending much of their time outside while living on a horse ranch in Santa Barbara for 10 years. The diagnosis was particularly difficult for Bella, who had to give up her lifelong dream of having a professional riding career and a shot at the Olympics because her symptoms were so severe.
Foster says her 16-year-old son has had success with regular treatments and still lives an active life.
Waiting for your permission to load the Instagram Media.
"With Mohamed's support, I have managed my children's healthcare on a daily basis since the day they were born," she added. "It is up to no one but us to make claims toward their health status. Shame on those who think it's OK to spread rumors and provoke doubt about something so heart wrenching."
For his part, the real estate developer issued a statement on his Instagram, declining to speak on the private matter of his children's health.
What do you think of Yolanda's candid comments? Tell toofab in the comment section below.