The Internet went wild when Gal Gadot was cast as Wonder Woman in "Batman v Superman: Dawn of Justice" -- but not all the reaction was positive.
Many fans took issue with the Israeli model playing the Amazon princess, saying she was too thin and didn't have the curves to fill out the character's signature costume.
"There were a lot of comments about the size of my breasts... I realized we can't please everyone," the actress tells Glamour in its April issue. "In one interview I did say, 'If you want it to really be true to the origin story, the [myth goes that] Amazons had only one breast; otherwise it would get in the way of the bow and arrow.' So!"
Despite the critics, the 30-year-old star says she's ready to play the most legendary female super hero in history.
"It was important for me that we show how independent she is. She is not relying on a man, and she's not there because of a love story. She's not there to serve someone else," she tells the mag of her character. "She has so many strengths and powers, but at the end of the day she's a woman with a lot of emotional intelligence. She's loving…. And it's all her heart—that's her strength. I think women are amazing for being able to show what they feel. I admire women who do. I think it's a mistake when women cover their emotions to look tough. I say let's own who we are and use it as a strength."
The road to becoming Wonder Woman was rocky, due to the intense audition process.
"I was in this weird career phase, going back and forth from Tel Aviv to Los Angeles for auditions. I kept getting pretty far—multiple callbacks, camera tests—then it would be a no," she explains. "Over and over. I was like, 'God, Yaron [her husband], maybe I should quit.' Then my agent called and said Warner Brothers wanted to audition me for something…. Zack [Snyder, the director] called before I met with Ben Affleck. He said, 'I don't know if you have this in Tel Aviv, but…have you ever heard of Wonder Woman?' My jaw dropped. I tried to sound nonchalant, like, 'Oh yeah, Wonder Woman, sure.'"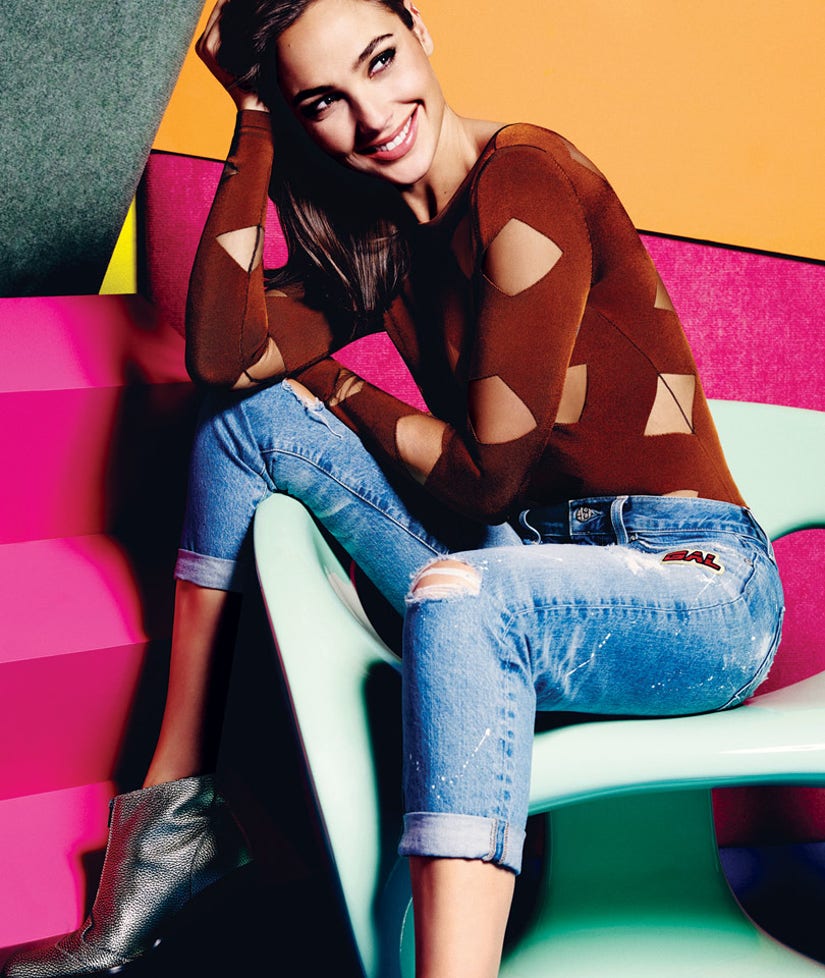 Tom Munro
While the "Fast & Furious" alum is now set to hit the big screen with Affleck, Henry Cavill and Amy Adams, acting wasn't always her goal.
"If things had gone according to my plans, I'd be a lawyer. I never dreamt of being an actress." She adds, "Nothing I planned happened. But whenever opportunity arose, I was prepared and positive. And all those things I didn't get, all those 'almosts'—if I got them, I wouldn't be Wonder Woman. What's mine is mine, and what's not mine was never meant to be."
Before her rise to fame on the big screen, Gadot was also in the Israeli army.
"Let me start by saying, I wish no country had the need for an army. But in Israel serving is part of being an Israeli," she says. "You've got to give back to the state. You give two or three years, and it's not about you. You give your freedom away. You learn discipline and respect. [After the army] I started studying law at university. While I was there, a casting director for 'Quantum of Solace' saw my modeling card on my agency's wall, and I auditioned to be a Bond Girl."
Check out Gal's full interview with Glamour to find out what her daughter, Alma, thinks of her Wonder Woman role. The latest issue hits newsstands on March 15.