Scott Disick and Kourtney Kardashian may be broken up, but that isn't stopping him from commenting on her Instagram photos.
The mother-of-three shared a sexy selfie on Sunday, where she was seen laying on her back in nothing but a sheer black bra. She even had a slight nip slip in the pic, which her ex noticed right away.
"Hell yeah get it girl I know 3 kids that those nips made into perfect Angels," Disick commented just thirty minutes after Kourt posted the photo.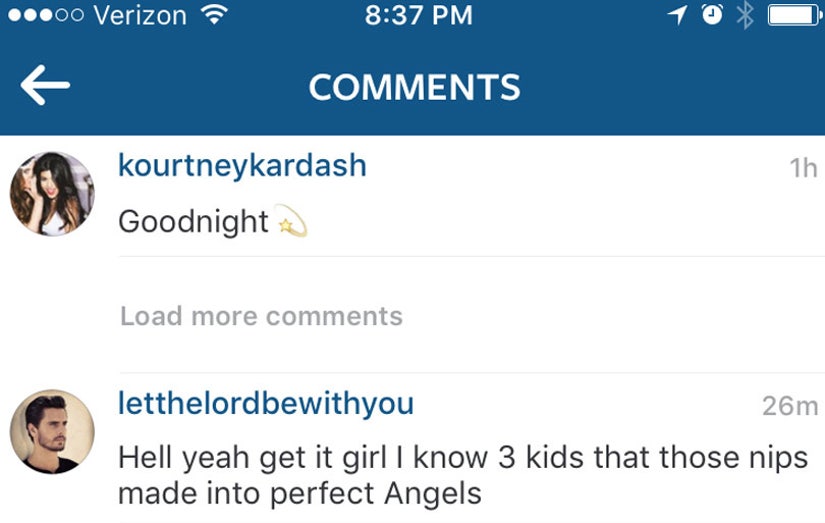 Instagram
The estranged couple has had a rocky few months. Scott was spotted drinking alcohol while soaking up the sun in Puerto Vallarta last week. After his Mexico trip, he hosted a party in Las Vegas at 1OAK nightclub.
He has been photographed partying several times since his latest rehab stint, after seeking treatment for substance abuse.
Disick told PEOPLE that he is no longer in recovery, but he's trying stay focus on himself right now.
"The truth is I just [want] to live my life and I want to have a little happiness and a little balance," he said. "The truth is rehab did help me and now I'm just trying to be responsible. I'm not out here trying to get wasted, but you know what, I will have a beer on the beach. I'm not doing drugs, I'm not doing anything insane, so I think people just need to relax."
"I'm not sure I can stay home every single night at 32 years old and be sane," he added. "In the end, I'm trying to live my life. I'm trying to live it healthy. I'm trying to be there for the people I love, which is Kourtney and kids, but you know what, we're not together."
On Friday, Kourtney posted a cryptic tweet, writing, "A smile hides my pain, a hug masks my heartache, and a laugh covers my tears."
Do you think these two will be able to work things out? Or is it over for good? Sound off below!
For more of today's hottest headlines, check out the video below: