After 19 years together, Maria Menounos and longtime boyfriend Keven Undergaro are finally engaged!
The TV host's beau/business partner just popped the question live on the air during her interview with The Howard Stern Show.
Midway through Howard's chat with Maria, he turned the mic over to Keven. "Are you about to propose to me, I'm gonna die," Maria proclaimed -- with Undergaro assuring her that he wasn't going to ask her.
"Listening to everything you said, what you've been through, I've been through it with you. I think about what we've been through as a couple. When we wanted to be together, we couldn't, because people didn't want us together," he said, referencing the fact her parents initially disowned her after she started dating Keven, because he isn't Greek.
"It was, literally, the past 17-18 years of us fighting together, me defending her as best I could," he continued. "It reminds me how much I do love you and although I said that this isn't a proposal, I want to ask you something, Maria. Would you make me the happiest man on Earth and would you marry me?"
His voice began to shake as he then got off the mic and got on one knee.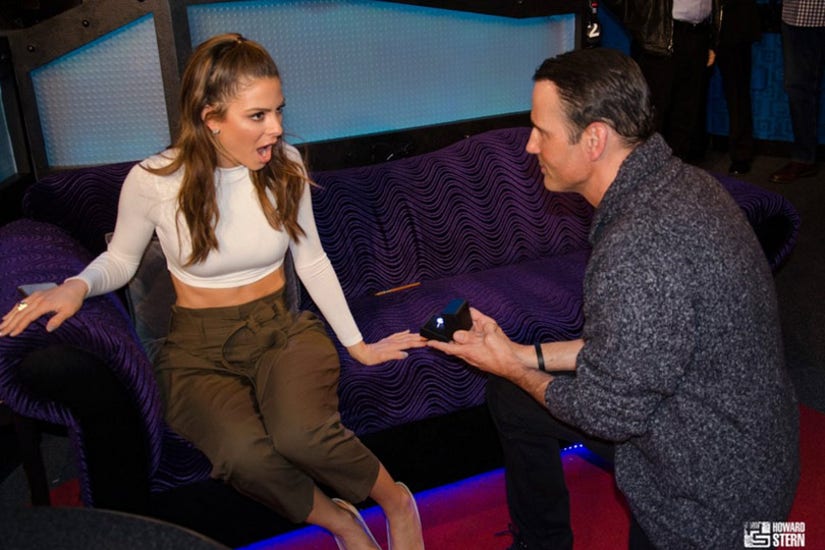 The Howard Stern Show
"Are you friggin kidding me right now?! Is this a joke?" a shocked Maria exclaimed.
"It's not a joke. This I wouldn't joke about. I love you so much and this show's meant so much to us. It's the first thing we listened to together, 19 years ago, in a basement on a twin mattress and I said 'One day you will be on that show and you will be a star' And here you are and here we are, so why not make it official now."
"Yes, yes of course!" she replied. "Oh my god, I can't believe this is happening!"
"Did I do O.K.?" Keven asked, referring to the ring. "You did amazing!" she replied.
Congratulations to the happy couple! Hear the proposal below:
Waiting for your permission to load Soundcloud audio.