There's nothing better than seeing a child smile!
Dwayne "The Rock" Johnson took a break from filming the "Baywatch" movie to say hello to a few patients at Savannah's Pediatric Specialty Ward on Sunday.
The actor shared the photo above via Instagram of him bumping fists with an adorable little boy named Aiden in the hallway of the ward.
"I surprised the children at Savannah's Pediatric Specialty Ward aaaaand look at the concentration on lil' Aiden's face!," he posted with the sweet moment. "We shot #BAYWATCH scenes at Memorial Health Hospital and thought I'd pop up to the ward. Awesome experience and THANK YOU to all the hard working and caring staff who helped make this visit possible. To all the kids I met - you guys keep smiling and staying strong. All the mamas and daddy's I met, y'all stay strong too.
"Gotta tell ya little stuff like this will always be the best part of fame," he continued. "And good Lord I wish I had Aiden's concentration when I was in my high school math classes. I wouldn't have failed Algebra twice."
The WWE star shared a second photo from his visit, where Johnson's pictured having a laugh with a young man named Christopher from his hospital bed.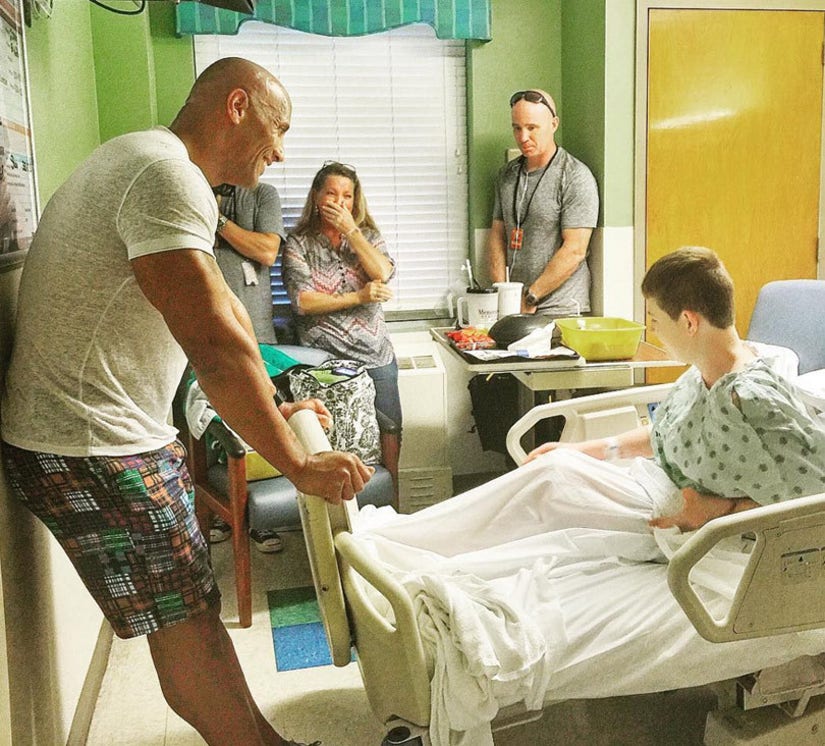 Instagram
"So I called an audible and went to visit Christopher. Glad we did... While I was visiting the Pediatric Specialty Ward surprising the kids, I got word from my team that there was a mom who was pleading with our production staff, that I go upstairs to her son's room to give him a much needed big surprise. Since he's older he's in the main hospital and not in pediatric care," he wrote with the candid photo. "We were shooting #BAYWATCH scenes outside of the hospital, but instead of heading back to shoot I called the audible, put production on hold and went upstairs to see this young man."
"I walked in and his smile lit up the room! And I mean lit that room up!;) We talked for a while about his family, his school and how hard he's working to eventually graduate AND we talked about how COOL all his scars are from his multiple surgeries - from his head to his chest - those scars are badges of honor and the reminder of how beyond tough this kid is," he continued. "Right before I left his mom looked at him and said, 'Christopher I can't give you anything, but I'm so happy I could give you this today...' and she started to breakdown, which was captured in this pic."
"Made me think to give so much credit to these parents who would do anything to take their kid's pain away and ANYTHING to bring a smile to their faces. As a papa bear I understand. Glad this mom brought a smile to Christopher's face. And glad I got a chance to shake the hand of this very strong and inspiring young man," he concluded.
Overall, it looks like the actor had a very memorable and special day -- what do you think about The Rock's sweet stories from the children's ward? Tell toofab in the comment section below and check out the gallery above to see more behind-the-scenes photos from the "Baywatch" movie!
For more of today's hottest headlines, check out the video below: