It's hard for Miley Cyrus to go unnoticed, and she was front and center at the New York Knicks game on Saturday.
The pop star sported a blue and orange jersey and a blonde double topknot as she sat court side with her sister, Brandi -- but it was her diamond sparkler that caught our eye.
The "Wrecking Ball" singer was snapped wearing the big bling on her left ring finger, and the ring looked strikingly similar to her engagement ring from ex-fiance Liam Hemsworth.
Miley reported is (re)engaged to the "Hunger Games" star, but she has yet to make an official statement about their reunion.
The two first started dating during the filming of "The Last Song" in 2009 and announced their engagement three years later. The couple hit a rough patch and ended their relationship in September 2013.
It seems the pair's relationship is going strong -- she even flashed a shot of her ring on the Jumbotron!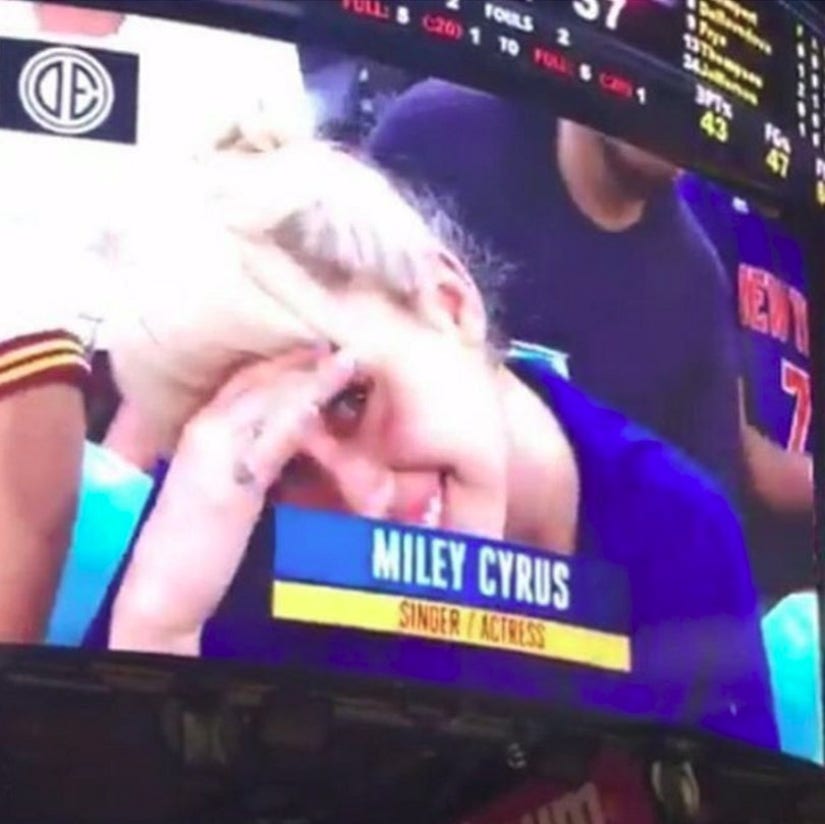 Instagram
At one point, the cameras caught Miley's smiling face on the big screen -- something which made Miley "embarrassed of all embarrassed," as she explained on Instagram after the game.
The former "Hannah Montana" star has a lot to celebrate these days. She recently landed a new gig as a judge on season 11 of "The Voice."
Cyrus and Alicia Keys will take a spin in the big red chairs next season, alongside show veterans Adam Levine and Blake Shelton.
"When Miley speaks everyone pays attention. Our artists are very lucky to have the benefit of her instincts and wisdom," NBC entertainment president, alternative and late night programming Paul Telegdy said in a statement. "Our viewers will be treated to an inside look at one of the brightest minds in music and the entertainment industry who is at the forefront of pop culture."
Be sure to check out Miley as a "key adviser" on the show this week.
For more of today's hottest headlines, check out the video below: