Jaime King is part of Taylor Swift's famous squad, but she just sees her as a part of her family.
The actress, who asked the "Bad Blood" singer to be the godmother of her second child, Leo, admits that the pop star earned the role for being "extraordinary."
"It's so funny, I wonder if people would ask, 'So I heard Sandy Larson is the godmother.' Taylor is no different to me than my sister is to me," she tells toofab's Rachel Hoffman. "When I step off the stage, and they say cut, I'm just Jaime from Nebraska. I'm a mid-Western woman and it's all the same."
"It's interesting that people think we're extraordinary. What I think is extraordinary is who [Taylor] is as a human being," she adds. "I chose her because she's loving and giving and caring – and she exemplifies that which I want my children to be around. We don't have our immediate family here, so to me, the closest thing to family is Taylor and [Jessica Alba.] Some of my friends are very much like my sisters. It's important to have that dynamic for me because that's the way I was raised. I'm very blessed."
The "Hart of Dixie" alum chose Alba as the godmother for her first child, James Knight, enlisting her help from the start.
"When I first had James Knight, I had her on speed dial," she says. "Trying to figure out how to travel, which stroller to use, how to do this, how to do that. In a world in which so many people have realized that the baby industry is such a big industry, it's really wild how many choices there are for things. I think it can be very confusing for moms sometimes."
"I think it's really important to have a friend or two or a relative that you trust," she declares. "For me, the key is not to ask for everyone's opinions. It's important to pay attention to your child and your own intuition. The more you develop your own intuition, the more you can connect to your child. Every family, and every mom, is different, so you have to trust and realize that as long as loving and caring for your child, you're doing the right thing for your child."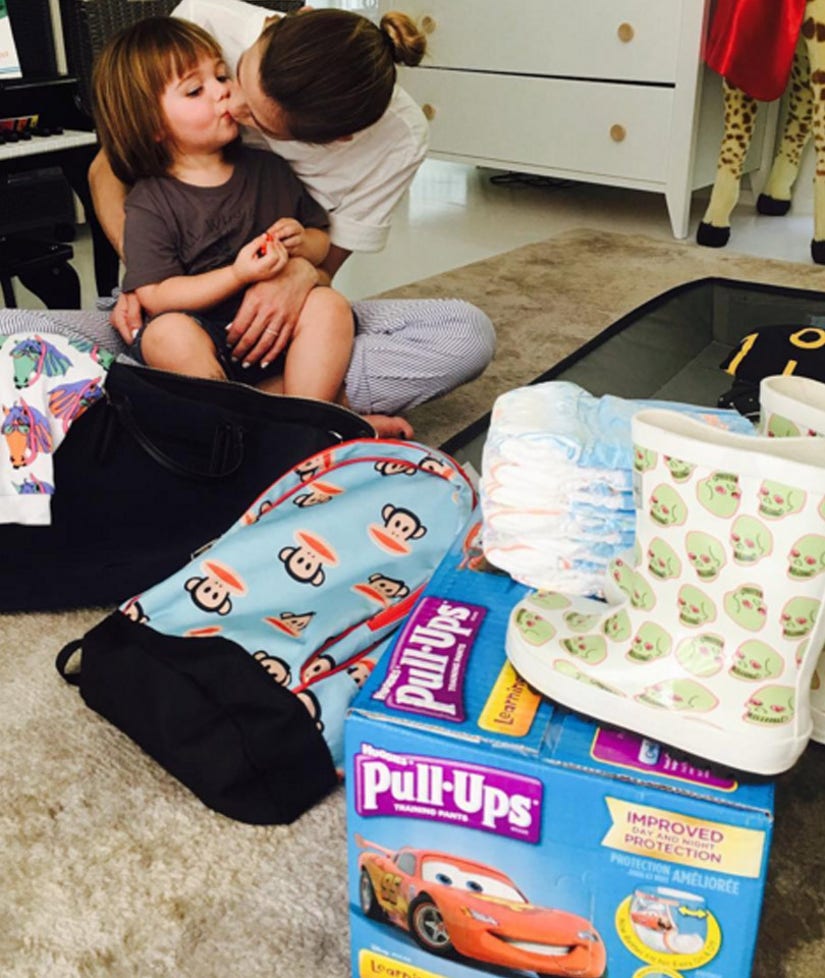 Instagram
One aspect of motherhood that she's learning to master right now is potty training. Jaime teamed up with the Pull Ups Potty Partnership to learn how to create a new way of potty training, based on her son's personality.
"I was nervous about the idea of potty training," King admits. "It was kismet that I partnered with Pull Ups because they have this really rad resource where you can go online and take a quiz, and I found out that James Knight was a Puppy. He really has taken to the process of potty training in a way that is really fun and exciting ... It's great because we've been able to integrate it into our life in such a seamless way, so that's how you handle being a busy working mom."
Not only is Jaime busy with her two kids, but she also recently launched a beauty line with Colourpop, "a makeup line that was perfect for every single race, color and gender."
"It was really important that I created a line of essential makeup that was vegan and cruelty-free and made here in America," she tells us. "It doesn't matter if you have extremely dark African American skin, if you are Persian, if you're Hispanic, or super Caucasian like me, all of it will look beautiful on you. Beauty should not be exclusive to anybody – it should be inclusive of everybody. That's how I feel about everything in life."