Khloe Kardashian is proud of her curves ... but not thrilled with how they're presented on the new cover of Shape.
While we think the "Keeping Up With the Kardashians" star looks flawless in a gray bodysuit on the May issue (on newsstands April 19), after dropped over 35-pounds after revamping her exercise program, she's not as enthused.
"Love Shape mag & I'm thrilled to be on the cover but we took so many better cover images," she posted on Twitter after the pics were released. "I wish they would have used the other set ups over that simple grey look."
Despite her disappointment in the photo choice, she's still extremely happy to be honored by the publication. "How f--king crazy that me... 'The fat one' is on the cover of Shape," she later commented, adding, "Be proud of ur shape. Be proud of ur journey."
Shape had no comment on Khloe's remarks.
Inside the mag, she opens up about her own weight loss journey and loving her physique.
"I love my shape because I've earned every curve. I work hard in the gym to get it," she tells the mag. "But I also loved my shape before, when I was even curvier. I was always incredibly comfortable in my skin. Everybody else saw me in a different way, but I didn't see myself that way. I still wore bodycon dresses back then; I didn't cover up with a muumuu. Today I put in the work to get the curves I have and every bit of firmness. I feel empowered and badass that I was able to accomplish everything I have."
The blonde bombshell has learned to make her health a priority, despite all of life's ups-and-downs.
"When Lamar [Odom] and I broke up, I had all these emotions that I didn't know what to do with. Some people suggested therapy, but instead I joined my local Equinox gym, where I'd get on an elliptical and watch bad reality TV," she explains. "As a result, I started losing weight. Once I realized I could shed some pounds that way, I began working out regularly with my trainer, Gunnar Peterson, and I made a commitment to get healthy. He taught me that the trick to staying motivated is to find what you really love to do. We did cardio, calisthenics, circuit training, Pilates, and boxing."
Not only has Khloe found a fitness routine that keeps her on track, but she also uses exercise as a way to keep herself calm.
"When Lamar was in the hospital, I stopped doing the one thing I really needed: exercise. The gym takes all the anxiety away when I'm overwhelmed or stressed out," she admits. "Now I'm back to three days a week with Gunnar and turning exercise into a habit again ... If I can't get to the trainer, I take classes at SoulCycle or Hot 8 Yoga. And if I don't have time to do to a class, I use the treadmill I have at home. This morning, I couldn't go to the gym, so I did 30 minutes on the treadmill, and now I feel so happy. It clears my mind of all the crap and puts me in a really good mood."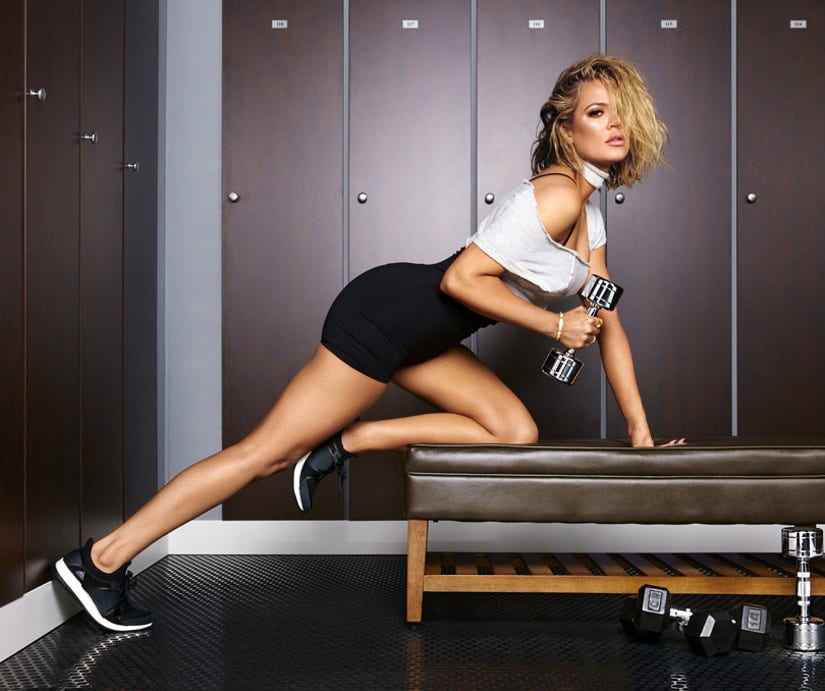 Shape
The reality star's body makeover isn't only because of fitness -- she saw real changes when she switched up her diet.
"Sticking with a regular workout routine definitely affects my diet. When I'm mindful about exercising, I'm mindful about the fuel I'm putting in my body," she says. "And I find that when I work out in the morning, I want to make better eating choices for the rest of the day. My biggest mistake when I'm really busy is that I tend to skip breakfast and end up starving or bingeing on fast food."
So, what are her go-to snacks? "I like a banana and almond butter for breakfast, a protein shake after my workout, Chinese chicken salad for lunch, and steamed veggies and chicken for dinner. I gave up dairy, and that totally changed my body, but it's the hardest thing for me to stop eating, because I love cheese."
Khloe's plan is definitely working -- this girl has never looked better!