Victoria Beckham is feeling the birthday love!
The fashion designer celebrated her 42nd birthday on Sunday, and she received some very special messages from her family.
Her handsome hubby, David, took to Instagram to share a sweet tribute to his wife, alongside a picture of the couple with the words "Loving you more" written in neon blue.
"Happy birthday to this beautiful passionate woman," he wrote. "Have the most amazing day and let us spoil you because you deserve to be spoilt by your husband and our gorgeous children. In 42 years you have been able to achieve so much and it feels you are only just starting .... Happy birthday we love you @victoriabeckham @brooklynbeckham @romeojames1234 @cruz_d_beckham."
The former Spice Girl couldn't help but gush about her fam, writing, "Thank you to my beautiful husband and babies for making my day so special. I am so happy!! I love u all soooo much!! @davidbeckham @brooklynbeckham X kisses,"
She also posted a picture of the notes she received from her kiddos. "From my babiesX #luckymummy X kisses VB X," she wrote.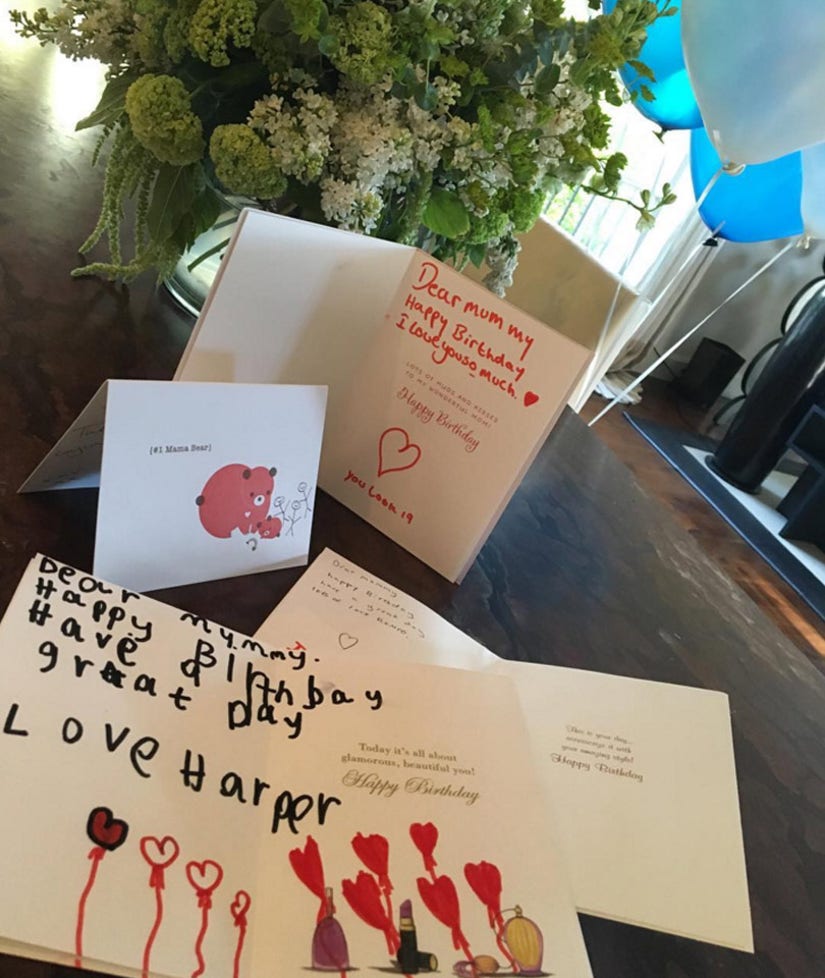 Instagram
Both Harper, 4, and Cruz, 11, wrote on separate cards, "Dear Mummy, Happy birthday. Have a great day." A card from another Beckham boy read, "Dear Mummy, Happy Birthday. I love you so much. You look 19."
"It's my birthday!!!!!" she wrote. "I feel so happy X A beautiful day with my wonderful husband and beautiful babies!!!! #blessed X kisses VB."
Sounds like a perfect day, right?!
For more of today's hottest headlines, check out the video below: