"Real Housewives of Orange County" star Vicki Gunvalson has a new man in her life and she shared their first photos of them together via Instagram on Sunday.
In one pic the reality TV star and her unnamed beau, Gunvalson poses cheek-to-cheek with her new man.
"Date night #10 ....I think. #fun, #happy, #lovescountry, #politician, #retiredlawenforcement, #helikesme," she posted with the cute candid.
It also looks like the 54-year-old reality TV star spent Mother's Day with him and her daughter Briana.
"Date night with my sister, niece and daughter at one of my favorite places," she captioned the sweet snapshot (below). "What an amazing guy. Taking it slow."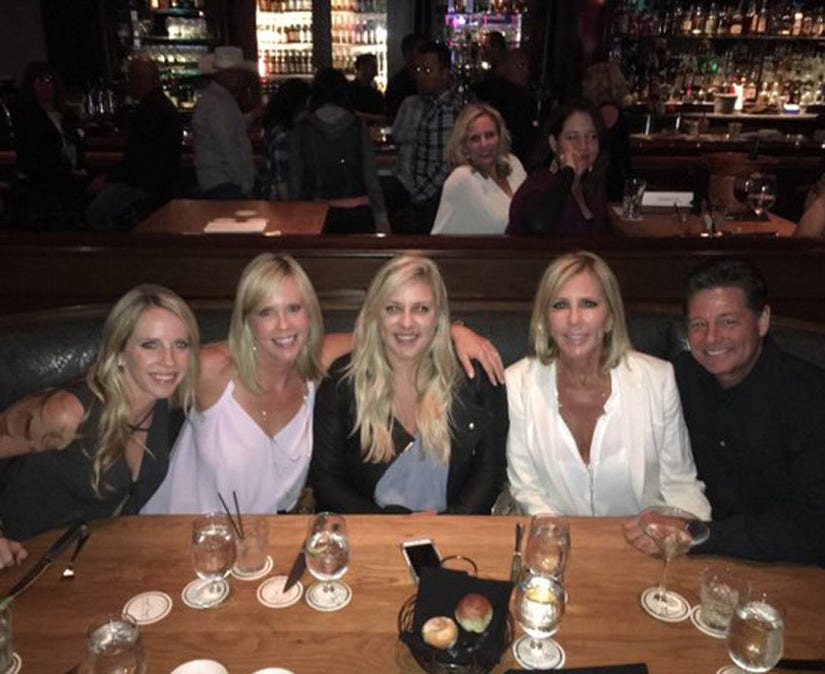 Twitter
Vicki previously dated Brooks, who appeared on last season of the "RHOC." Ayers infamously caused issues with Gunvalson and her daughter throughout their relationship, in addition to her cast members. He also allegedly faked his cancer diagnosis during the show, which became a huge storyline.
It was also revealed, during the reunion show, that Ayers allegedly tried to hit on Briana while she was pregnant!
"He hit on me when I was pregnant at your birthday party," Briana revealed in November. "And I told her that he did it, and she called me a liar and said that he would never want me."
"Briana called me after that and she felt so degraded and so humiliated," costar Tamra Judge likewise explained. "It was a big deal to her. It hurt her so bad."
"He wanted to show you his d**k!" Tamra reminded Briana. "Yeah, he told me it was really big," Briana elaborated. "That his nickname was 'Girth Brooks.'"
Vicki and Brooks eventually ended things for good shortly after the season, and he publicly apologized for faking his cancer documents on the show.
It's great to see that Vicki has moved on and is happy! What do you think about her relationship update? Sound off below and check out the gallery above to see more "Real Housewives" stars before the fame!