How does Jessica Alba get over a failed relationship? By getting a breakup tattoo.
On Thurday, the 35-year-old stopped by "The Late Show," where host Stephen Colbert was quick to ask her about the ink on her wrist.
"That was called 'My First Breakup,'" the "Fantastic Four" actress explained.
"Who with?" a curious Colbert asked.
Alba, who clearly didn't want to dwell on the subject, vaguely replies, "This guy."
And though, Colbert, picks up on her cues and suggests they move on, he nevertheless asks her if the tattoo is of her ex's name.
The brunette beauty empathetically shut down that theory before explaining her ink.
"It's lotus in Sanskrit," she said. "It means the manifestation of spiritual beauty."
"He was really anti-tattoos, and I felt like after I broke up with him, I, like, found myself again," she continued. "It's, like, unnecessary to talk about this. He's like a famous actor."
So, who could she be referring to?
Alba, who is now happily married to Cash Warren, may have been talking about ex-fiance and "NCIS" star Michael Weatherly. The two starred alongside one another in "Dark Angel" and Weatherly is tattoo-free, having only sported fake ink for a film role.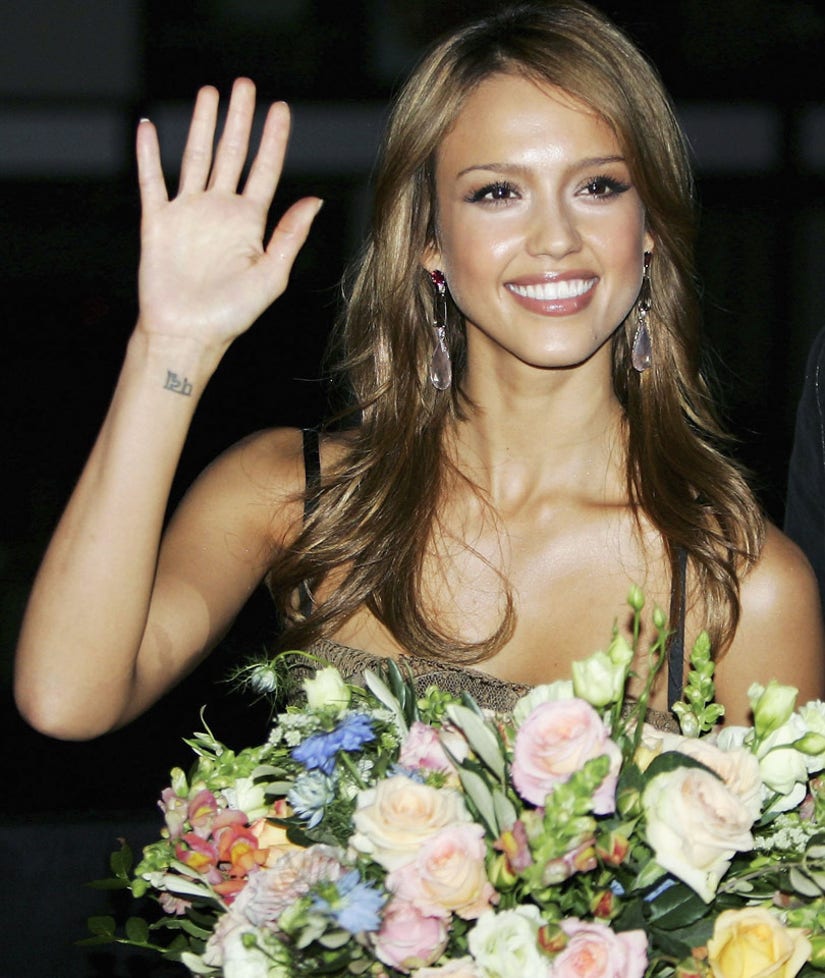 Getty
And while Alba's post-breakup tattoo may have helped her move past her relationship, she has admits having regrets about her body art.
"You're never going to be in the same place emotionally and mentally at 18 that you are at 20 or 25 or 30," said Alba, who also has floral neck tattoos, in for the September Issue of Allure. "Something that's meaningful to you when you're younger is not going to be meaningful to you five years later. I have a few tattoos. I'm not into them now the way that I was."