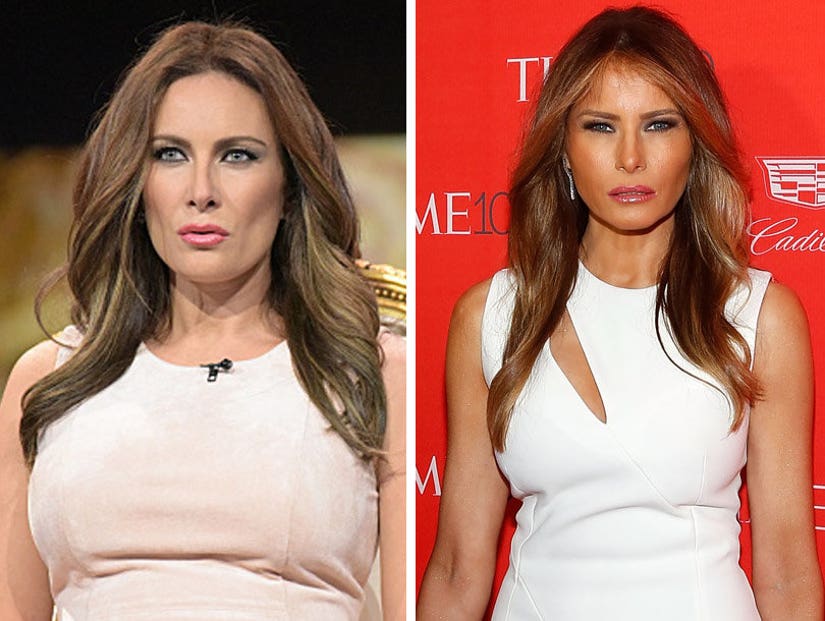 CBS/Getty
If Donald Trump wasn't a fan of Alec Baldwin's impression of him on "Saturday Night Live," we can only imagine what he thinks about this.
"Supergirl" star Laura Benanti reprised her hilarious Melania Trump impression on Tuesday's "The Late Show with Stephen Colbert," for a spoof on her sit-down with Anderson Cooper earlier this week.
On Monday, Melania told the CNN host that her husband's notorious conversation with Billy Bush was nothing but "boy talk," adding that the "Access Hollywood" reporter "egged" him on to "say dirty and bad stuff."
Well, "Melania" continued to stump for Trump with Colbert ... making it clear that there was "no one else in the room coaching me" before standing by her man.
"I said to my husband, those words are very unappropriate. Plus, he said them on a bus, disgusting," she said of his words. "This is not the man I married."
When asked if she's forgiven Donald, she shook her head no, while saying, "Ehhh ... yes?"
"Yes, apparently," she continued. "He explained it was locker room talk. I did not know this, but when American men gather to sport they always brag of grabbing women by the Billy Bush."
Colbert then asked about the women accusing her husband of groping them ... and Trump suggesting some of them weren't attractive enough for him to put his hands on.
"He's raw, he tells it like it is," she replied. "And these women, woof, amiright, uptop!"
"Boys, men, it's the same. No matter how nice they seem, secretly they're all foul-mouthed, Billy Bush-grabbing pigs," she continued in conclusion. "I'm talking about your husband, your brother, the pope, Luke Skywalker. All of them. they're all animals. If only a woman could be President!"
Wait'll you see her reaction when Colbert suggest she vote for Hillary Clinton instead.