Kim Kardashian may not be handling her website, but the new photos going up there sure look like ones she would have posted herself!
While Kim herself has been staying away from updating her official app, she's handed it over to her friends and family to do it for her ... and they're finally giving us some new pics of the suddenly reclusive reality TV star.
Kardashian has been MIA from the limelight ever since her robbery in Paris at the beginning of October. While she stepped out for a couple of Kanye's concerts, she did her best to stay incognito. The first new, personal photos of Kim hit her website on Friday -- as Rob Kardashian posted snaps of her with children North and Saint West at Kourtney Kardashian's Halloween party.
"Now you know Kim loves Halloween. She couldn't disappoint North once she saw she had a Princess Jasmine costume from back in the day," Rob wrote. "North is crazy into Princess Jasmine right now. So being the good mommy she is, she wore her old princess Jasmine costume to match North!"
"They got a magic carpet, lamp and Saint had to be Aladdin," he added. "Kourt threw a Halloween dinner for the fam. This will be my life real soon!"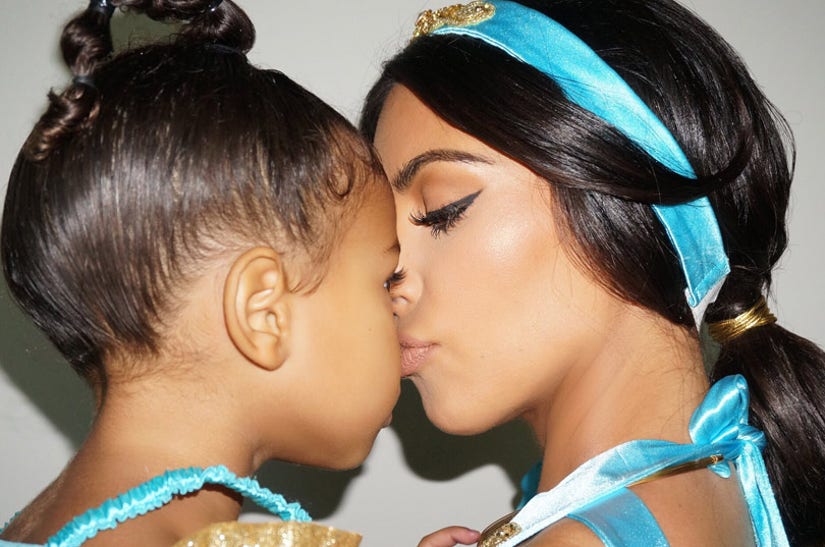 KimKardashianWest.com
Kim caught some flack after the pictures dropped online though, as some accused her of trying to upstage Rob's baby news. Kardashian and Blac Chyna had welcomed daughter Dream the day before.
The post-robbery photos continued on Monday, as Kim's assistant Stephanie Sheppard took control for the day to share another recent pic of Kardashian flaunting her infamous curves (top).
"So Kim and I were cleaning out her Halloween closet and we came across this purple belly dancer outfit," Sheppard writes. "North really wanted her to try it on since purple is her FAVE color ever! How amazing does she look?!"
We gotta admit, she does look pretty darn incredible!
The belly dancer outfit highlights the mother-of-two's amazing physique and killer cleavage.
We're glad to see Kim seems to still be having some fun in her life ... even if she's not sharing as much of it with her fans as she used to.
For more of today's hottest headlines, check out the video below!