Selena Gomez is back and better than ever!
In a brand-new Instagram post -- her first since entering seeking treatment for depression in August -- Gomez talked about her hard year, adding that "kindness always wins."
She shared the following photo and captioned it, "I have a lot to be thankful for this year. My year has been the hardest yet most rewarding one yet. I've finally fought the fight of not 'being enough.' I have only wanted to reflect the love you guys have given me for years and show how important it is to take care of YOU. By grace through faith. Kindness always wins. I love you guys. God bless."
Check out the moving fan photo she shared: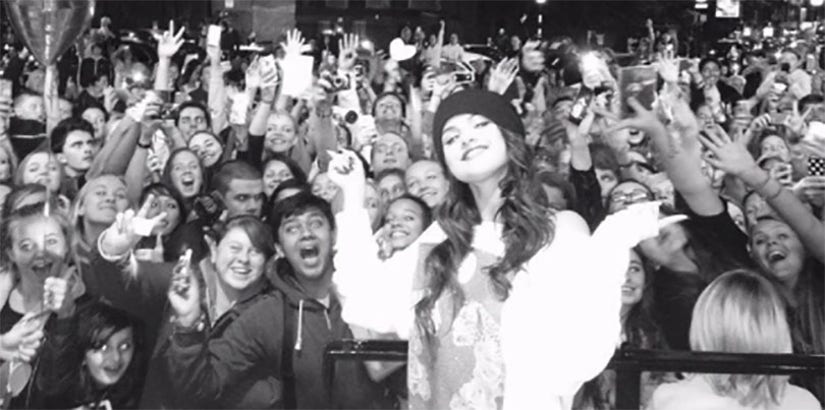 Instagram
Last weekend, Selena accepted the favorite pop/rock female award at the 2016 American Music Awards and told the audience, "If you are broken, you do not have to stay broken ... whether you respect me or not, one thing you should know about is I care about people."
She also claimed that Instagram and the superficial aren't concerns to her anymore. "I don't want to see your bodies on Instagram," she previously said, "I want to see what's in here. I'm not trying to get validation nor do I need it anymore. All I can say, from the bottom of my heart, is I am so grateful I have the opportunity to share what I love every single day with people that I love."
All of this comes months after Selena checked herself into a facility to seek help with her lupus diagnosis, as well as anxiety and depression. In a statement to People, Gomez said, "As many of you know, around a year ago I revealed that I have lupus, an illness that can affect people in different ways."
"I've discovered that anxiety, panic attacks and depression can be side effects of lupus, which can present their own challenges," she revealed at the time.
"I want to be proactive and focus on maintaining my health and happiness and have decided that the best way forward is to take some time off," the "Hands to Myself" singer continued. "Thank you to all my fans for your support. You know how special you are to me, but I need to face this head on to ensure I am doing everything possible to be my best. I know I am not alone by sharing this, I hope others will be encouraged to address their own issues."
We're so glad that Selena is on the up and up -- and know that through her strength, 2017 will be her biggest year yet!
Check out some of Gomez's most beautiful looks in the gallery above!