Steve Irwin may be gone, but he's not forgotten!
His 18-year-old daughter, Bindi Irwin, recently honored her late dad at the 10th Annual Steve Irwin Gala dinner, which she attended with boyfriend Chandler Powell.
Following in her father's footsteps, Bindi also took over the Australia Zoo Wildlife Warriors Instagram page, and shared a beautiful throwback photo of the Irwin family prior to Steve's 2006 death, and captioned it, "Thank you for joining me, @bindisueirwin On this Instagram Takeover. As the #SteveIrwinGala comes to an end this year we reflect on the beautiful memories we have of the ultimate Wildlife Warrior, my Dad, Steve Irwin. His legacy will live on forever."
Earlier, she shared a pic of a crocodile being humanely trapped for research, and captioned the snap, "G'day! It's @BindiSueIrwin again with the #WildlifeWarriors Instagram Takeover for the Steve Irwin Gala Dinner. Tonight we are about to auction the opportunity to come on our epic Crocodile Research Trip this August on the Steve Irwin Wildlife Reserve! Super exciting! And notice this fantastic image by Robert (my wonderful brother). #SteveIrwinGala."
On the Zoo's Instagram page, Bindi also shared a snap of her 12-year-old brother, Bob (far right), who was just two when his father passed away ... and not only is he getting so big, he looks just like his dad, Steve Irwin!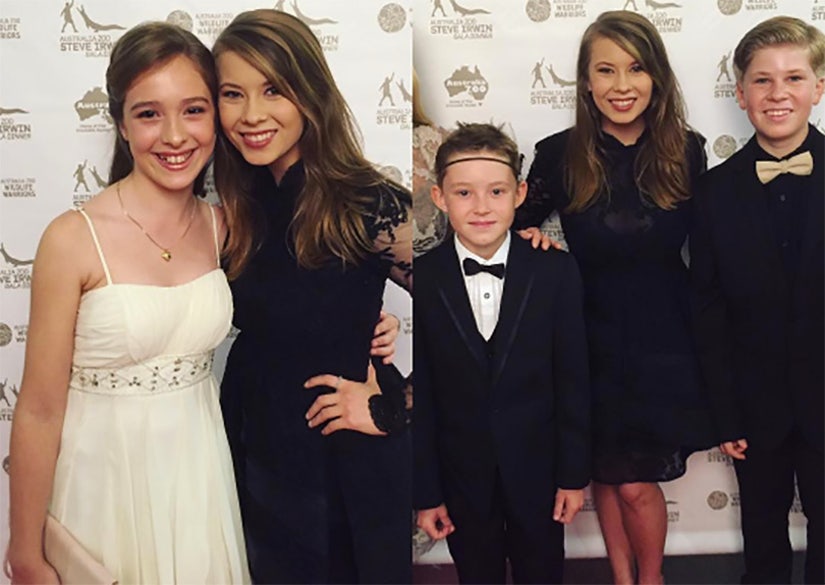 Instagram
We're so glad to see that Bindi's continuing the great work -- for a good cause! -- that her father began decades ago!
Check out some more adorable celeb offspring in the gallery above!