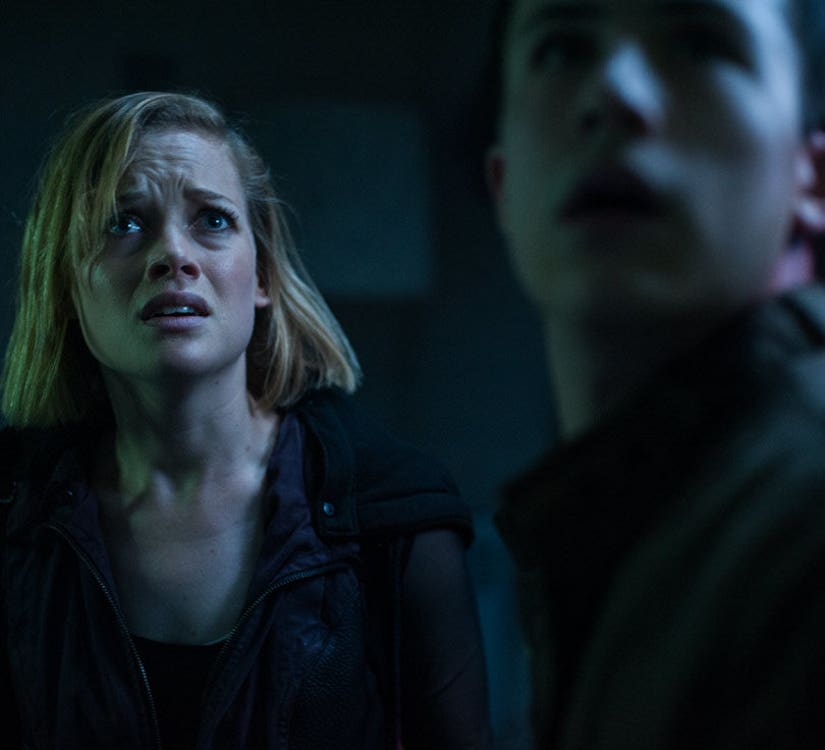 Sony Pictures
"Don't Breathe" was the freaky little thriller that scared up some major box office this summer.
Starring Jane Levy, Dylan Minnette and Daniel Zovatto, the flick follows three teenage thieves whose lives become a living hell when they attempt to rob a blind man (Stephen Lang) with a dark secret.
With the home invasion flick now invading home video today, toofab's Brian Particelli chatted with the film's "final girl" about some of the movie's craziest twists and the controversy over one of them, a potential sequel and her love of the horror genre in general.
toofab: Director Fede Alvarez previously said he liked to keep you guys on your toes on the set, there was a little bit of misdirection and actual scares going on. How many of the scares we see in the film are the real deal?
Levy: I can't think of any! I was like a little bit intimidated by Stephen Lang. He's very strong and takes his job seriously and in some of the physical scenes I was actually in pain. He's a respectful, professional actor of course. [But] there are times, he's blind, he wears contacts, so he would actually step on you, actually pull your hair.
toofab: Between this and Evil Dead, Alvarez likes to put you through the wringer. When you get these scripts or you talk to him about these projects, do you ever go, 'You want me to do what?!'
Levy: A little bit, yeah, but I'm also tough, I can handle it!
toofab: When you're first reading the script for this film and you get to that turkey baster scene, what is your initial reaction? [Note: In the film, The Blind Man has kidnapped the woman who killed his daughter in a hit and run, locking her in the basement after impregnating her with a turkey baster against her will. He later threatens to do the same to Levy's character.]
I think that it is a tricky scene and I understand and agree with the argument that it's maybe a cheap shot. Rape is in movies and storytelling all the time, especially horror movies, and to me is not actually that shocking. The shocking part of it is obviously the tool in which this man choses to rape. The way it was shot, except for the baster going into the guy's mouth, it wasn't very explicit. It was shown in cutaways. I think, as an audience member, you don't exactly catch on what's happening until you see the closeup of the hand with the drip.
What makes it different is ... it's not explicitly violent, it's more of a mind f--k for the audience. You don't actually see any nudity, you don't see any contact between the blind man and Rocky but we're all squirming because we're thinking about what's gonna happen and I think that's what made it different and a little bit more sophisticated.
toofab: Did you pay attention to the reaction when it came out? It definitely was split.
Levy: I have read a lot about what people have to say about it. I understand the argument that rape is not that exciting. Obviously, it's a horror trope and I guess that Fede just did a real twist on it. It's been amazing, the response to the film overall.
toofab: I know Sami Raimi and Fede have said they have the "greatest idea ever" for a sequel. Have you heard any of their thoughts?
Levy: I haven't heard their thoughts. I believe it'll be very great and I'm sure it'll be something nobody expects.
toofab: Is that something you would love to be involved in if they decided to bring Rocky back into the fold?
Levy: If they decided to bring Rocky back into the fold, I'm in. Of course, I'd have to throw on my superhero outfit and ... I was just about to say something really vulgar ... maybe put on an amazing chastity belt and go kick some more ass!
toofab: You've done a great job as the "final girl" in two horror films now. What is it that draws you to the genre?
Levy: I've been thinking a lot about this and I think the reason these roles have come to me early in my career is because I'm a fighter, I'm physical and in a way, horror films have oppressed women, sexualized women and punished women for being sexual ... but at the same time, a lot of horror films have really celebrated female resilience and female strength and I appreciate that. There's really a lot of amazing, classic female heroines and ... it's a complicated idea, whether horror films celebrate femininity or not, but I think the two horror films I've been a part of definitely have and I'm proud of that.
toofab: Are you allowed to tell us ANYTHING at all about your role in the upcoming "Twin Peaks"?
Levy: I'm not. Confidentiality, whatever, unfortunately. I'm really so happy I got to be a part of it. It's my favorite show.
toofab: Has it been hard to keep the secrets?
Levy: No. The most exciting thing for me to share is that I got to be a part of it, once I got to share that, I don't need to share the details!
While we wait to see Jane head to "Twin Peaks" sometime next year, you can check her out right now in "Don't Breathe," available on Blu-ray and DVD today.