Victoria's Secret model Flavia Lucini made her big debut at last year's fashion show -- but that doesn't mean her nerves have gone anywhere before tomorrow's runway!
toofab caught up with the 27-year-old Brazilian beauty before hitting the catwalk for the lingerie brand on Wednesday night in Paris, where she opened up about how she got her body runway-ready, how she plans to celebrate once the big show is over and shuts down misconceptions that models are nothing more than a bunch of pretty faces.
toofab: How did you celebrate booking this year's show?
Lucini: I celebrated with my boyfriend Leandro by going to a very nice dinner and drinking lots of champagne, but I'm still celebrating it!!!
toofab: This is your second Victoria's Secret Fashion Show — is it still as nerve-racking this time around?
Lucini: Yes, I'm very nervous. If this was my 20th Victoria Secret Show I would feel the same nerves.
toofab: Did your preparation differ at all for this year vs. your debut last year?
Lucini: Yes, my workouts changed this year. Last year I was doing a lot of boxing and running and this year I am doing yoga, SLT and working out.
toofab: We've seen a lot of VS models boxing to prepare — do you do anything outside of the box to keep in shape? What's your go-to workout?
Lucini: I'm doing Ashtanga yoga, meditation, and gym every day; besides that, I changed the way I've eaten over the past six months. I cut out a lot of processed foods and studied a lot about nutrition and what helps the body properly function.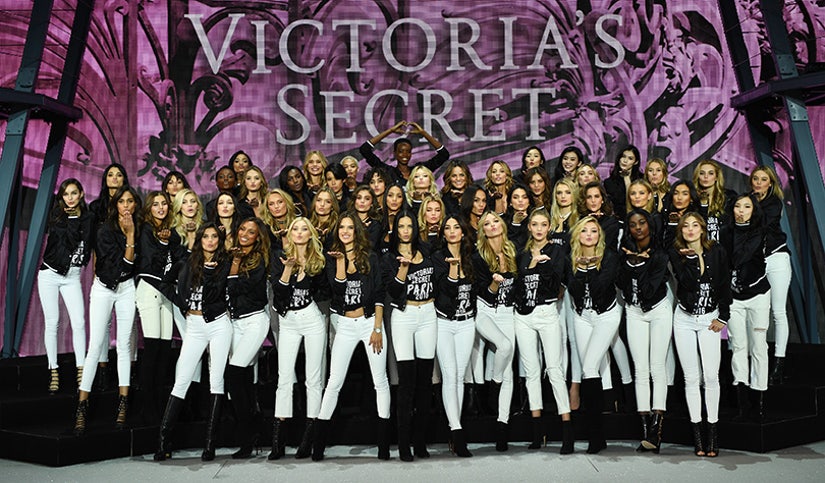 Getty
toofab: The big show is in Paris this year, are excited to get over there? Will you have any downtime to sightsee/have a favorite place in town you'd love to show to other models?
Lucini: I'm very excited to walk in Paris, my favorite city. This time I'm going to be very busy with the VS show, but if we have time I will bring the other girls to the Louis Vuitton Foundation, it's so inspiring.
toofab: Can you tease any of your outfits at this year's show?
Lucini: No, I can't say anything before the show but I can say it's very strong and sexy.
toofab: How will you celebrate after wrapping the runway?
Lucini: I have a lot to celebrate. This show in Paris is going to be very special for me. My father and my boyfriend are going to attend the show, it's another dream coming true that I can share this experience with them. Besides that, I have good friends in town, we will dance until the sunrise!
toofab: What do you think is the biggest misconception about Victoria's Secret models you'd love to break?
Lucini: I think the biggest misconception is the idea that models are just pretty. We are born with something interesting for the fashion industry and that's why we are here but we have other interests and are smart!
See Flavia strut her stuff when she walks the Victoria's Secret Fashion Show this week. We'll have photos tomorrow -- but the show will air Monday, December 5 on CBS.