Trevor Noah was extremely animated on Thursday's "Daily Show" as he discussed Donald Trump's impending presidency and latest cabinet picks.
"Sometimes I think Trump is trolling us, people," Noah said. "America's just got a troll that's trolling everyone because you realize, almost every single person he's picked for his cabinet wants to destroy the thing that they've been put in charge of."
Noah mocked Trump's pick for EPA Administrator, Scott Pruitt, who's climate-change critic. He also addressed Trump's reported pick of Andy Pudzter, who is a fast food executive, to the Secretary of Labor position. Pudzter was previously opposed to raising the minimum wage over nine dollars per hour.
"And what makes it worse than a roller coaster is the fact that this ride is going to be four years long. And the scariest thing, is we're still just waiting in the line. The ride hasn't even started yet. And today was definitely 'ahh!' " he said, about looming Presidential cabinet appointments.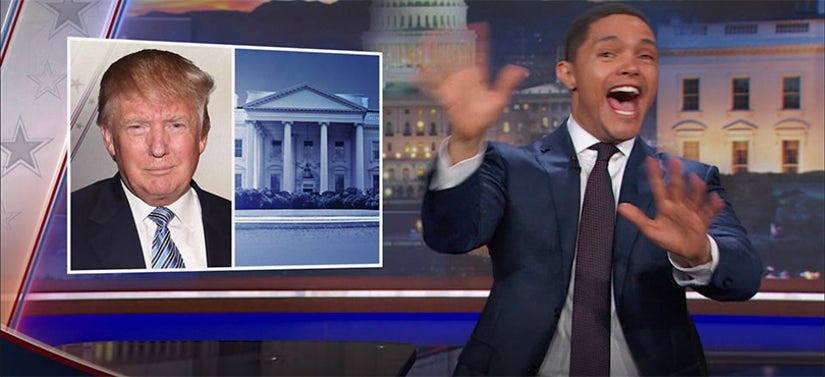 The Daily Show
"The head of the Environmental Protection Agency doesn't believe the environment should be protected," he said. "His Secretary of Labor is a opposed to workers' rights. And for National Security Adviser, a job that is all about assessing intelligence, for that job? Trump chose a man who has repeatedly fallen for conspiracy theories and and hoaxes."
"How does this happen?" asked Noah. "It's almost like before Trump hires anyone, he Googles 'opposite of,' and then he just gets that person."
"Homeland security," Noah ranted. "Let's get Bin Laden in there. Let's just do it. Yeah. Protector of Gotham? The Joker! Let's do it! Communications director -- Hodor! What's he say? I don't know!"
"Secretary of Energy, Ben Carson!" Trevor said, and proceeded to scream at the top of his lungs for another few seconds.
After announcing that perhaps the most reasonable pick was Linda McMahon -- for Small Business Administrator; McMahon is one of the WWE's co-founders -- Trevor said, "Welcome to the Trump administration -- where climate change is fake and wrestling is real."
Later in the show, Trevor called Trump's appointees "enablers."
"Here's my view: a drunk is a drunk, but the person who encourages him to drive? That's an a--hole," he said. "And Trump has a lot of a--holes around him."
Upcoming on "The Daily Show With Trevor Noah" is an appearance by President Barack Obama.
He will appear on the show on Monday, Dec. 12, according to the Comedy Central network.
This guest spot will be Obama's first since Trevor Noah took over after Jon Stewart's departure of last year. The interview will take place at the White House, and is said to be Obama's last talk show appearance before leaving the White House in January.
"The Daily Show With Trevor Noah" airs weeknights at 11 p.m. on Comedy Central.