Midway through the second episode of "Big Little Lies," Reese Witherspoon's indignant character, Madeline, responds to a threat from Laura Dern's stuck-up Renata by calling her a "cunt," and then telling her to "get fucked." In the next scene, recounting the incident to her husband Ed (Adam Scott), Madeline says that "the war is on."
The inciting incident? Invitations to a first grader's birthday party.
HBO's new limited series, which was adapted from the 2014 book by Liane Moriarty and kicks off on Sunday, Feb. 19, offers up a look at how the other half lives. It's human nature, at least in the 21st century, to spend most of one's time down in the dumps, and it's easy for most of us little people to find legitimate stuff to complain about -- asshole bosses, medical debt, the price of groceries, a billionaire president who wants to make our lives harder, you name it. As suggested by "Big Little Lies," the rich also love to sulk and fight and walk around agitated… they just need to search deep inside their mansions and across their massive oceanfront backyards to find something worth griping about.
It can be off-putting, as an average viewer, to watch these rich Silicon Valley multi-millionaires mope and squabble, when their lives seem so incredible. But if you ignore the privilege with which they are surrounded, you start to realize that, financial pressure aside, they have many of the same problems as the rest of us. Love, jealousy, pettiness, anger, and thwarted ambition know no social class. And neither does murder, the mystery element that's discussed in police questioning sessions that are interspersed through the early episodes.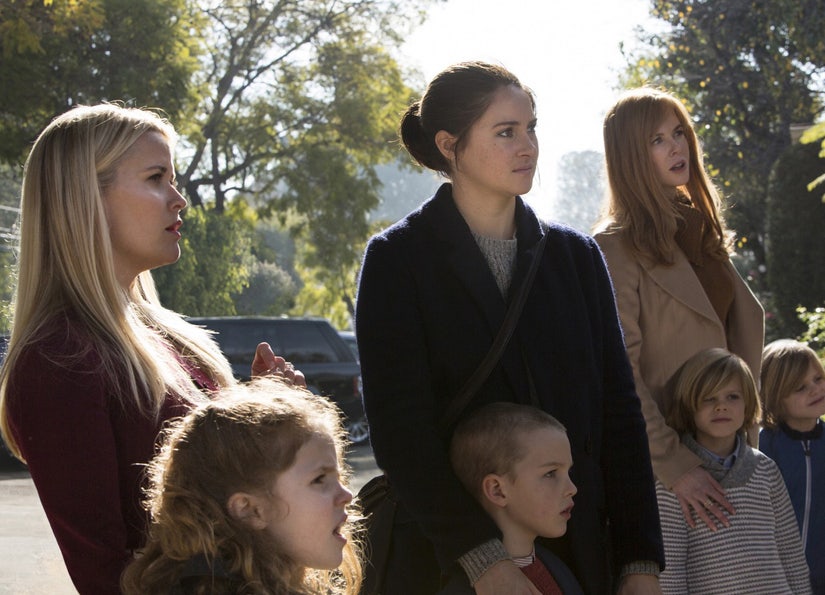 HBO
It also helps that the big-name cast is filled with actors giving some of their best performances in years. Reese Witherspoon seems to channel Tracy Flick, the ambitious and troubled young woman she played in "Election" nearly two decades ago… if Tracy married rich and wound up a glorified -- and depressed -- housewife. She works part time in community theater and does her best to stay active, and talks often of fighting for justice. But her issues are mostly small potatoes: She agitates to keep the town of Monterey from vetoing her school production of the foul-mouthed puppet musical "Avenue Q," and more significantly, fights against Renata, who does her best to bully and isolate the young child who her daughter has accused of choking her.
That alleged incident, which we never seen on screen, is more or less the inciting incident of the series. Little Amabella accuses Ziggy, the new kid in school, of choking her during orientation, and Renata sets off on isolating him; he was the one not invited to the birthday party. It doesn't help that he's the new kid in school, or that his single mom Jane (Shailene Woodley) just moved to town and is the one person there financially struggling.
Madeline, whose clever daughter Chloe is in Ziggy's class, befriends Madeline and gets on Renata's case, especially once Ziggy isn't invited to the aforementioned birthday party, the invitations to which were handed out in class. The exclusion might seem like a rational move by Renata, but Ziggy seems like the sweetest kid in the world, and Amabella seems like she's already on the way to becoming a real shit.
Madeline's best friend and confidant is Celeste, played by Nicole Kidman. She's in a fiery, sometimes-abusive relationship with her younger husband, Perry, who is given an unstable ferocity by Alexander Skarsgard. Kidman is wry but vulnerable, especially in her own home; getting slapped in the face by Perry often leads to consensual sex. Their twin boys, also in first grade, look like they came out of a J.Crew Kids catalog.
Madeline isn't just upset about Renata; she also has a bone to pick with Bonnie, an earthy yoga studio owner played by Zoe Kravitz. The real issue is that Bonnie is married to Nathan, Madeline's ex-husband, who she still seems to love… or at least it seems that way to Ed, her steady and loyal second husband (and Chloe's dad). Scott does some of his best work here, as the strong and quiet partner to the aggressive woman, but he can't stay quiet forever, and blows up as Madeline continues to obsessively talk about her ex and Bonnie. When Madeline can't stop fuming about seeing them at a yoga class, Ed finally loses his cool.
Visually, the show has a dark, cinematic filter, and as directed by Jean-Marc Vallée, who worked with Witherspoon on "Wild," it maintains a sort of simmering that keeps it from becoming some kind of soap opera, or "Desperate Housewives" light satire. If you don't mind that these characters will be receiving huge tax breaks as your Obamacare is taken away, it's worth getting into. Unfortunately, we're all tragically flawed in the same exact ways.