"The Vampire Diaries" wraps up its eighth and final season on March 10 and with only two episodes to left, things in Mystic Falls are getting even crazier than usual.
Last week's cliffhanger revealed "the myth, the legend, the baddest bitch of all," Katherine, is back and ready to cause chaos. In this Friday's episode, Stefan and Caroline throw their wedding to draw her out of the shadows, but, this being "The Vampire Diaries," things don't exactly go according to plan.
TooFab attended a screening of the penultimate installment of the series on Wednesday, where stars Ian Somerhalder, Paul Wesley, Zach Roerig and Michael Malarkey teased what fans can expect in the final two episodes ... and explained why there won't be a reboot or revival of the show starring them anytime soon.
Keep reading below for the 5 biggest reveals from the cast: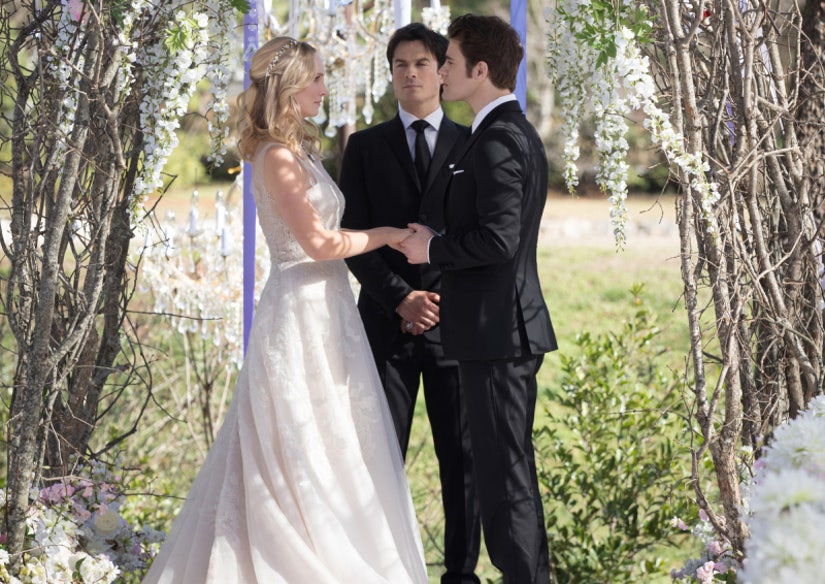 The CW
The Wedding Came as a Surprise to Paul Wesley
Friday's episode sees Caroline and Stefan hold their long-awaited "June wedding," a reference to a throwaway comment the former made after first locking eyes with Salvatore in the show's pilot.
"It's funny because I had heard about this June wedding for the first time at Comic-Con, I still kind of don't really know what it's about," Wesley revealed at the Q&A. "It's kind of amazing. Stefan and Elena were the pair for so many years and I never in a million years thought Caroline and Stefan would end up being, I don't want to say true love because I think true love can exist in many forms, but I never knew they would be equally as powerful as a couple and it was pretty surprising to me."
While we won't get into the specifics of the nuptials, The CW already released a photo of Caroline in her absolutely gorgeous wedding dress and another showing Damon officiating his brother's big day (above).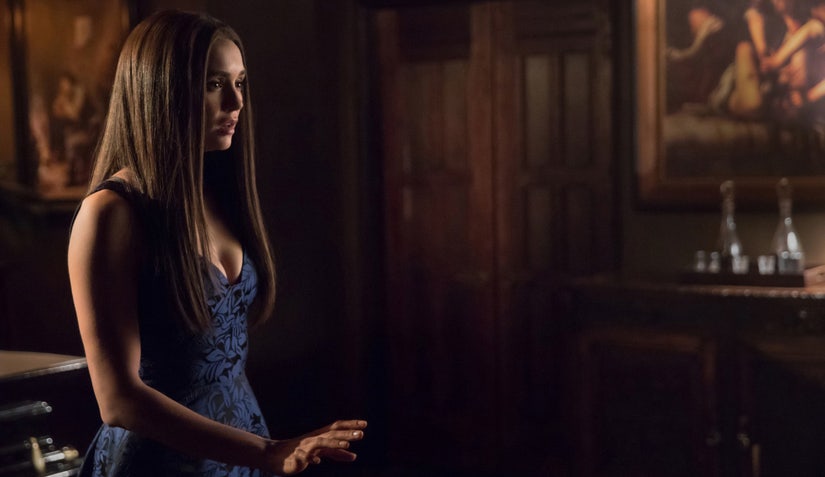 The CW
Expect Some Shocking Return Characters
There will be more than a few familiar faces in the final episodes, with returns by Nina Dobrev, Kayla Ewell and more already teased on their social media pages.
"I thought it was very fitting. We started the pilot with them, it was nice having Kayla come back to say goodbye, just as a friend and also to work with her again," said Roerig, while keeping mum on the details of her return.
"On that same note, it would be very strange to not have Nina come back," added Wesley. "The whole story is about two brothers essentially fighting ... the crux of it is two brothers fighting over a girl. Obviously there's like a zillion other storylines, but I felt like it would have been a real shame for the fans and the show to not wrap that up to a degree."
As for Katherine re-entering the picture, Somerhalder called her "a disaster," adding "there's nothing good about that for anyone."
"She's fun though, causes a little trouble. It's great to have old characters back," said Wesley.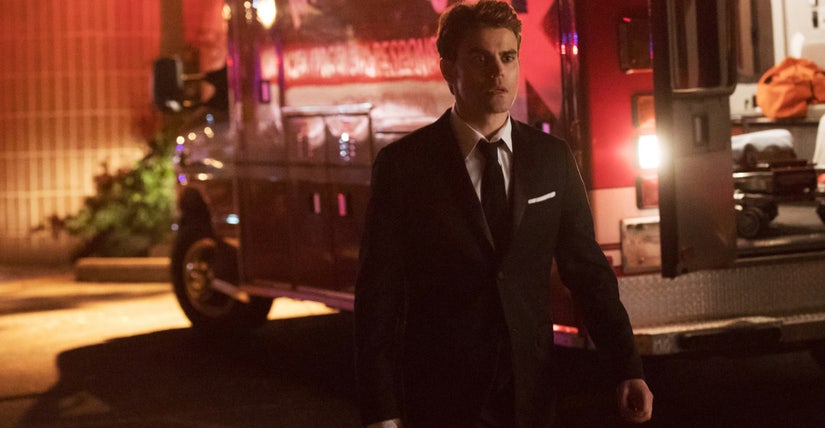 The CW
The Final Script Made 'Cold Hearted Bastard' Paul Wesley Tear Up
"I read the script on the plane and it's just a culmination of so many emotions, 'Oh, this is the last script I'm ever going to read for this show,' I got a bit teary eyed and I'm kind of a cold hearted bastard," revealed Wesley.
He added that he took a selfie at that moment and sent it to co-creators Julie Plec and Kevin Williamson.
For Ian, he was "blown away" the writers were able to sum everything up "into one 44-minute piece." Somerhalder added that fans will be "pretty satisfied" with how everything ends.
"It's hard, I wasn't on the show the whole time, but I still hear people on road trips and I'm walking into a convenience store getting gas, 'Hey man, that f--king 'Lost' ending, let me talk about ...' Dude, that was 8 years ago man, I just want to get my gas and I gotta get outta here," he joked. "You'll never be able to satisfy everyone. I think there's a very beautiful orchestration to how this is laid out."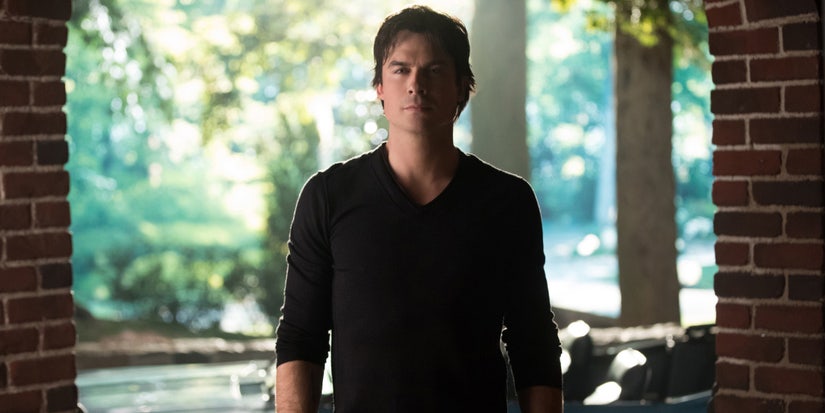 The CW
The Actors' Last Scenes Were Emotional Rollercoasters
"I didn't realize how affected I'd be," said Michael Malarkey. "I'm all business when I get to work. I just want to treat it like every other day, just smash it and give Julie a hug. Julie gave a great eulogy for everybody, about our place in the show and everything and I remember being deeply moved by that."
For Roerig, he ended his run with "an emotional scene." "I was trying to keep myself well calibrated, to make sure my emotion was based on the scene and not because it was the last scene of the show. I did [use the real emotion] and at the end Julie could see my lip quivering. I let it out. She gave us all a very nice speech, it was very tender."
Wesley's ended on a more fun (and messy) note.
"I had my final scene, I finished my scene, I had my eyes closed and someone sprayed funfetti into my face," he revealed. "Literally, direct shot in my face. I was doing this emotional scene, crying and all of a sudden I had s--t, funfetti in my eye."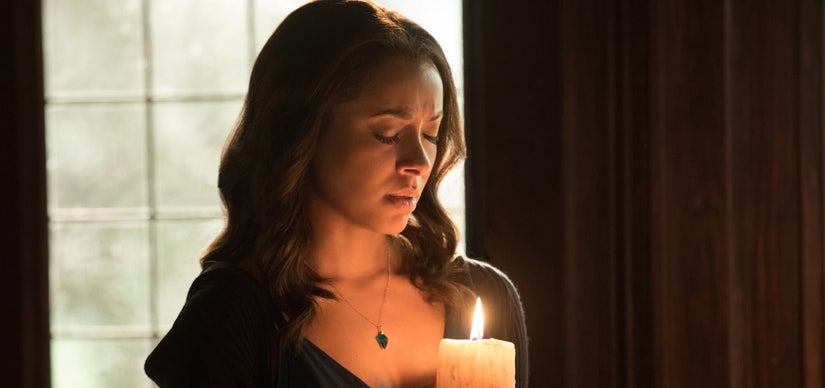 The CW
A Big Death And Why It Was Very Necessary
There's a major death in the series finale and Elena's present for the funeral. Whose funeral? It's unknown.
"It's definitely a main character," Wesley carefully said on Wednesday. "I was really relieved someone died because I think that death is, once you dangle that, you have to pay it off. Someone needed to die. If someone had not died, I would have been disappointed."
Many assume Bonnie will be the one to go, since Elena can't wake up until Ms. Bennett dies. But, again, this is "The Vampire Diaries," where rules are made to be broken.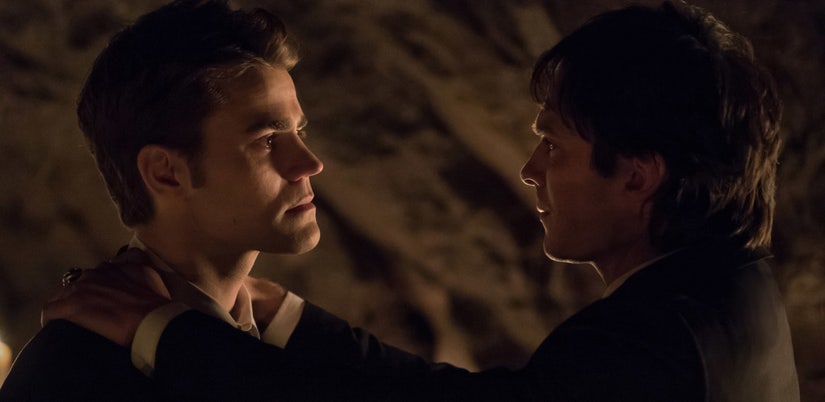 The CW
When It's Done, It's Done
After the finale ends on March 10, don't expect to see Paul and Ian as Stefan or Damon ever again.
"I think I'm closing the chapter," Wesley said when asked about a potential reunion, reboot or revival down the line.
"In 10 years I'm probably going to be living on a ranch in Wyoming and you're never going to hear from me again," added Ian. "I think it's good to close this chapter and really let it be a part of ... there's something beautiful about closure."
Both of them said many new eyes are seeing the show all the time, thanks to the "digital age" of Netflix. "Television never dies," added Ian.
"Ian and I are starting a cruise ship tour," joked Wesley. "It'd be funny if we did a reboot and we're all old as s--t, with grey hair. We're stretching it as it is!"
That being said both said fans won't be left wanting more. "I think it really cinches it up beautifully," said Somerhalder.
The penultimate episode of "The Vampire Diaries" airs Friday on The CW. An hour-long retrospective, "The Vampire Diaries: Forever Yours" airs on March 10 at 8pm, before the series finale.