The CW's "Riverdale" may have focused on the skeletons inside of the Pussycat's closet on Thursday, but the real shocker of the night involved Jughead, Betty and her sister Polly.
TooFab's Madison Brodsky talked to Lili Reinhart, who plays the beloved Betty Cooper, about that kissing scene with Cole Sprouse (Jughead) and who she thinks killed Jason Blossom (Trevor Stines).
What was your inspiration in bringing beloved comic book character Betty to the screen?
I came just from my collaboration with Roberto -- our executive producer and writer -- and we just tried to create a real person based off this two-dimensional comic book character. We just wanted to maker her a real girl. We took her characteristics from the comics and how she was kind, forgiving, very loving and the happy girl next door. But we added more to her than just what was on the page.
The episodes are hinting at potential mental health issues for Betty. Are we going to see a Betty meltdown?
I think you saw the most of Betty's boiling-over point in Episode 3, but she does have mental health issues in the sense that she has a lot of built-up anxiety with everything going on with her sister and her parents keep telling her she is crazy, which makes her think that she might be crazy too. She's going off the rails a little bit. Betty is trying to keep it together the best she can though.
You kissed Jughead! Was that a part of the comics?
No, definitely not. Jughead and Betty are not romantically involved in the comics so that was something the writers added just for "Riverdale" to make it more modern and add a love interest for Betty that wasn't Archie. Jughead and Betty actually end up being a wonderful match.(Read more story below)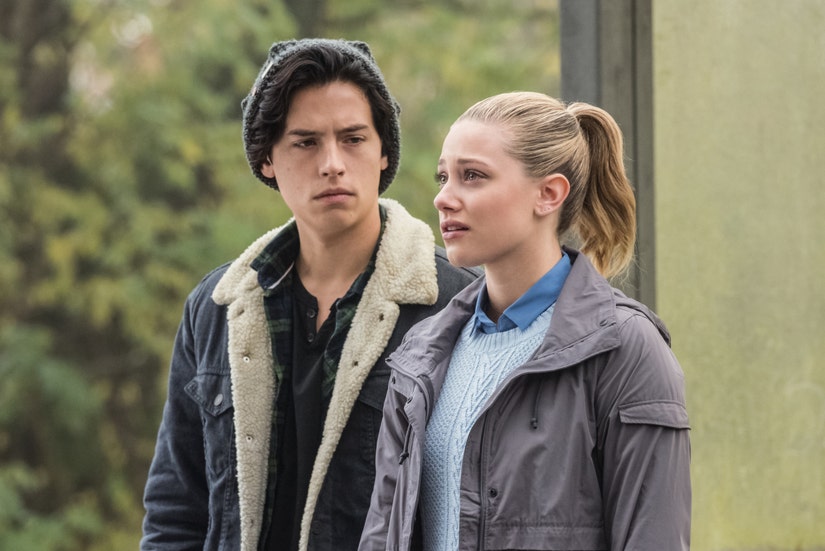 CW
What does Betty see in Jughead?
I think Betty sees someone who genuinely cares for her and that's not to say that Archie doesn't, but I think Archie is preoccupied with other things and other women in his life. Jughead on the other hand is just dealing with his own family issues, which he doesn't share with Betty until later on in the season. But he just really cares about Betty because she's so lovable and I think he can't help it. But Betty sees this genuine, outsider in him and she can relate because I think Betty feels like an outsider at times too. I think that is what draws her to him a little bit because they both don't necessarily fit in.
What can we look forward to in the future for Betty and Jughead?
I think they begin to learn a lot more about each other's family histories and family life, especially when Betty finds out about Jughead's homelessness and it's kind of beautiful to see Betty accept Jughead's past and conquer it with him.
With this new romance, it seems like you guys are actually a perfect couple. Should we just give up on the steamy fire between sweet Betty and heartthrob Archie?
No, I wouldn't say that necessarily. I think there will always be the undertone of that famous love triangle, but for right now at this point in the season, Betty and Archie are kind of going off into their own little romantic endeavors instead of with each other.
What was filming that kiss scene with Cole Sprause like?
It was fun. We were very comfortable at that point. Cole and I have always been pretty close on set so I think we were just excited for our characters and excited for people to see it happen. We shot that scene back in October and it was very easy and cute - not awkward.
You recently said you were a huge fan of Cole Sprouse in "The Suite Life of Zack and Cody" growing up. What was it like kissing someone you used to watch on TV?
I mean we are friends now so it didn't really mean anything anymore. By the time we got to shoot the scene, I was so close with everyone on set that it wouldn't really matter if it were with KJ Apa or Cole because we are all so close. I grew up watching Cole, but I never really fangirled over him because he's just Cole and he's my friend.
What are your thoughts on finding Jason Blossom's car?
I think that was a huge win for them because they found this huge piece of evidence that could help find the murderer, so I think it was encouraging for Betty to find this huge clue that could lead her back to Polly and find out who killed Jason.
We finally met Polly. What can we expect with her added to the mix?
I think Polly brings a dynamic storyline because up to this point Betty's whole arc has been about finding Polly, so now that she has found some answers. It definitely brings some resolution to Betty. But some of the things that Polly will admit brings on a whole new investigation for Betty about why her parents were lying to her and keeping her from Polly. But you see a special passion that Betty has for her sister and she's just a very loving younger sister who is trying to protect Polly from getting hurt by the Blossoms or her own parents.
Who killed Jason Blossom?
I feel like at the end of every episode I had a different guess on who the killer was, but eventually I just gave up because I wanted to be surprised. So when I did find out, I was shocked, but I think it is a very satisfying ending to our season and the mystery. At first I thought it was one of the character's dads and then I thought it was a group effort like the heads of the families working together. But it was a really good shock when I found out who it was.
What is your response to fan theories that say Betty is the murderer?
I understand where they are coming from, but it's funny to me that they are so imaginative and they are appreciating Betty's dark side and not underestimating her.
What can we look forward to in next week's episode?
Betty desperately tries to find her sister after Polly escapes the Sisters of Quiet Mercy. You get to see a glimpse into Betty and Polly's relationship more and the Cooper family dynamic. But the most shocking thing is that one of the core four gets in trouble with the town sheriff and might be a suspect.