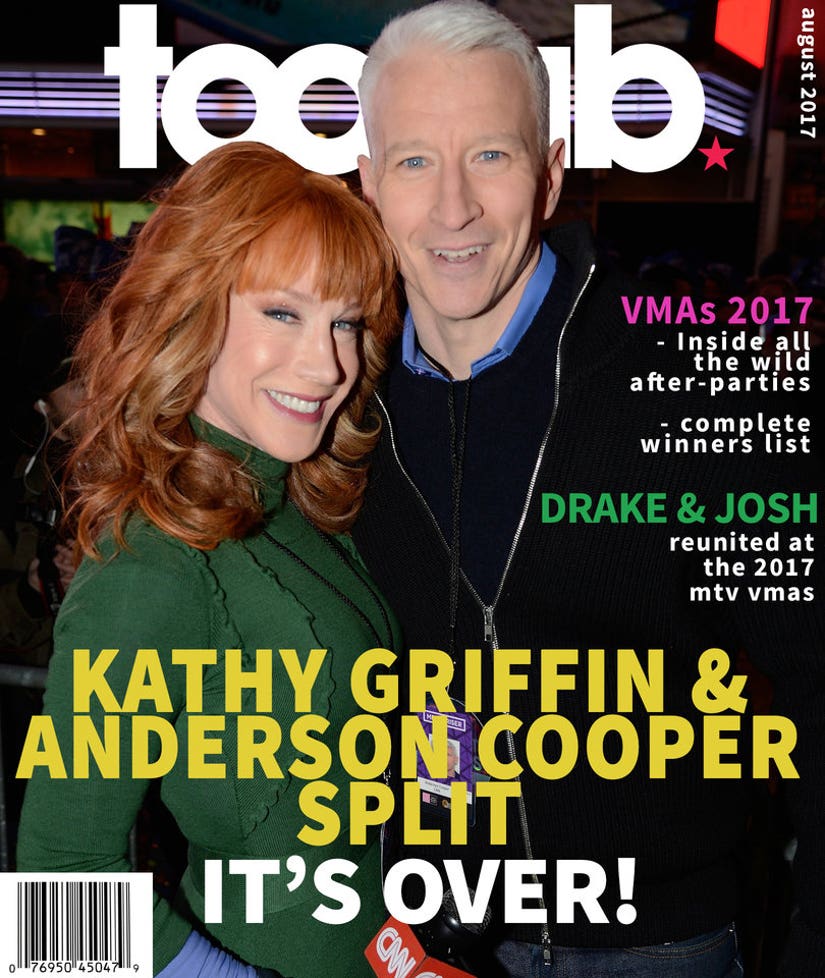 Getty/TooFab Composite
Griffin told the The Cut that she ended her friendship with the CNN anchor via text message. Cooper, however, told a different story on "Watch What Happens Live" last month when asked for a status update on their friendship.
"Yeah, we're still friends," he told host Andy Cohen. "And look, I said what I said about -— I didn't think what she said was appropriate, but I wish her the best and I hope she bounces back."
According to The Cut's article, written by journalist Yashar Ali, Griffin was "hurt deeply" by public statements Cooper made after that photo of Griffin holding a fake decapitated Donald Trump head sparked nationwide backlash.
"For the record, I am appalled by the photo shoot Kathy Griffin took part in," Cooper tweeted at the time. "It is clearly disgusting and completely inappropriate."
According to the article, when Cooper "finally reached out to her in a series of text messages, she told him their friendship was over."
The duo have been friends for over 17 years, and have hosted CNN's annual New Years Eve broadcast together for the past ten years. Griffin, however, was fired from the gig as a result of the Trump photo shoot she participated in.
And about those photos? Griffin isn't exactly sure why she has to continue to apologize.
"President Trump just pardoned Joe Arpaio, who was essentially running a concentration camp in the Arizona desert," Griffin said. "He said there are some good Nazis, and he's kicking out young adults who were brought here as kids by their parents, and I'm the one who has to continue to apologize?"
Speaking of apologies, Griffin said it was Rosie O'Donnell who inspired her to issue her first apology video.
Griffin said she got a call from O'Donnell shortly after the debacle, wherein she made her "realize the mistake she had made" asking Griffin "What is James Foley's mom going to think when she sees this?" Foley was a journalist who was beheaded by radical Islam group ISIS back in 2014.
"I would be abandoning my principles as a comic and a human being if I backed off President Trump or any public person," Griffin continued. "Comics by their nature are anti-establishment. They are charged with the often unenviable task of going after people in power. I will never abdicate that responsibility."