With her blunt bangs, short ombre hair and very particular way of speaking, Pollyanna McIntosh's Jadis quickly became a memorable part of "The Walking Dead" universe after her Season 7 debut.
As leader of the Heapsters, McIntosh's role was upped to series regular for Season 8, which returns October 22 on AMC. Her character was last seen running for the hills after double-crossing Team Rick by forging a secret alliance with Negan.
TooFab caught up with the Scottish actress ahead of the premiere, where she spilled as much as she possibly could about Jadis' storyline going forward, her reaction to social media jabs about her character's appearance and what it'd be like if she and Michonne ever faced off over Rick.
We're big fans of the show here at TooFab. Where do we find Jadis -- physically, mentally, whatever -- when we start the new season? What's going through her mind?
Well, Jadis' plan didn't go so well did it? She pulled it off at first with aplomb, nobody knew what was going on and then of course that tiger rather ruined things. So she's obviously disappeared after that fight and we find her figuring out her next move, basically. She's got some planning to do. She wants to stay alive, keep her people alive and make the best deal she can and beat this thing and win this thing. She's going to be in her usual fighting mode but you're never gonna maybe know what she's actually thinking.
So we could see her team up with anyone at any point, basically?
Yeah, she's gotta be on the winning side, that's really her only morality. And that's fair enough, because she has people to take care of. They cover the morality angle as far as I'm concerned.
Speaking of her people, there are a lot of nicknames for them -- Heapsters, Trash People, Garbage People, Scavengers -- do you have a favorite nickname?
I really dig Garbage Pail Kids, I think that's really hilarious. I rather like the moniker of Trash Queen, as a John Waters fan, the dream of being a Trash Queen is a teenage dream come true. I'm all for it. I like the fact that we came up with the Heapsters name on set and having talked about it on "Talking Dead," it seems to have taken off. I think that's got a lovely double meaning, because they do look like fashionable Berliners, the original hipsters. So I like the idea of the Heapsters, especially since we're so proud of the heaps. That set is so amazing and she's built quite a world within the story there.
You've said in the past that her blunt bangs were something you showed up to your audition with. Do you have any regrets about sticking with that 'do now that you're going into your second season with it?
[Laughs] There's a part of me, like most actors, you want to be a bunch of different people depending on your mood. It's funny to be Jadis wherever I am if my hair is exposed. But no, I don't have any regrets whatsoever. What fun for people to be making these silly memes comparing me to Prince Valiant from "Shrek," Jim Carrey in "Dumb and Dumber," He-Man, it's just a joy, I love jokes. It's a new source of fun for me.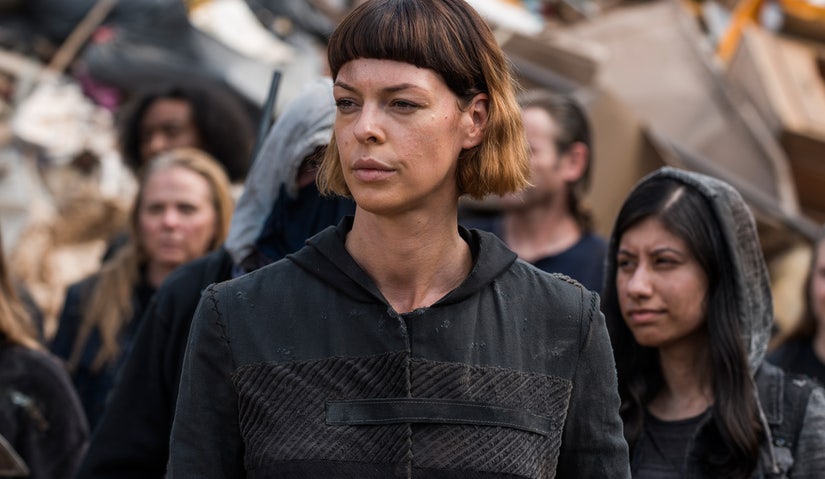 AMC
And it's so distinctive, I imagine you're staring to see cosplayers at conventions with that look now.
Yeah! I had a little three-year-old whose father had cut her bangs and put her in a Jadis outfit to come meet me and I was like, "How's her mum feel about this?" and he says, "Well, she's not here." That tells you everything you need to know.
Some of the cast members have a love/hate relationship with social media. How has it been for you, as a character people kinda love to hate?
I've made some rules for myself. I don't read my Facebook messages or my Instagram messages because I don't want to see anything somebody wouldn't say in front of other followers. That's the way for me to function best. Also, I don't want to spend all my time reading Instagram messages, especially when I meet so many fans out there, they can find me if they want to. As far as the comments are concerned, I'm pretty on it making sure nothing is said that's offensive for anybody reading it.
People tend to get a little excited about the name calling and I know they mean it in a character way but I don't want anybody having to read my page and reading certain terms for women I don't think are very cool. When you talk about that love/hate, I know that some of the cast have had worse than that, but as far as the rest of the folks, I've honestly found the people that come to me on social media are saying "We hate Jadis, we love you," which is great. Who doesn't love to hate a good possible baddie? I certainly love to hate Negan!
On the flip side, how has it been going to some of these fan events?
It's been lovely. It's such a beautiful exchange of gratitude really, because they love the show and I love the show and I'm glad they're watching the show because I get to be on the show. It's a bit of a lovely love fest. It's taken me a while at the start to deal with that much positive affirmation, but the great thing is we all have something in common, we all love the show. I'm just really grateful for it, I feel very very lucky to be able make people smile and make people happy that they can take a picture and say hello.
AMC
A funny moment last season was Jadis saying she wanted to "lay with" Rick. Who'd win a fight: Jadis or Michonne?
Oh god, that's such a good question. I think if it's down to physical strength, we're well matched. If you put a katana in my hand ... Michonne with that thing is astonishing. She could come out of nowhere and if she wanted to, she could slice Jadis' head right off, I'm well aware of that. If it came to a one-on-one physical fight, I don't know. It would depend on so many things. I wish I could give you a straight up answer, but [Danai Gurira] and I would enjoy it, for sure. We'd have fun.
Might we see her with any potential suitors this season?
I don't know. I think her mind is a little focused on the winning of this war and if she can use flirtation as a device to figure out more about somebody, if she could use it to understand their thinking and use that to win, she'll do pretty much anything she feels she wants to do to get what she needs. But I don't think she's too concerned about a boyfriend right now.
Fans have a lot of questions about the flash-forwards, assuming you can't say anything at all, but are you part of them? Or what is it like to see Andrew Lincoln all made up, since we know he's in one?
I know how much fun Andy had with it. The makeup trailer is still peppered with pictures of him with that beard grinning away. He loves the evolution of this character and he really enjoyed it on many levels, but one of it was a very fun playful one and he just loved it. As far as the teasing is concerned, we're all dying until we're on the same page, but I wouldn't want to take anything away from the audience by giving anything away at this point.
Completely understandable. When you are in Georgia, what does the cast do on your downtime?
You know, I really enjoy going into the woods with people and we like to go and do archery, shoot bow and arrows. That's been a fun play. We've got a script reading club with Stephen [Ogg, who plays Simon] and Austin [Amelio, who plays Dwight] and Xander [Berkeley, who plays Gregory], where we go and read scripts that we're interested in reading together. And then I do movie night on Sunday nights at my place, where we watch movies and get silly. We [recently] watched "The Little Hours," a nun comedy and it's fantastic. And then we ended up dancing in the kitchen.
What surprised you the most since joining the show?
I was surprised to find the zombie, the walker pieces, when they're not full human are often animatronic. I thought they were people that were then CGIed, but so much of it is real, physical props as it were, or set dressing. I don't know what you'd call a walker, is it set dressing, is it props, if there's not a human in there? I thought there'd be a lot more CGI involved, so that's been kinda cool to see. That's been a surprise.
"The Walking Dead" returns to AMC on Sunday, October 22 at 9pm.