Sunday's premiere episode was action-packed, bringing betrayal, explosions and more walkers than we've ever seen in one place, as well as mysterious footage giving us all a glimpse into Sheriff Grimes' future.
But what does it all mean?! Here are the biggest questions we're asking after watching "Mercy."
What's Up with the Flash-Forwards?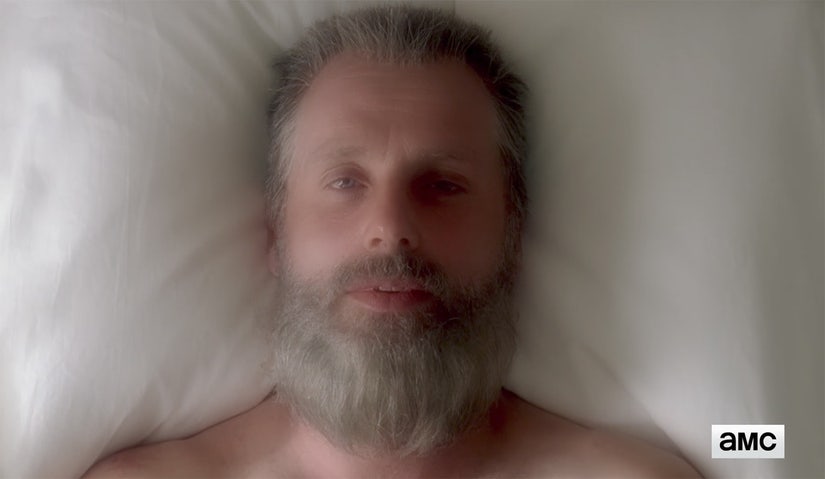 AMC
Fans were sent into a frenzy when the Comic-Con trailer for the new season showed a shot of Rick waking up with a short 'do and scruffy beard, signaling a possible time jump.
That same shot appeared in Sunday's episode, followed by glimpses of old man Rick walking around with a cane, before enjoying domestic bliss with Michonne, son Carl and daughter Judith. They all seem very excited about a "party" or "festival" in their community, which doesn't really look like Alexandria, Hilltop or The Kingdom.
Potential spoiler warning: This festival could signal some bad days to come, as anyone who's read the comics knows something pretty terrible goes down during a fair in Alexandria. We won't get into the specifics here, but fans of the source material will likely see this as a possible nod to the Whisperers. End of Spoilers.
One thing we know for sure: these glimpses will continue. "It's definitely not a one-time thing," co-executive producer Greg Nicotero previously revealed. "I will say that we won't know exactly what that's about after the first episode, but we will know it about halfway through the season," added showrunner Scott M. Gimple. "We'll get an answer to that about halfway through. It's something that's going to play out."
How Screwed Is The Sanctuary Now?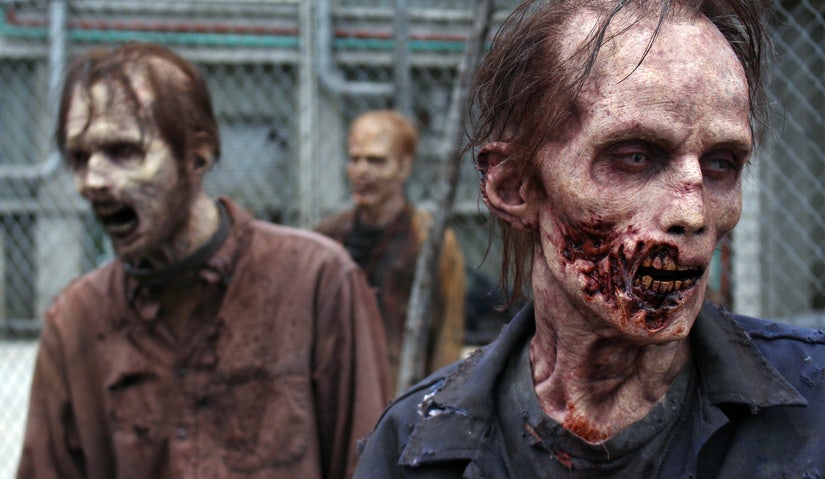 AMC
Most of the action in Sunday's episode revolved around Rick's siege on The Sanctuary, home of Negan and the Saviors.
Though Rick said, "there's only one person who has to die and I will kill him myself" in his let's-go-to-war speech, his plan will likely leave most of the other people under Negan's rule in serious danger.
The plan: First, Rick created an army of Alexandrians, Hilltoppers and Kingdomites and took out the scouts at each of Negan's lookout points. Then, they marched to The Sanctuary while Carol, Daryl, Tara and Morgan led a giant horde of walkers towards the fortress. Rick gave all of Negan's henchmen the chance to surrender and when they didn't, all hell broke loose (more on that Gregory mess in a second). Team Rick then proceeded to blow out all the windows in the factory and take out the gate surrounding the facility, making it open season on humans for the zombie masses.
We'll probably see how the attack actually affects everyone inside The Sanctuary next week, but the area was last seen being completely surrounded by zombies. That can't be good.
Was Anyone Surprised Gregory Is the Worst?
AMC
Seriously, could this guy be more annoying?
After he tried to undermine Maggie at every turn last season, the Hilltop's leader sold everyone out to Negan. But his plan didn't really help him at all, as nobody listened to him when he proclaimed "The Hilltop stands with Negan and the Saviors." Instead, Jesus shouted back, "The Hilltop stands with Maggie!"
He then got pushed down some stairs, where he was left to fend for himself against the walker attack. Gregory, continuing his streak of awful, then left Gabriel in the dust after the preacher helped him out of his predicament.
The real question: What the hell is he going to do now? Neither the Survivors or the Saviors want him, he's up a creek!
What Will Happen to Gabriel?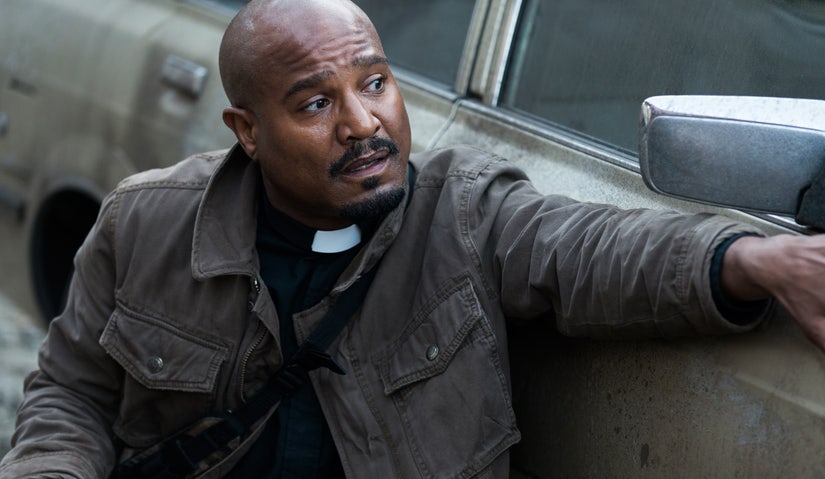 AMC
As we just pointed out, Gabriel was stupid and decided to try and save Gregory, even though the guy had just double-crossed Team Rick. After Gregory bolted in the priest's car, Gabriel got stuck at The Sanctuary and tried to hide out in an RV.
The problem: Negan was also hiding out there. "I hope you've got your shittin' pants on ... because you are about to shit your pants," the Big Bad ever-so-eloquently told his new roomie.
They were last seen being surrounded by walkers as well, but the Saviors will find some way to break them outta there, right? If and when they do, that still leaves Gabriel as a prisoner of the Saviors, which is not a position anyone wants to be in.
Where Did That Gas Station Guy Come From?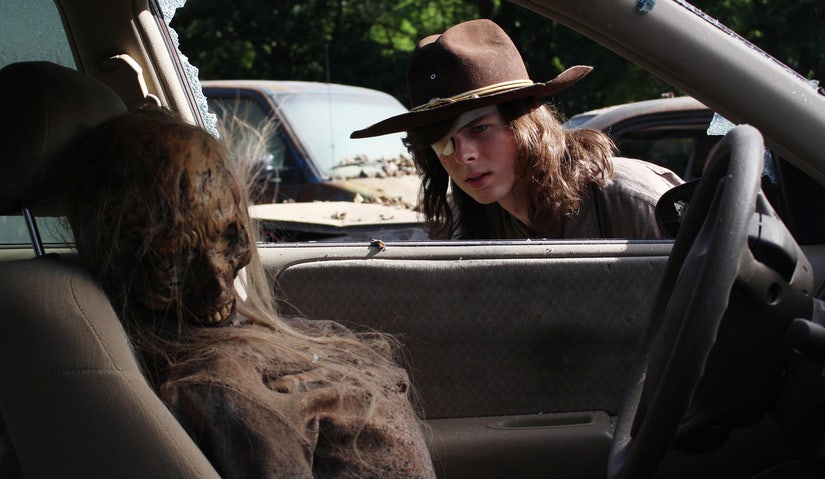 AMC
In a scene mimicking the very first moment of the show's series premiere, Carl scavenged at a gas station, where he came across a rambling stranger.
"Someone threw a microwave at me so I'm just gonna say something my mom used to say and hope for the best here. Whatever you have of good, spend on the traveler. My mom said helping the traveler, a person without a home, that's everything," he said to Carl. "I'm sure you've seen thing, been through things that you don't trust people. I get it, I don't either. I've been through things too."
He then quoted the Quran, saying "may mercy prevail over my wrath," before adding, "I don't even know you but I haven't eaten in a few days and you might not even be real."
Rick scared him away with gunfire, but Carl returned later to leave the guy some food. We see the guy watching from the woods -- but will we see more of him? And did he come from another group? It's rare to see anyone wandering alone on this show, right?
The episode ended with a slate reading "In Memory of John Bernecker." Bernecker was the stuntman who died after a 22-foot fall on set on July 12.
"John's work on 'The Walking Dead' and dozens of other movies and shows will continue to entertain and excite audiences for generations," Gimple said in a statement at the time. "We are grateful for his contributions, and all of us send our condolences, love, and prayers to John's family and friends."
"No words can express my sadness for John Bernecker and his family," added star Lauren Cohan. "Thank you all for having them in your thoughts and prayers also."