In his 10-minute opening monologue, the "Jurassic World" actor admitted he was "kinda nervous" about hosting the late-night show.
"Everybody here was so nice," Pratt said. "They said, 'C'mon, Chris, just give it the old college try.' Which for me, I mean, means don't do it. Anyways, I said yes. For me, it was an easy decision. I said, 'Jimmy, brother, I'll do anything for you as long as I can also promote my upcoming film, 'Jurassic World: Fallen Kingdom,' in theaters June 22nd.'"
"There have been some other guest hosts, and the way they prepare, they like to do something like staying up all night working on the monologue, they do a bunch of research on their guests. That's not what I did," Pratt said. "What I did last night is I flew to Seattle and got hammered at a Seahawks game."
Cue footage of drunk Chris Pratt raising the flag at Sunday's Seahawks game.
"It was so great," he said. "All I know is the Seahawks won by 14 points, and it's all because of me, so you're welcome, Seattle."
"You may not know this, but Guillermo co-starred with me in 'Guardians of the Galaxy Vol. 2,'" Pratt said. And he actually did!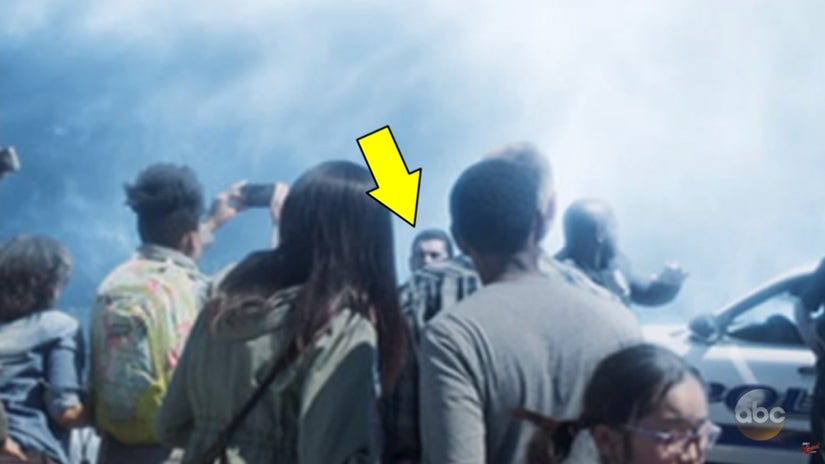 "Jimmy Kimmel Live!"
"We have a great show for you tonight -- I don't know, it might suck, but I don't give a sh-t. I've never done this before," Pratt said before welcoming his first guest, Margot Robbie, who Pratt was excited to talk to about "all the challenges we face being born blonde and beautiful."
Robbie let Pratt in on what it was like growing up in Australia around lots of venomous snakes.
"This one time -- I was in my bratty teen years -- and my mom came and said, 'Can you help me get the snake out of the house,'" Robbie said. "And I was like, 'Mom, I'm really busy on MSN, like, no.' And then she went away, and 10 minutes later, I was like, 'Where's mom?' And that's when my mom got eaten -- no she didn't."
Pratt then "completely shifted topics" and asked Robbie, "If you could have lunch with any celebrity -- living or dead -- would you take them to Outback Steakhouse?"
Robbie laughed and said she had never eaten at an Outback Steakhouse before but that they did exist in Australia.
"There's like a challenge -- if you eat, I think it's like a kilo of steak, you get a free T-shirt, and a boyfriend of mine -- way back when -- tried to do the challenge, but he was essentially vomiting as he was trying to keep eating it to win this T-shirt," Robbie said. "He got there in the end."
"He got the shirt? Dang," Pratt said. "But he didn't get Margot Robbie!"
The two then shared a beer while discussing Robbie's role in "I, Tonya," which hits theaters Friday.
After singing a duet together -- "(I've Had) the Time of My Life" -- Pratt sat down with with country music star Chris Stapleton, who's nominated for three Grammys this year.
"It's inspirational to see a guy with a huge beard and a cowboy hat finally make it in country," Pratt joked.
Stapleton gushed over expecting twins with wife Morgane and the inspiration behind naming his new album, "From A Room: Volume 2."
Over two glasses of Tennessee whisky, the two reminisced on the night Stapleton invited Pratt to Nashville to get up on stage with him and sing the last chorus of "Tennessee Whisky."
"So we did that, it was a lot of fun, we were drinking this exact whisky backstage, and then we proceeded to have -- from what I'm told -- the greatest night of our lives."
"That's how I remember it," Stapleton said.
"I pride myself on being able to hold my liquor, and at one point, I said, 'I'm done,'" Pratt said to Stapleton. "And you said, 'I win.'"
'Jurassic World: Fallen Kingdom'
Pratt even managed to make introducing a 15-second teaser trailer (for a teaser trailer) hilarious, pointing out how silly that now popular marketing practice is, and then answering questions from the audience as stupidly as possible while co-star Bryce Dallas Howard sounded like a genius.