After President Obama's portrait became an instant meme Monday upon its unveiling, Jimmy Kimmel couldn't resist poking fun at it -- but he had even more fun imagining the portrait Donald Trump might commission after his time in office is over.
The Obamas were on hand for the unveiling of their official portraits for the Smithsonian's National Portrait Gallery, and their uniqueness in comparison to every portrait that came before them captured social media by storm. The former president's portrait featured him sitting on a chair surrounded by fauna from Illinois, Hawaii and Africa, representing his heritage.
Social media ate the image up, immediately incorporating classic memes like Homer Simpson backing into the foliage, and even having former press secretary Sean Spicer hiding in the bushes behind him. But while most online were thinking of bushes when they saw all the greenery around Obama, Kimmel had another thought.
"Where have I seen that background before?" he mused. "Oh that's right. That's the background from the shirt future President [Nick] Nolte's mugshot."
Before even showing the actual portrait, Kimmel created a meme of his own, super-imposing an image of President Obama skydiving with the words "You're on your own, bitches!" written on the front of his parachute pack. But he didn't stop with making up a portrait for Obama.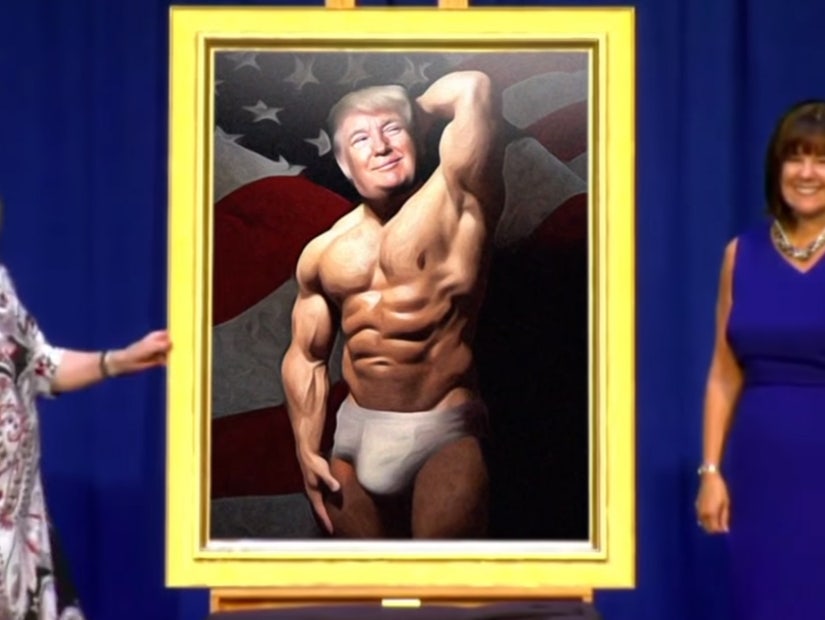 ABC
He had a dramatic unveiling of a Donald Trump image that could have been ripped from the covers of a Harlequin romance novel, flexing shirtless in his tightie-whities in front of a waving American flag. It certainly looks very patriotic ... and presidential.
"Poor Mike Pence had to check himself right into conversion therapy," Kimmel joked.