Bailee Madison was physically put through the wringer running from masked murderers in "The Strangers: Prey at Night," and she wouldn't have it any other way.
The 18-year-old actress stars as a teenager whose family finds themselves at the mercy of mask-wearing psychopaths determined to kill them in the horror sequel, which hits theaters today. With Johannes Roberts at the helm, Madison told TooFab the director really "put me through hell."
"I was so eager to be a part of this because of that. I knew how physically demanding it was going to be for me and I wanted all of it," she told TooFab. After she made it clear she wanted to do as many of her stunts as they'd allow, Madison said she ended the shoot with "real bruises and cuts and my dislocated toe."
"[Roberts] said, 'I tried to break you so hard in the first week and you would not let me and I put you through hell through this entire filming experience,'" she continued. "He allowed me to have cars on fire around me, to be right next to the flame, the explosions, to be crawling on real bridges, to be on some real trailer, he really did put me through hell and I was totally ready for it."
Madison said it became a joke on set to cover up her real bruises in the makeup trailer, because, "God forbid, she has a cut on camera!"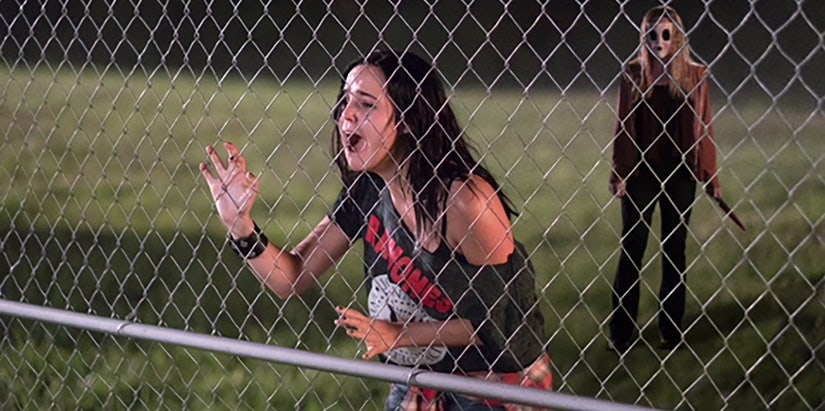 Aviron Pictures
As for her toe, she had no idea when she dislocated it, but the actress did say she tried to hide it from the director as long as possible.
"My foot was throbbing and I walked into makeup and showed them and it was really like, 'Your toe is completely dislocated,' and I was like 'Oh no,'" she said. "And I didn't want anyone to know because I obviously didn't want them to say that I couldn't do anything more."
After rehearsing a scene where she had to keep running along an extended length of chain link fence, she finally showed the director the damage.
"By the sixth time that he had me rehearsing, I kind of pulled him, 'Hey, Johannes, I didn't want to show you but...,' I showed him my toe which was black and blue and he goes, 'Oh no that's terrible!'" she explained. "[Then] he's like, 'Okay, we'll just film.' And I was like, 'Perfect! Let's film.' He didn't want to baby me at all. It didn't didn't do anything. But it was still was a funny joke on set."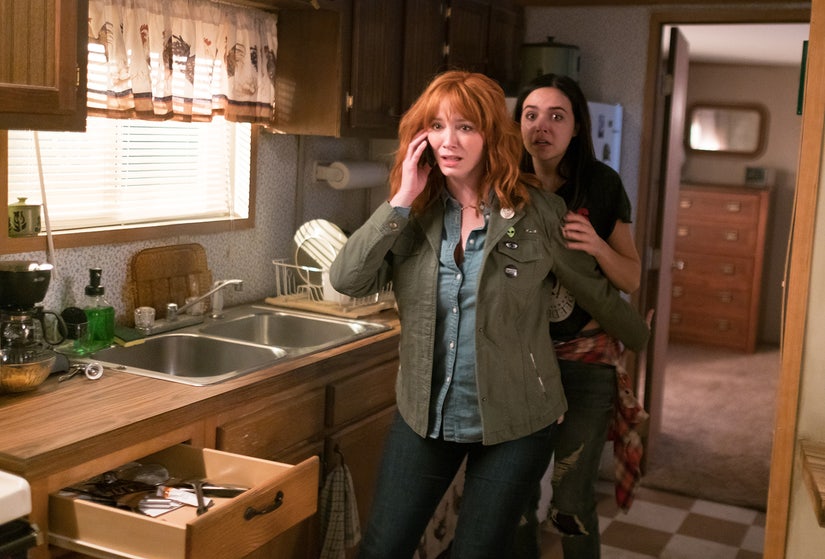 Aviron Pictures
Madison also detailed one especially scary moment during filming: the first time she and on-screen mom Christina Hendricks came face to Dollface.
"We asked not to see Dollface because it's one of the earlier scenes and we hadn't filmed anything with the Strangers yet, this is our first scene with one," Madison explained.
"I remember there's a scene that she comes in through the bathroom at Christina and I, and they literally put us in the bathroom, bolted the door shut and there was no way for her and I to get out even though we are in a set, it was still incredibly terrifying and claustrophobic," she continued. "And they yelled 'Action' and Dollface came at us, just blowing the door down with wood flying everywhere. She and I were screaming at the top of our lungs, and when they yelled cut were genuinely so traumatized that we were shaking. And I think that's when I looked at Johannes, I looked at Christina, I looked at our crew members and I was like 'Let's do this. We are in for a ride.'"
"The Strangers: Prey at Night" is in theaters now.