Steve Trevor's death rocked Wonder Woman to her core in the first movie, with his loss reverberating through both "Batman v. Superman" and "Justice League." But now, in the first photos from the Amazon warrior's second standalone film, he's somehow back from the dead.
With production starting on "Wonder Woman 1984," Warner Bros. dropped official photos of both Chris Pine and Gal Gadot on Wednesday, likely to get the drop on photos of them on set that would inevitably leak during filming.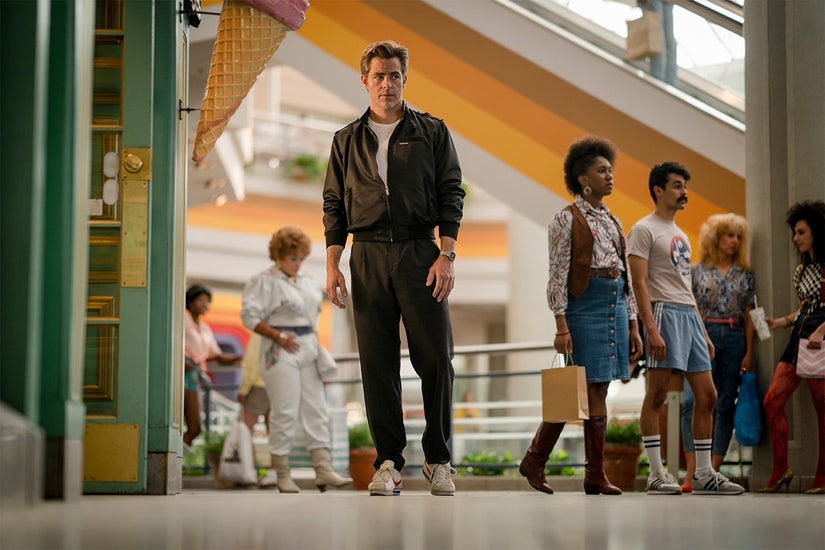 Warner Bros.
In one photo, the superhero is seen in front of a wall of TV screens showing various '80s trademarks, including a shot of JR on "Dallas" and Christy Brinkley in "National Lampoon's Vacation," while the other shows Steve looking like a fish out of water in a new era.
"Fast forward to the 1980s as Wonder Woman's next big screen adventure finds her facing an all-new foe: The Cheetah," reads a press release from WB. "Principal photography is underway on Warner Bros. Pictures' follow up to the Super Hero's first outing, last summer's record-breaking 'Wonder Woman,' which took in $822 million at the worldwide box office. 'Wonder Woman 1984' will also be helmed by acclaimed director Patty Jenkins, and star Gal Gadot in the title role."
The press release specifically notes that Pine will play "Steve Trevor," meaning his return won't be like star Lyle Waggoner's on the original TV series. After a time jump between the first and second season's of the Lynda Carter show, the actor played Steve Trevor Jr., Steve's son, for the remaining episodes.
"Wonder Woman 1984" will hit theaters November 1, 2019, following the releases of "Aquaman" on December 21, 2018 and "Shazam" in April 2019.