Kim Kardashian isn't satisfied with just being a multi-millionaire reality star, perfumer, and beauty mogul.
In a preview for Sunday's episode of "Keeping Up with the Kardashians," Kim wants to practice her funeral makeup skills on momager Kris to work on becoming a mortician. The KKW beauty businesswoman catches her mom fresh out of the shower and asks her to lay down so she can get to work.
"I feel like I know makeup very, very well," Kim says in a confessional. "And, before I even go to a professional, I want to test it out on my mom."
Although Kris is obviously not a "substitute for a dead body," Kim thinks that her mother would be the best guinea pig for her to "test" her skills, as in the past the mom of three has only done her makeup on herself.
When Kim tells her mom that she's a "mortician," Kris informs her that although she might not look her best right out the shower, she's "not dead."
"Can I just practice on you?" Kim begs. "You can relax and just chill."
"Kim is always trying something new," Kris says in a confessional. "Who knew that her love of makeup would take her this far?"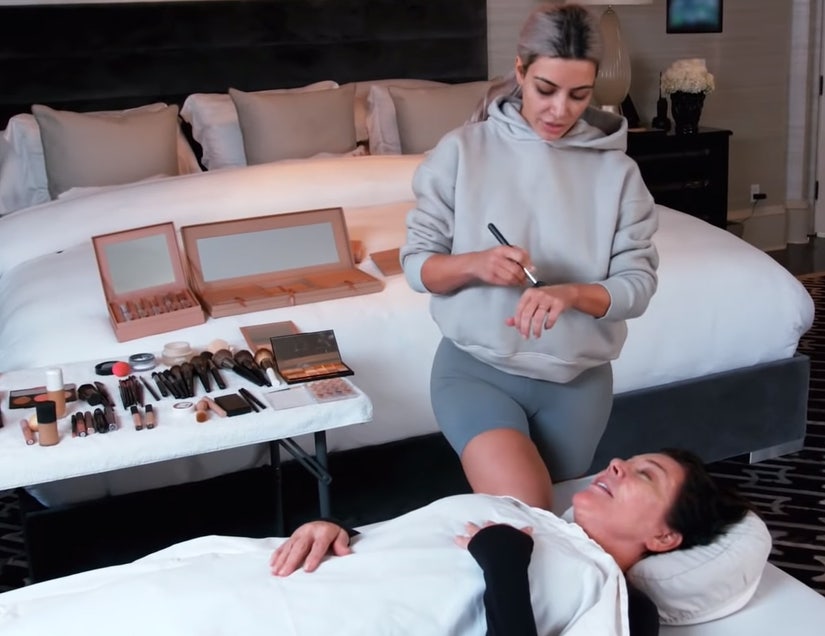 E!
Kris lays down on the massage table -- because of course they have one of those in the house -- as Kim asks her mom what kind of "look" she wants to go "out out" in like "to the grave."
The reality star gets to business and works her makeup magic.
"I was gonna say, 'This might feel a little cold,' but you're dead so it doesn't matter," Kim jokes.
Kris points out that doing makeup on a living person is "completely different" than doing it on a dead body and tells her daughter that she's "really creepy."
As we know, the Kar-Jenner clan loves their pranks, so as Kim was working her magic on her mom's "beautiful" face, Kris popped her head up and yelled, frightening Kim.
"Oh my god, you really scared me," Kim says. "I almost peed my pants."
Watch the full clip below.
"Keeping Up with the Kardashians" airs Sunday nights at 9pm on E!