The engaged pair packed on the PDA while walking the pink carpet at Radio City Music Hall in New York City, where Davidson rocked a new beaded bracelet with Grande's initials, AGD.
Grande is up for five awards at the VMAs, including Video of the Year for "No Tears Left to Cry" and Artist of the Year. Grande won for Best Pop Video and shouted out Davidson in her speech, saying "Pete Davidson, thank you for existing. I love you!"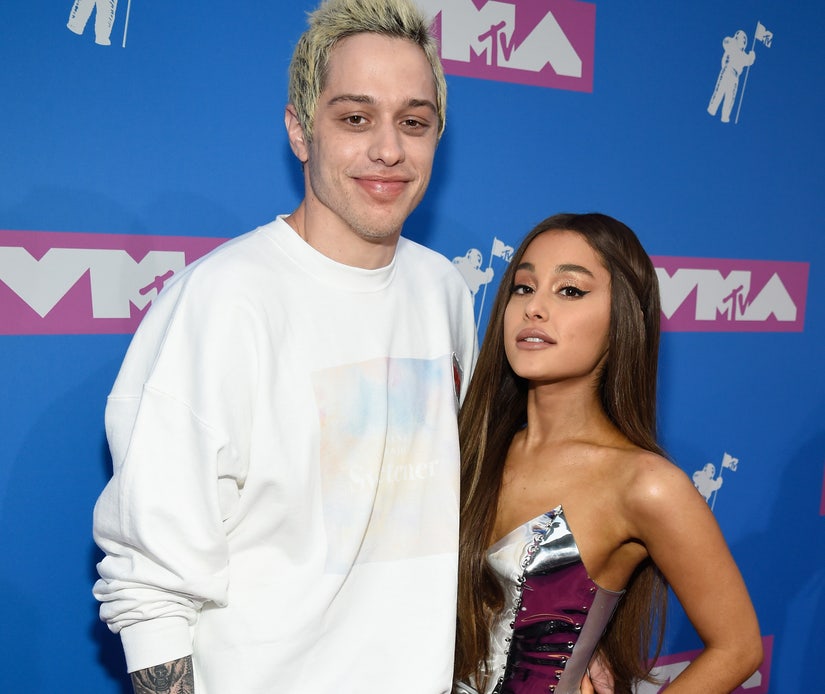 Getty
"He didn't get on a knee, thank God," Grande told Sang. "No, that would've been so googly."
A fan in the "Sweetener Slumber Party" audience piped up and said that he had read details about Davidson's proposal. "What did you hear? What that he was high?" Grande asked, laughing. "He's always high!"
The pop star explained that she never really thought that she would get married until the "SNL" star came along.
"I'm not like a very traditional person so the fact that I'm getting married is something I never even saw coming," Grande said. "I never saw that coming, I never wanted that."
"I was like, 'F--k that, there's no point,' like what's the point?" she added "Then I kind of understood it once I found the right person."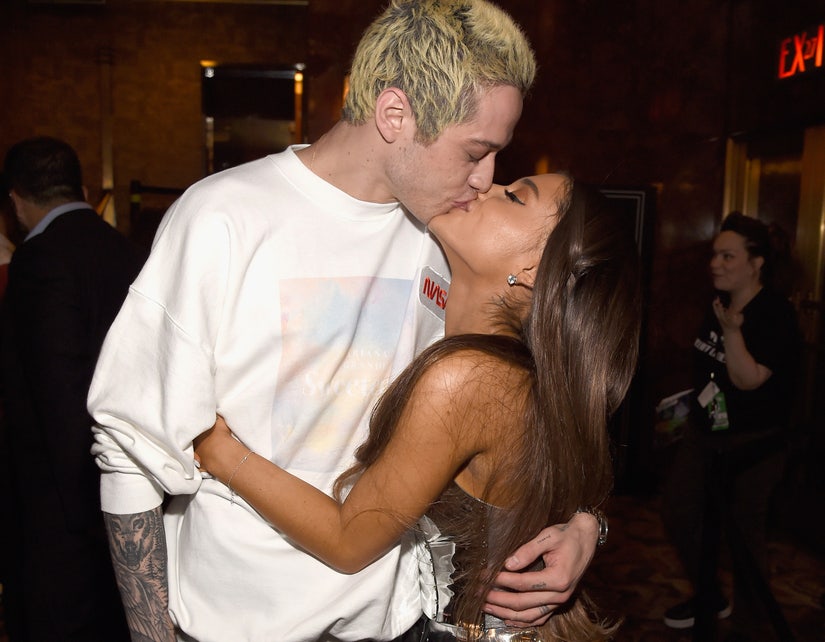 Getty
Grande shared the story about how she and Davidson met on "Saturday Night Live" when she hosting the show. Ariana -- a huge Harry Potter fan -- was immediately smitten after catching a glimpse of his Deathly Hallows tattoo.
"I remember when I was rehearsing my monologue, I like looked off stage right where he was like waiting to come on and be like, 'Hey do you wanna smoke some pot?'" she recalled, showing off her spot-on impression of her fiancé. "And I like saw that he had his sleeve...and I saw the f--king Deathly Hallows here and the tiny tip of a Dumbledore quote."
Grande added that since she thought he was "cute" and was looking over, she approached him about his ink. "I was like, 'Is that the Deathly Hallows?!' and he was like, 'Yeah!' and I was like 'carry on' and I walked away and that was really it."
The 2018 MTV Video Music Awards air Monday night at 9 p.m. ET on MTV.