The future of "The Hills" is no longer unwritten, as it appears the MTV reboot has started filming for 2019.
After the network confirmed the series' return during the 2018 MTV Video Music Awards earlier this month, two of the reality show's stars were spotted this week surrounded by camera crews, while more reunited for a private party that was also filmed for the show.
On Tuesday, Audrina Patridge and Stephanie Pratt were seen with cameras around them as they oh-so-casually met up in Beverly Hills. Patridge, now a 33-year-old mother-of-one going through divorce, looked chic in a white -shirt, ripped skinny jeans and gold heels for meeting. Pratt, 32 and single, opted for a knit, sleeveless top and skinny jeans.
The duo met up about a week after Patridge's ex, Corey Bohan, made it clear on social media that he didn't want the former couple's daughter, Kirra, to appear on the show.
"I refuse to think it's ok for our 2yr old daughter Kirra Bohan to be shown & exploited on Reality TV," he wrote at the time. "Not just my child but anyone's for that matter. I Stand up for what I believe in. This post isn't an attack or negative rant. This is about our daughter Kirra Bohan."
It doesn't appear that Kirra was on hand during Tuesday's shoot, or when Patridge, Pratt and a number of other cast members gathered at a party earlier this week.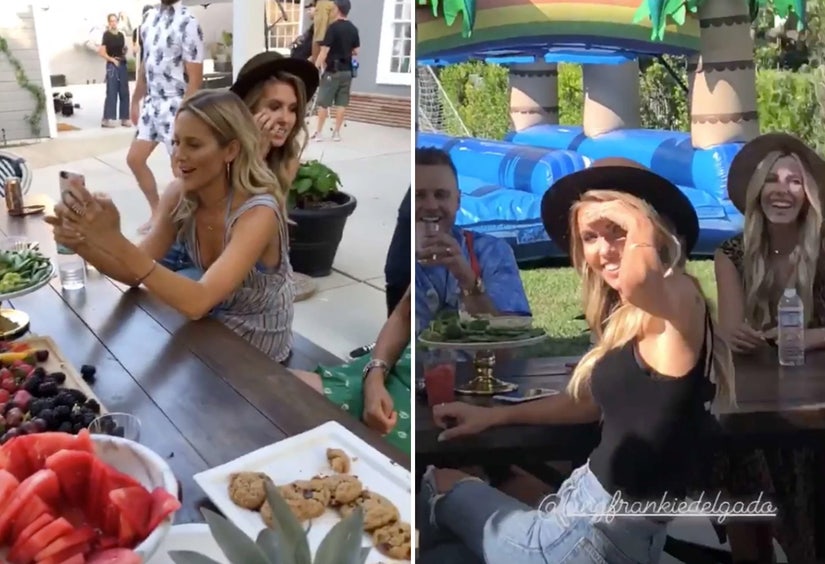 Instagram
Wahler also shared a photo from the pool party, showing the two of them in matching cactus-themed rompers.
Waiting for your permission to load the Instagram Media.
"The Hills: New Beginnings" will follow a handful of original cast members, their children, their friends and some returning favorites, while they navigate their personal and professional lives.
The series is slated to hit MTV sometime in 2019.