Fogelman tells TooFab about putting together "little pieces" from "all over" to create the film.
When writing his new film "Life Itself," writer and director Dan Fogelman dove into his personal experiences for inspiration, only he didn't realize at first that he was doing it.
"Life Itself" is a multigenerational saga that "examines the perils and rewards of everyday life." The emotional drama from the creator of NBC's "This Is Us" follows multiple storylines spanning many decades, both in New York City and Carmona, Spain.
In an interview with TooFab, Fogelman explained that when he was first developing the screenplay for the film, he focused on the triumphs and tribulations of life. It was only after he finished he realized that he had been writing about special people in his own life.
"I kind of looked at what I'd written and came out of my writing haze [and] I realized I'd been writing about a couple of people in my life and a couple of things that had happened to me," Fogelman said. "But I hadn't even been doing it consciously at the time.
"I wrote the film for my mom, who I lost 10 years ago," he continued. "I wrote it for my wife, who I met almost to the day one year later, and a bunch of different other people in my life."
The film is as multifaceted and complex as life itself, so to speak, and so it was no surprise that Fogelman's description of the film's message was a little messy, too. "I was trying to sit down and write something that really explored how difficult life can be, and how up and down and from one moment of joy to one moment of sadness it can be, and then really show how difficult the human experience can be, but that ultimately find some legs of forming joy and love in it."
Mild spoilers for "Life Itself" follow.
There are parts of Antonia Banderas' character Javier, and more specifically his relationship with Isabel (Laia Costa), that are inspired from Fogelman's own experiences, even though he jokes he's "never been Antonio Banderas" or "had a mustache."
"I have spent a little time in Spain when I was a younger guy in my twenties and I just, I love the country, particularly in the southern area of Spain where the film is set," Fogelman said. "There [are] elements in everything I do that I've pulled from stuff, even if it's not completely-- like I was never an olive oil farmer."
But that doesn't mean he didn't find commonality with these characters. "I have loved a wife intensely and had a really pure love story and part of that gets filtered in the story between the characters and Javier and Isabel," he said. "The monologue that Banderas has about his own mother at times talks towards the kind of close relationship I had with my own mom. So even though I don't look at the movie and see myself in Antonio Banderas, I think little pieces are pulled from all over the place."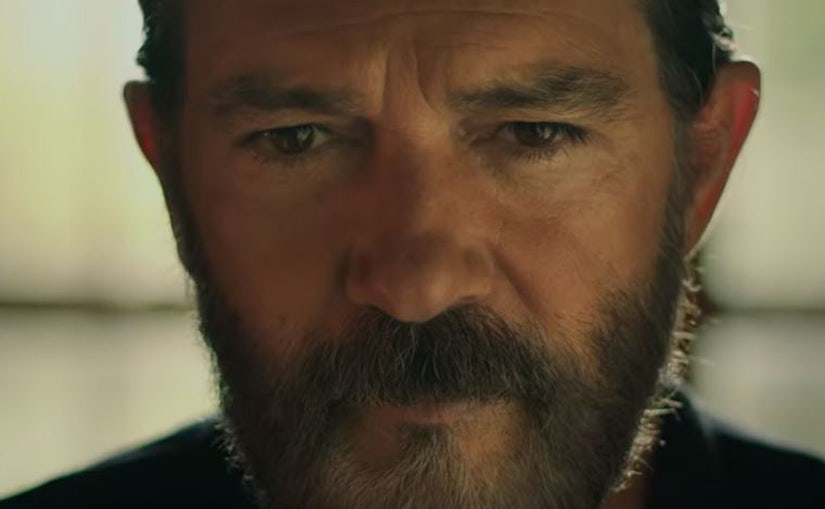 Amazon Studios
For Fogelman, the greatest part about having a good portion of the story set and filmed in Spain is that it proves while people may speak another language or live in another country, there is something universal about so many facets of the human experience.
"There's something really wonderful about working with people who haven't lived your exact experience and tell your story that exists in a culture and a place that isn't completely familiar to you," he said. "As you work with people and go out for drinks with people after work and tell a story set in Spanish culture and in the Spanish language, it's a reminder that the common movements and the shared movements of our lives are not that dissimilar."
While he admitted he enjoyed the "challenge" of making a foreign-language film, Fogelman doesn't foresee a lot of them in his future. "It was a treat, getting to kind of dive into that world," he said. "As a writer there's something really wonderful about writing in another language and trusting that your writing is going to be sharp enough that it can hold, Even if the American audience has to read part of it."
The film also touches on some darker universal subjects, such as depression and suicide. Oscar Isaac's character, Will, becomes so depressed after the death of his wife Abby, played by Olivia Wilde, that he begins to spiral through self-medicating and excessive drinking, before ultimately winding up in a mental institution. We won't spoil the rest of his journey, but fans of his work on "This Is Us" will be familiar with the need for a box of tissues.
When asked what kind of work goes into preparing for these challenging storylines, Fogelman explained that since life itself (no pun intended) can be "surprising" and "devastating," he and his team try to create an accurate portrayal of what these issues would look like in real life.
"We try and do everything correctly," Fogelman said. "We talk to researchers, we work extensively with the actors to try and make it believable for the character and make sure their character's been framed properly, to earn it. But this film is about the surprises and the curve balls that life throws your way.
"It's about the difficulties in life and how we kind of overcome them and find the love and move forward," he continued. "In order to have that backside, it's a kind of life-affirming ending that finds the love. The characters in this film would have to go through something, or else you're just kind of pulling your punches to get to a happy ending. And so that's all part of the construct."
"Life Itself" was written and directed by Dan Fogelman and stars Oscar Isaac, Olivia Wilde, Mandy Patinkin, Olivia Cook, Laia Costa, Annette Bening and Antonio Banderes. It is in theaters now.