The actress spills on working with Taraji and Erykah Badu, reflects on "Can't Hardly Wait" and confirms upcoming gigs on "SEAL Team" and "L.A.'s Finest."
A gender-flipped "What Women Want" reboot -- titled "What Men Want" -- hits theaters this weekend, with Taraji P. Henson stepping into the Mel Gibson role as a sports agent who can suddenly hear what all the men around her are thinking.
Henson is surrounded by women in the film, including Tamala Jones, Wendi McLendon-Covey and the one and only Erykah Badu, who easily steals every single scene she's in.
TooFab caught up with Jones ahead of the film's release, where she revealed she was definitely starstruck meeting the legendary singer on set. She also explained why now is the time for Gibson's movie to get an update and shared whose thoughts she would and wouldn't want to hear in real life.
Have you seen the original and why do you think now is a good time for the update?
I have seen the original and I loved it. I think now is the perfect time for a update, women are are having our own businesses, we're in that business place and sometimes we still don't get what we deserve because we're women. This highlights that in a comical way and by her to hear their thoughts, she gets an in, but she also learns a lesson about men and about the human being, period. That's what I love about this too and that was kind of was the lesson with Mel Gibson, trying to beat her out, but he ended up learning a lot being able to hear the thoughts. So I think it's right on time.
What was it about the script that really made you want to get on board with this?
It's been a while that I have picked up a script that says it's a comedy and have laughed from start to finish reading that script and that was the script for me. From the opening scene to the end, cracking up out loud in my bed alone like no one else was there, it was a great script.
I always wanted to work with Taraji as long as I known her and never had that opportunity and [producers] James Lopez and Will Packer, I worked with them at Sony for most of my early 20s when they were there, and they were someone else. It just warmed my heart to be able to work with them on this level after knowing them and working with them on other levels, which is great.
Before our screening, [Director Adam Shankman] came out and said how excited Taraji was to show her comedy chops. What was that like seeing them in action for you?
I loved it because Cookie is funny but she has serious tones to her and we see Taraji, she's played so many different roles and they've mainly been very dramatic or a little dramedy, but to see her actually do physical comedy and a different funny ... I think this is so great for her, I really think the audience needs to see her like this as well as the rest of Hollywood because she's unstoppable. There's really nothing she can't do, this is great for her
You have comedy in your past as well, how fun was it to return to that?
I LOVE IT, especially after playing a medical examiner for almost 8 seasons [on "Castle"], I needed this to be around these talented women and I needed to be involved in something because I knew it would be big, I was super excited.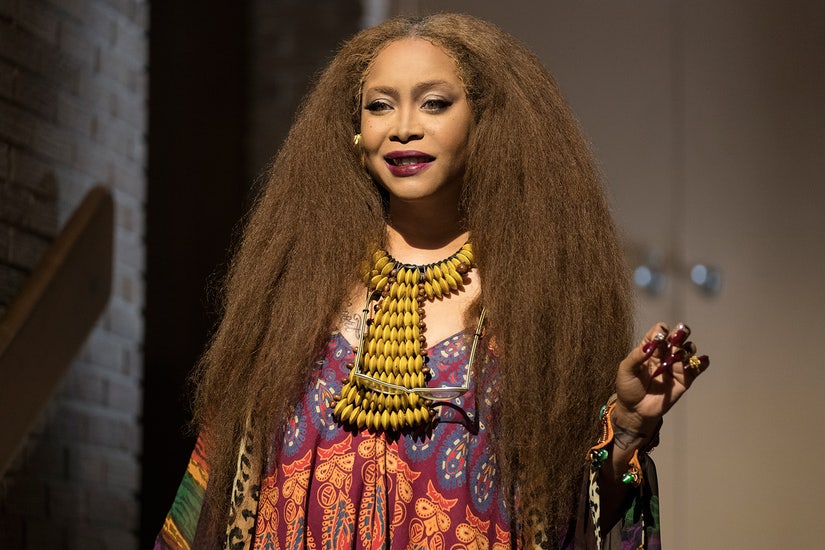 Paramount Pictures
We need to talk about Erykah Badu, because her role as Sister in this is ridiculous. It's amazing, what was it like being on set with her?
I'm a huge Erykah Badu fan since Badu came out with the incense and the head wraps, like I have loved her ... and I'm usually cool when I meet people -- you know I met Billy Idol, I loved him growing up, thought he was cool -- but when I met Erykah, I almost had a heart attack. Her presence is so beautiful and full of light and so strong and then she is like this mysterious being walking through the room and as soon as she opens her mouth, you're like, "Awwww man, just go ahead and start singing 'Tyrone.'" I'm just waiting I was starstruck, I'm not going to lie.
She definitely commands the screen when she's on it
Yeah, and the room when she walks in it. It's beautiful though, she is such a soul intellect, she's intellectually heightened on the spirits of other people. Don't look at her in her eyes, she can see you! She undresses your whole being when she walks into a room and she sees you. And then to feel that warmth from her. I think Michael Jackson had that same energy. You're in awe.
She's so talented I remember the first time I saw her on screen was in 'Cider House Rules.' It was such an interesting film and she was big back then, that's when she first came out. She got some acting chops and she's definitely funny, she killed it.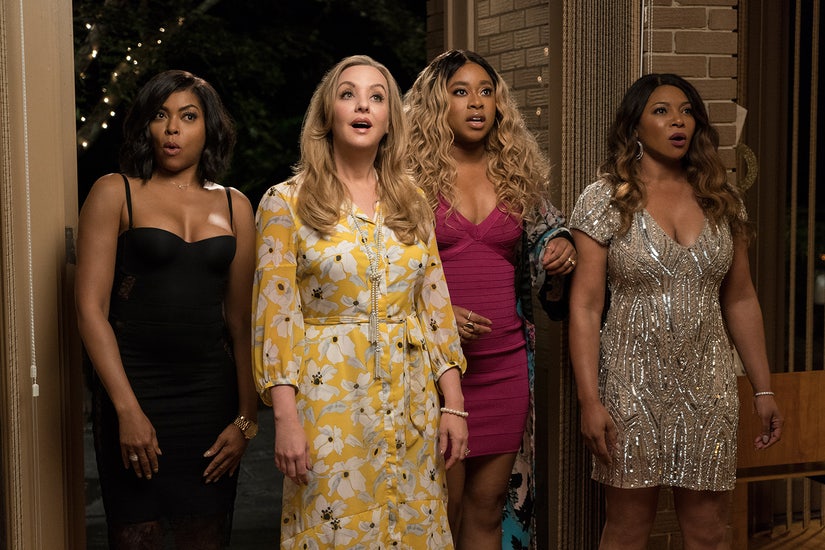 Paramount Pictures
Now for you is there a scene that was most fun for you to get on set and do?
I really loved the bachelorette party at the nightclub, you know, it's so many different colors and fun and the girls were wild then the thing happened. Thats the best part.
In the movie, Ali can hear what men want. Is there a famous male celebrity's head you'd love to get inside for a minute?
I would love Christopher Walken. Let me get in his head because you know he been doing this for a long time and he has this sex appeal that's just effortless and his style of acting, like boy, where do you pull this from?
And on the flip side one person whose thoughts you would not wanna know?
Oof, I have to skip that question ... um ... I wouldn't wanna know Trump's. I might have to pop him upside the head if I ever found out what was in there. There you go!
In general, is this an ability you would want?
No, I don't wanna know because I'm already in my own head too much and I over think hearing someone else would drive me crazy!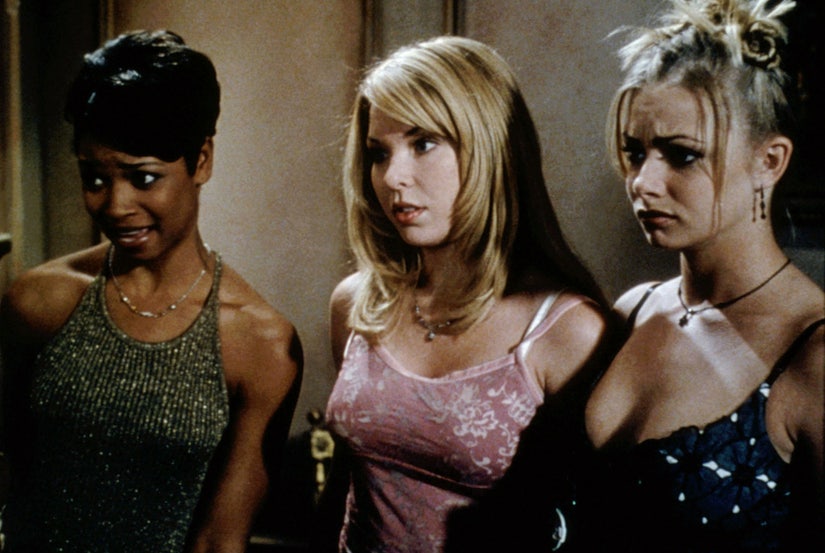 Everett Collection
We have to bring this up because we love 'Can't Hardly Wait' at TooFab. What it was like to be on that set, where you were surrounded by so many of these Hollywood stars -- and almost all of them, including you, have gone on these huge careers?
It was a party that was like actor's summer camp. Jaimie Pressly, Seth Green, Jennifer [Love Hewitt], I mean everybody was in this movie and it felt like a little high school reunion but with new friends. Everyone stayed in character, so what you saw on film is exactly what we were off camera, just naturally, nothing was really pushed. We had fun and everyone knew what they were there to do.
I still talk to Joel Michaely, who was one of the geeks who didn't get into the party. I actually studied with him, so whenever a reunion comes up, he always hits me up to remind me, "Hey, we are having a screening, got to come through!" But that was one of the best projects I worked on in my young years. That was the best.
Waiting for your permission to load the Instagram Media.
Right now, what we have coming up, we have "L.A.'s Finest" with Gabrielle [Union] and Jessica Alba. I'll be playing Gabrielle's half sister, that's recurring on that. And then, most recent is "SEAL Team" for CBS, where I'll be playing a drill sergeant.
Look at you, how was it getting into that?
That was pretty awesome! Never thought I would play a sergeant and to prepare I watched Sam Jackson movies a lot and Tommy Lee Jones, because he has this great thing that he does, his timing, his language, the way he says everything and how stern he is. And then, I use Sam Jackson for that strong sass.
"What Men Want" hits theaters February 8, 2019.