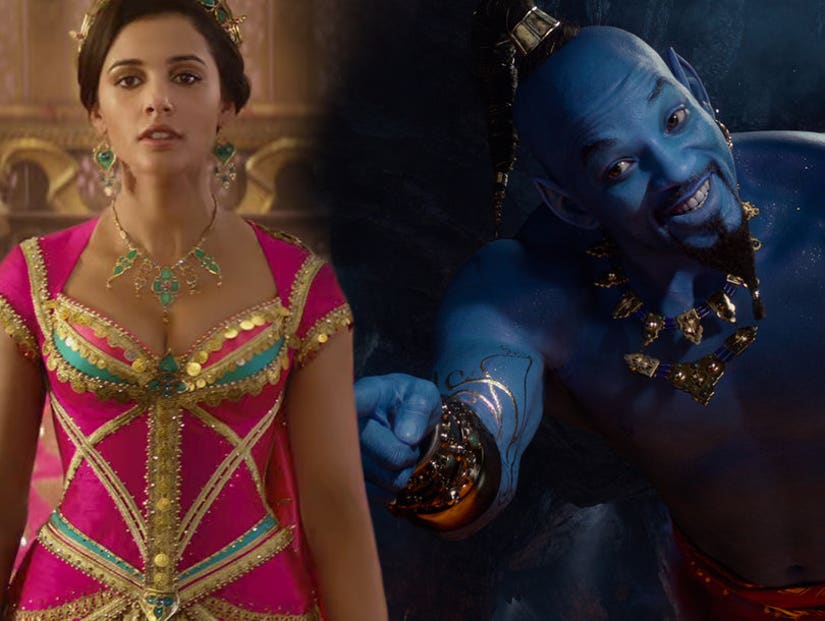 Disney
Fans had been waiting nervously for the first appearance of Smith's genie in the promised blue -- and he finally arrived halfway through Sunday night's Grammys.
Finally: the blue Genie is here.
Disney unveiled the latest trailer for its live action Aladdin remake during Sunday night's Grammy Awards, revealing for the first time Will Smith as the azure-skinned djinn.
Despite assurance from Smith himself that the beloved character would be the same color as the one voiced by the late Robin Williams in the animated original classic 27 years ago, fans will only rest easy now they've finally laid eyes on him in all his CGI glory.
The trailer opens with Aladdin (Mena Massoud) preparing to enter the Cave of Wonders, and we hear the evil Jafar's (Marwan Kenzari) voice for the first time.
"Bring me the lamp," he orders, his loyal pet parrot perched -- silently for now -- on his shoulder. "Your life begins now… Aladdin."
A tantalizing glimpse of the "Prince Ali" sequence also flashes by, boasting sumptuous colors as the pretend prince rides his monkey Apu -- now an elephant via the Genie -- as they stomp through Agrabah en route to try and woo the Sultan's daughter, to the catchiest tune in all of Disney's extensive catalog.
Fans also got their first look at the Princess Jasmine, played by the gorgeous Naomi Scott, as she descends the stairs of the palace in a resplendent trailing dress of pink and gold, her tiger Raja following watchfully behind.
There's plenty more goosebump-inducing moments in the one minute clip, including the "do you trust me?" meeting of hands before Aladdin and Jasmine go over sideways and under on their Whole New World magic carpet ride.
But the best bit comes right at the end as Aladdin, with Apu and a pixel-perfect CGI Magic Carpet right behind, rubs the magic lamp for the first time, unveiling the big beautiful blue Smith.
"You really don't know who I am?" he asks. "Genie, wishes lamp… none of that ringing a bell?"
Aladdin materializes in theaters on May 24.