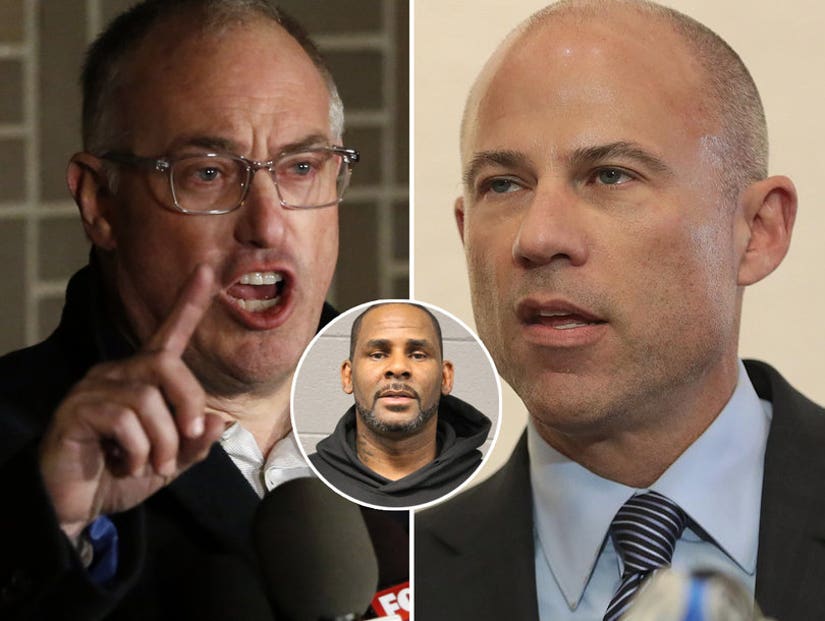 Getty
"Steve Greenberg is an embarrassment to the other fine lawyers of Cook County and Chicago," Avenatti said.
It will be a while yet before R. Kelly goes to trial.
But the war of words between the defense and prosecution lawyers is already well underway, as Steve Greenberg and Michael Avenatti went for each other's throats this week.
On Monday Kelly's attorney Greenberg claimed Avenatti should be criminally investigated for how he has handled what he claims to be child pornography; speaking to TooFab afterwards, Avenatti accused Greenberg of purposely mistaking the law and described him as "an embarrassment."
"Steve Greenberg is an embarrassment to the other fine lawyers of Cook County and Chicago," he said. "He purposely mistakes the law and how lawyers go about their work. He doesn't know the facts and what he does know, he often misstates."
"We did our jobs and will continue to do our jobs. Mr. Greenberg should worry more about his own client's depraved conduct."
He said Greenberg's assertion he was drip-feeding the media in a grandstanding maneuver was "complete nonsense".
"Nobody is 'slow bleeding' anything. We are turning over evidence as it comes into our possession,' he told TooFab. "And we are not 'showing' people evidence. He has no idea what he is talking about yet - again."
Greenberg meanwhile told TooFab: "That person just does not seem to be constrained by the bounds of professional decency."
The fracas kicked off on Monday when Avenatti reacted angrily to Greenberg's assertion his clients — Kelly's alleged victims — were lying.
"Mr Greenberg's client is in a fight for his life; Mr Greenberg needs to pull his head out of his ass and start defending his client, as opposed to making personal attacks on me and the victims in this case," he said in a press conference.
Greenberg, also giving a press conference shortly after his client pled not guilty to multiple sexual assault charges, was highly critical of Avenatti, especially his handling of videotapes which he alleges show Kelly committing statutory rape on a 14-year-old girl.
"I'm constrained by our ethical rules. Other people come in here, they are not constrained by our ethical rules," he told gathered journalists.
"When there is a child pornography charge, under Illinois law, we actually have to have a court order to be able to see it. Because every time someone views child pornography —- in theory —- it's a separate criminal act. There's certain rules that govern those cases in particular."
Mr Greenberg clarified that he himself had not seen the tapes.
"I will tell you to the extent someone is showing tapes to somebody, someone is watching tapes, that warrants its own investigation," he claimed.
"What I'm saying is, if someone has possession of child pornography, and they determine they think they've got possession of child pornography, they should turn that over right away. Not do some song and dance in front of the media, 'I got one today, I got one tomorrow, I'm going to show this one to CNN,' and all that."
He added: "If they are doing that, each instance of that is in fact, in my opinion, a criminal act."
He insisted it was up to the state's attorney or police to look into the matter.
Incidentally, Avenatti faced heat on Twitter when he posted screen grabs from the tapes; although the pictures did not show the alleged victim, they did show a man Avenatti claimed was R. Kelly engaged in a sex act with a minor.
Greenberg was particularly incensed that Avenatti had attacked him for believing R. Kelly — pointing out that every American is presumed innocent until proven otherwise, and are also entitled to a legal defense, adding that he would be a pretty poor defense lawyer if he didn't believe his client.
In a further press conference, Avenatti said it was "outrageous for Mr Greenberg and other enablers of Mr Kelly to suggest that all of these young ladies, after 28 years, are lying about this conduct."
He also warned: "In addition we are in the process of investigating his enablers: the attorneys, the enablers and the managers that enabled this course of conduct, all in the interest of money."
"Transporting these young girls across state lines, arranging for their hotel rooms, arranging to keep them hidden, covering up their existence, convincing them not to go to authorities, obstructing justice, destroying documents, tampering with evidence, and paying people off, the list goes on and on; this conduct is outrageous."
Avenatti later clarified to TooFab that he was not grouping Greenberg with the "enablers" he has vowed to bring down.
The legal rivals then continued their verbal brawl on Twitter, where Avenatti mocked his opponent for hinting he might invoke a double jeopardy defense.
"Can someone explain to Steve Greenberg how double jeopardy actually works in criminal law, before he embarrasses himself further," Avenatti tweeted. "Pls explain to him that it has to be the exact same act/instance previously charged and usually also must include the exact same statute. #AmateurHour"
Greenberg shot back on Twitter: "Memo to #MichaelAvenatti who blocked me but continues to insult me like a coward. I know exactly what the law is in Illinois about consent and double jeopardy. I also know how to make my point without insulting somebody. And I know that I've won More criminal cases in the last... then you have one in your entire life. I would be happy to review my record with you. People are presumed innocent and the ultimate decision is not up to you So I am going to defend my client, and not worry about you. Have a nice flight back to wherever you came from. Bye."
Avennatti fired the final shot — for now — by tweeting a pic of Greenberg smiling and waving, with the caption: "Nothing says 'I'm a professional and not grandstanding' like taking selfies with the press moments before the bail hearing for your client, who is facing life in prison. #ClownShow"