See what the former "Real Housewives of Atlanta" star thinks about her estranged brother's critical comments of daughter Brielle Biermann.
On Friday's episode of "Don't Be Tardy," Kim reunited with her estranged brother, Mike Zolciak, but it wasn't all rainbows and butterflies. After 16 years of not seeing his only sibling, Mike decided to accept Kim's invitation to attend her 40th birthday celebration. During a conversation about their kids, however, Mike was highly critical of Brielle's career choice of posting sponsored content on Instagram, even though Kim assured him she was making "well into six figures." Then while at Kim's party, cameras caught Mike's wife whispering, "Brielle's half naked," and Mike scoffing back, "I think they all are."
"I don't think [Mike] can relate to Brielle and her Instagram world and how successful she's become and been," the former "Real Housewives of Atlanta" star explained Sunday on "WWHL". "And then the half naked comment, I asked Kroy [Biermann], because like, we were all really dressed. My sleeves went to here, my skirt went to here, my boots met my skirt, so that was a little strange. I think they forgot they were mic'd."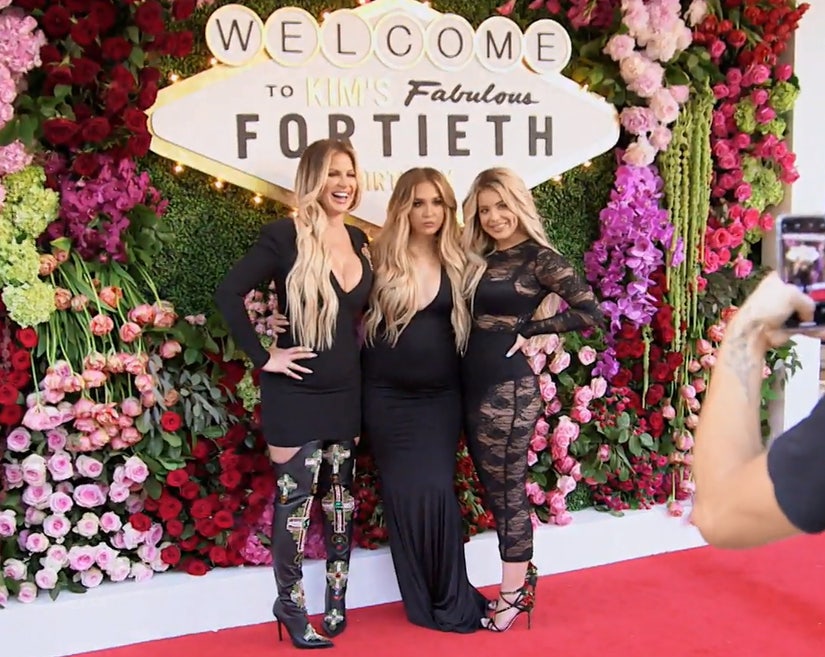 Kim and daughters Ariana and Brielle at her 40th birthday party via Bravo
Andy then asked the reality star about the status of her relationship with her parents, who she hasn't spoken to since her wedding day. Kim blames her parents for trying to drive a wedge between her and her brother.
"Um, I don't talk to my parents, but I talk to my brother," she said somberly. "And my brother doesn't either, so that was comforting to find that out."
Andy then asked if her relationship was "any better" with husband Kroy's parents. Kim suggested Andy direct that question to Kroy, who was seated in the audience.
"They're great people, it's just, we don't jive," he replied. Kim agreed.
A caller then asked Kim how she felt about all the online criticism she receives in regard to her parenting style.
"I feel like I'm a really good mom," she replied. "I mean, we all make mistakes and we all learn as we go, but I'm very proud of all of my children. I think I'm a really good mom, and nobody can really take that [away from me]."
"Don't Be Tardy" airs Friday nights on Bravo.