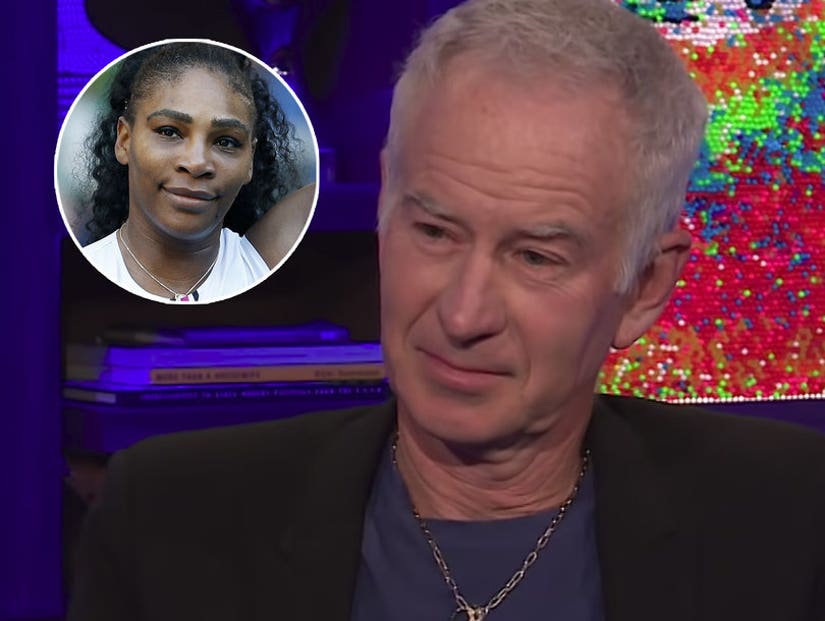 Bravo/Getty
"I'm not quite as sure as I used to be... gotta be honest, I still think I have a chance to win."
He received a lot of flack for claiming in 2017 she'd be ranked 700th in the world if compared to male players.
And although he's not quite as sure as he once was, John McEnroe thinks he could still beat Serena Williams.
The 60-year-old tennis legend made the bold claim on Thursday night's "Watch What Happens Live", calling the 39-time Grand Slam Champ a "fantastic player".
"I was number one in the world at one stage, but I'm a little past it. I'm not quite as sure as I used to be... Gotta be honest, I still think I have a chance to win."
He admitted his own daughter did not agree with him, however.
The Superbrat agreed that the world of tennis was sexist and that women were treated differently than men; the man who practically invented the tennis outburst defended Serena's controversial run in with the umpire at last year's 2018 US Open final, when she lost to Naomi Osaka.
"I could totally relate to what she was feeling," he said, branding the coaching violation she was accused of as "a bullshit call", as it was something everyone was guilty of.
Serena was penalized for illegal coaching, breaking her racket and verbal abuse, in an episode which overshadowed her 21-year-old opponent's historic first ever Grand Slam title for Japan.
"It was a lose-lose situation; he f--cked up and she f--cked up" he said, adding the umpire should have warned her before hitting her with the violations. "He went overboard, I didn't like what he did to her."
He said women don't have outbursts as much as men, possibly because they are "brought up differently".
"Expectations [on male and female athletes] are a little bit different... but that doesn't mean that it should be," he said, claiming that men and women should be allowed compete in the same tournaments.
During a game of Andy Cohen's famous Plead The Fifth, he once again refused to name the "very famous older woman" he had an intense relationship with, as hinted in his 2002 book "You Cannot Be Serious".
He did however reveal which of his fellow pros was the most well-endowed — though it pained him to admit it.
"It pains me to say this, he was a hated rival, I'm giving him a lot of credit... Ivan Lendl," he conceded, admitting jealousy of his manhood even fueled their rivalry.
During the show he also admitted he dated "Real Housewives of New York" star Sonja Morgan.
"I do recall, I believe that did happen," he said. "But I'd rather not discuss it right now because my wife and my daughter are here. I'm okay with my daughter but my wife I'm not so sure."
He also spoke of another former lover — ex-wife Tatum O'Neal — revealing Andy Warhol once painted two portraits of them... and she didn't want either.
"When we got divorced Tatum said she didn't want the other one, because I said we should take one each, right? She said 'forget it, just keep both of em'. I said 'ka-ching'"
Indeed McEnroe later sold one for almost half a million dollars, donating all the money to charity. "I don't know why anyone would want to pay for a picture of me and Tatum," he added.
The tennis ace also complimented Shia LaBeouf's portrayal of him in the 2017 movie "Borg vs McEnroe", rating him 8/10.
"Except for his legs, they were too skinny," he said.
"He wasn't the problem with the movie. The problem with the movie was they didn't involve Bjorn and I. They did a movie without us, never talked to us," he added. "We didn't get paid a cent, not that that matters; but we wanted to do the best possible movie, how often do you get a movie made about yourself, maybe once in your life? So that was disappointing. But I thought he did a pretty good job."