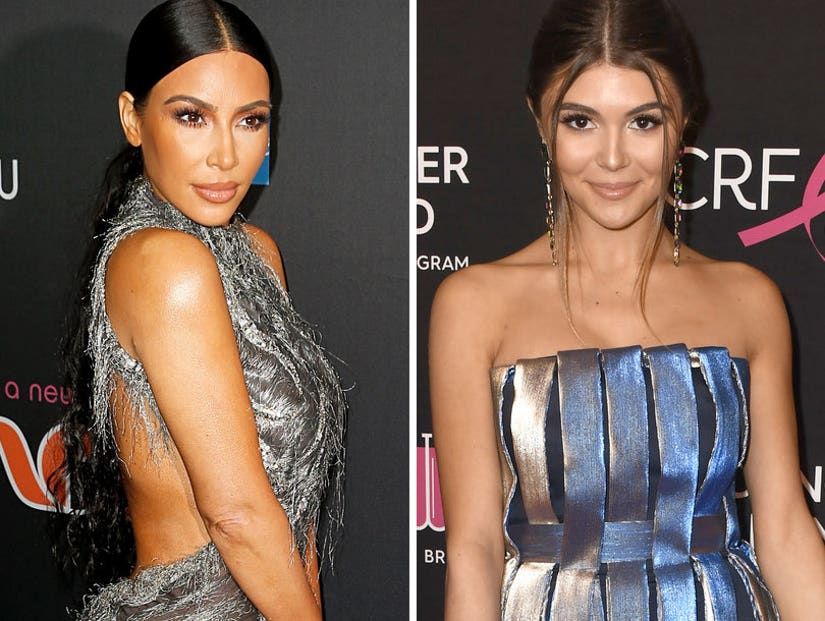 Getty
"To buy your way into something just wouldn't benefit anybody."
They went to the same high school.
The "KUWTK" star has weighed in on the admissions scandal, telling CNN's Van Jones that she would never abuse her privilege and buy her kids' way into college — which Olivia's mom Lori Loughlin stands accused of doing.
"If they couldn't get into a school, I would never want to use privilege to try to force them into a situation that they wouldn't thrive in anyway," she said. "That's what I see is not appropriate."
She said she wanted her three children who she shares with husband Kanye West — North, Saint and Chicago, with a fourth en route — to simply "be kind", adding that using their position to gain access would not set a good example.
"I want my kids to be as grounded as possible. To buy your way into something just wouldn't benefit anybody."
Like Olivia Jade and her sister Isabella Rose, Kim and her sisters Kourtney and Khloe went to Marymount High School, an elite Roman Catholic all-girls school in Los Angeles.
Last week Lori pled not guilty to a number of charges relating to the college admission scandal, in which she is accused of paying $500,000 to pass her daughters off as crew team members as a "side door" into USC, despite neither having rowed competitively before.
Kim never finished college herself; however she recently revealed she is currently studying to be a lawyer and follow in her late father Robert Kardashian's footsteps.
"Even though I'm in my late 30s and I'm just finishing college or attempting to do that now, it's never too late," she said.
"And there really is no easy way out. I've always worked hard, and I hope my kids see that work ethic and want to do the same thing."
On Instagram she added: "I've seen some comments from people who are saying it's my privilege or my money that got me here, but that's not the case. One person actually said I should 'stay in my lane'."
"I want people to understand that there is nothing that should limit your pursuit of your dreams, and the accomplishment of new goals. You can create your own lanes, just as I am."