ABC declined to comment on the star's tweets.
UPDATE 3/10/19 at 6:15pm PT: An hour after her previous tweet, Wu sent out another one saying she's "so grateful" for the show's renewal.
Todays tweets were on the heels of rough day&were ill timed w/the news of the show. Plz know, Im so grateful for FOTB renewal. I love the cast&crew. Im proud to be a part of it. For all the fans support, thank u & for all who support my casual use of the word fuck-thank u too😘

@ConstanceWu
UPDATE 3/10/19 at 3:45pm PT: After her tweets went viral, Wu followed them up with another saying, "That was not a rampage, it was just how I normally talk. I say f--k a lot. I love the word. Y'all are making a lot of assumptions about what I was saying. And no, it's not what it's about. No it's not..what this is all about. Stop assuming."
Responding to a follower, she added, "I said I was upset and crying. I did not say it was over a tv show. You're making an assumption."
She also deleted her "No it's not" response to someone who said the renewal was "great news," and the "Dislike" she wrote on the show's Instagram announcement of the renewal. You can see screenshots of both below.
While most stars would be thrilled to learn their network show was picked up for another season, Constance Wu seemingly had the opposite reaction when "Fresh Off the Boat" was renewed on Friday afternoon.
After ABC confirmed the sitcom would be back for a sixth season, Wu expressed serious frustration on Twitter in a series of tweets. "So upset right now that I'm literally crying," she wrote. "Ugh. F--k."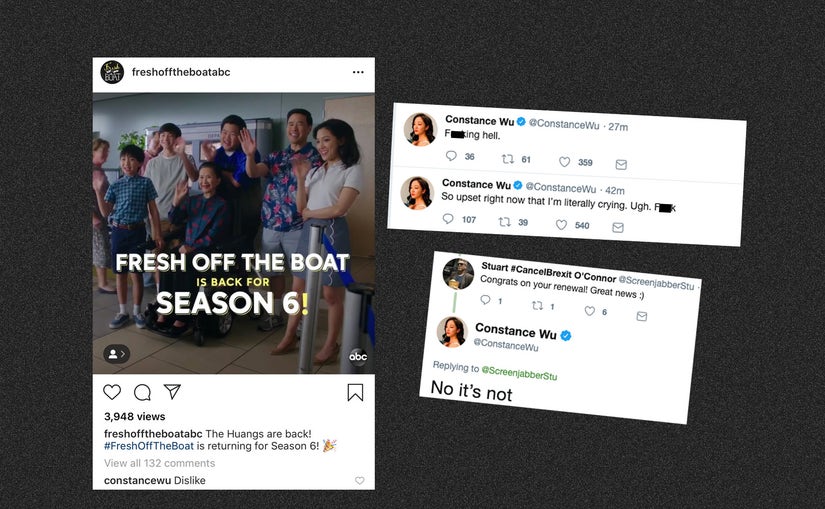 Twitter/Instagram
In a followup tweet she added, "F--king hell" and then responded to someone saying the renewal was "great news" by saying "No it's not." She later deleted that reply, but kept the other tweets on her page.
The "Crazy Rich Asians" star also went to the show's official Instagram page and commented on the post announcing the renewal, simply writing, "Dislike." She later deleted that comment as well.
ABC had no comment on the situation and reps for Wu were not immediately available.