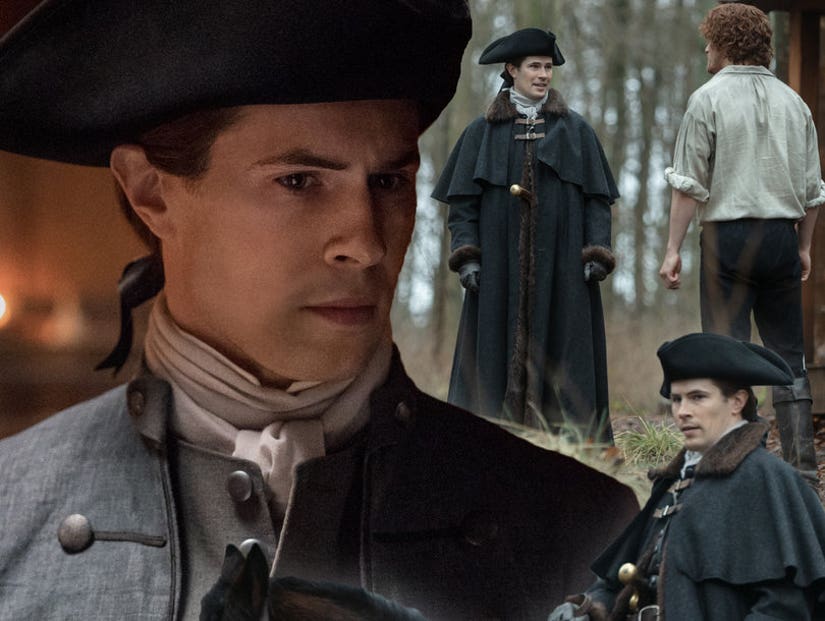 Starz
The actor also reveals what was in the letter he wrote costar Sam Heughan ... in character ... before filming their Season 4 reunion.
While the adult Lord John Grey didn't pop up on "Outlander" until Season 3 of the Starz series, he was already a fan favorite before actor David Berry said his very first line.
The beloved character went from captor of Jamie (Sam Heughan) to one of Fraser's best and most trusted friends throughout his time on the time-traveling show. While Grey -- a gay man in a time where that was not culturally accepted -- has always longed for more from Jamie, it's an unrequited desire.
Complicating matters even more: Grey is also stepfather and primary caregiver to Jamie's illegitimate son, Willie, who ventured with the Lord to America in Season 4 for a long-awaited reunion.
Though Berry has only appeared in five episodes as the character, he has certainly made quite the impression on the show's fandom. Followers of both the series and Diana Gabaldon's books from which it's adapted have held out hope for a spinoff series, as the author also has a collection of novels and novellas focused on Grey to serve as inspiration.
TooFab caught up with Berry ahead of the home video release for Season 4, where he opened up about joining the show later in the game, the letter he wrote to Heughan in character before they filmed their reunion scenes, "hijinks" on set and what he thinks of all the spinoff talk.
Just to back it up a little — how was it for you joining the show in its third season as an already beloved character from the books?
Luckily, I was ignorant to a lot of the fanbase. I knew it had a massive following, but I didn't really understand what that meant. I came into it blind, which is probably the best way because I might have been intimidated to make any creative choices and own it in any way at all. I think after I did my first episode, I felt good about what I'd done, but also very anxious about how it might be received. When something is so loved, you're kind of competing with people's already well-founded attachments to an idea of a character. It's very intimidating.
And then the show does come out and everyone's loved your portrayal. What is the fandom reception you've seen in person?
It's tremendous. There's been an extraordinary amount of love for the show, support for the actors. My interactions have been really positive and to have that feedback, that one-to-one feedback, it's something really unique and special about Outlander. Not only just at conventions and so forth, but in life, you'll mention what you do and the show that you're on, the person will say, 'Oh, Outlander! Such and such loves the show, my wife or my mother loves that show.' You suddenly see your social capital climbing among friends and family to a great degree. It's really a special, tremendous thing.
Before filming together for Season 4, I read you sent Sam a letter in character as Lord John Grey. What did you tell him and did he ever read it or respond?
The correspondence was me trying to keep a connection to the show, as well as build a history around what's happened in the interim between Season 3 and Season 4. There's a lot of untold story. Obviously, last time we see John he's in Jamaica and then all of a sudden he's in Fraser's Ridge, it's a bit of a gap to bridge. So I wanted to lay down a fictitional story of what I was doing during that time and what the relationship had been between myself and Willie and letting Sam's character in on that, because I just imagined that they would have been writing to each other during that time.
I kept my deeper feelings out of the letters and save them for when I was gonna see him [laugh]. Sam did receive them, he was appreciative, but he's a very busy man, I don't think he had time to reply. I don't think I did get a reply.
Can you also talk about the Outlander Untold scene -- a moment filmed specifically for the home video release -- between Lord John and William?
When I initially received it, I was like, what? I didn't know what it was. I think it wasn't explained to me until later on that it was going to be on the DVD. I thought it was a really cool character piece.
I think it's particularly good for the audience's understanding of Willie and what he's going through. In that episode, there's so much going on with Lord John's appearance, his return, what can get lost is the tragedy of what's occurred with William losing his mother, Isobel, and the impact it's been on his life. For William, he's about 12 years old and you come to understand what his emotional entry into that episode, perhaps why Lord John bringing William to see Jamie is so important for him at this particularly time, in his time of grieving.
People love a gag reel and I know the Season 4 release comes with one. Are there any particular moments from set that you remember just not being able to get through?
I muck up a lot, so maybe they excluded me from that gag reel to protect my own career! Sometimes I'm very unprofessional. I've watched it back and I think Sam and [Caitriona Balfe] caught most of the brunt of it. But, of course, you're working very long hours and sometimes it's very challenging material and you're also with a bunch of people that most of them are great friends, hijinks are bound to happen. I'm always happy when the camera catches it, I think every actor takes a secret pride with being on the gag reel, I'm just sorry I'm not on it more.
We talked a little about the fans earlier, but how does it make you feel as an actor to know they'd all love a Lord John spinoff? We know Diana said she'd be down, there's already a series of books to draw from and the fans want something new to watch between seasons!
I'm very flattered and chuffed that I'm part of the conversation. I think it's a credit to Diana and the character that she's created and, second of all, to the show and it's fanbase and I guess I factor in there somewhere. I'm very humbled by it. It's a really great thing to have your work affirmed and received positively like that.
"Outlander: Season Four" -- featuring "Outlander Untold" bonus scenes, a gag reel and more -- is available on Blu-ray, DVD and Digital now. Season Five is currently in production.