The franchise newcomer opens up about the importance of Asian American representation and convincing herself she's really part of the gang.
Giggle McDimples might be the tiniest member of the "Toy Story 4" family, but star Ally Maki's casting means huge things for both her career and the movie's fans.
When she confirmed her role in the film after three years of secrecy, Maki explained she was "raised" on the original movies and said her "fourteen year old little Asian American self found voice, identity and friendship" in the characters.
Speaking with TooFab, she elaborated on why it was easy to relate to a bunch of toys, how moved she is to see fans already embracing her Asian-American character and why she'll never forget her first time meeting costar Tom Hanks.
"I mean I feel like my age group was directly the age group that aligned with ['Toy Story'] One, Two, and Three," she explained. "They were so much a part of my childhood, and so much of where I learned about friendship and identity and being part of a team, and having those people you can rely and count on."
"And I think, further, being an Asian-American female, there weren't that many examples of representation in TV, film, media and magazines," she continued. "So, 'Toy Story' to me was so, so, so, so special because these characters went beyond any of that. Beyond being male or female, or anything race, gender. It was just you could see yourself in Rex, you could see yourself in Hamm. You could be RC if you wanted. You could be the aliens. I resonated with all of them on such a deep level. They were like friends and family to me."
Giggle McDimples is a Polly Pocket-type miniature, only with a lot more sass and a little less pink. She's a cop, one who helps Woody and Bo Peep on a very important mission.
"I remember the first iteration of her, the very first drawing I ever saw of her, she had a pink bow, a purple and pink dress," said Maki, who added that filmmakers surprised her when they gave Giggle a makeover and a new job.
"She's like the police chief of Mini-Opolis and that to me was just the most awesome, incredibly creative choice they could've made because it is awesome to see her in a field that is usually male-dominated and to see her take charge and be such a boss in that arena and a leader is so awesome," said Maki.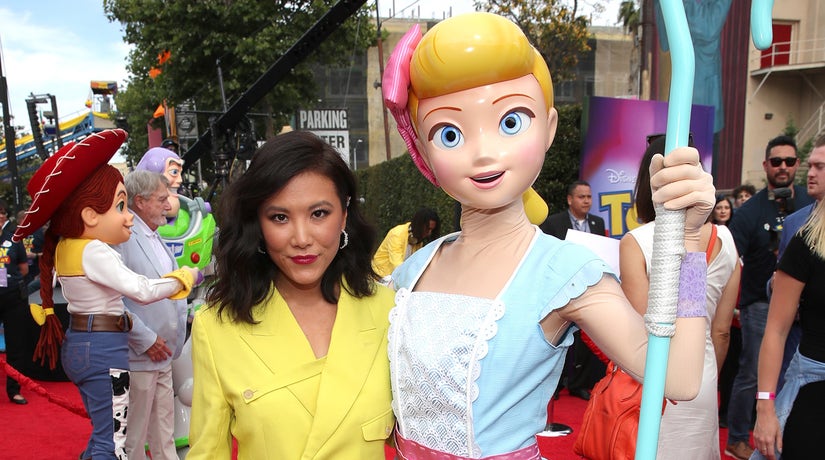 Getty
Not only will other Asian-American kids see themselves represented on screen, but in toy stores as well, something Maki didn't see a lot of herself growing up.
"It's absolutely crazy. I see these young girls who are resonating with the character and having the Giggle plush, that is the greatest joy of this whole entire process for me," she continued. "I imagine if I was 10 years old, and I had a Giggle McDimple toy, how much that would've shaped who I was as a little kid, of knowing what my voice could be, or what I could do in the world. And how big I could be, and how much fun I could have. I only imagine and these little girls are going to grow up to be strong role models for everyone."
With Giggle, Maki also said the part does break her free from Asian-American stereotypes she's seen in the past. As her resume continues to grow, the actress said she's starting to see less stereotypical roles in general ... while also being pickier about what she accepts.
"It's a mix of both," she explained. "A lot of it, especially I think in my community with Asian-Americans, a lot of it was our own internal beliefs that we were believing. That we couldn't play theses certain characters because they had been so pushed away from us throughout our whole lives. So I think the main thing I learned, especially from doing 'Wrecked,' was that that was a role that I never thought I could play and so when I booked that I thought, 'Wow, that's amazing.'"
When taking on new roles, she said she thinks to herself, "How will this push everything forward? How will this move culture forward and show what women can do, what Asian-American female can do?"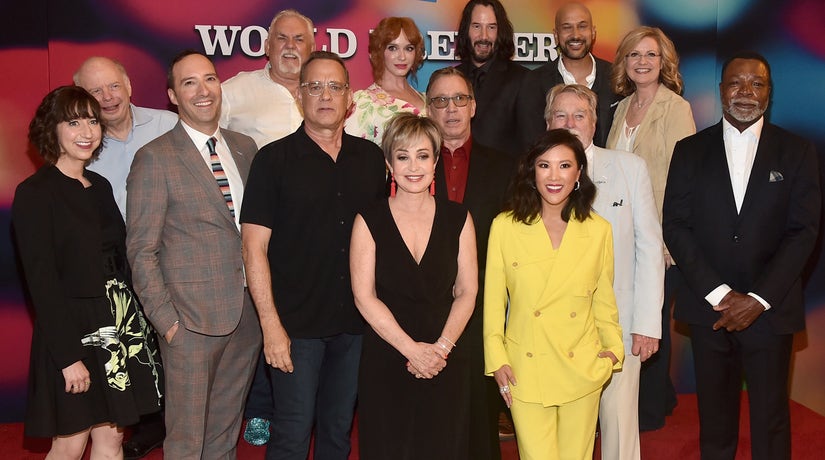 Getty
With "Toy Story," signing on meant joining a class of superstars, including franchise veterans Hanks, Tim Allen, Joan Cusack and fellow newcomers like Keanu Reeves, Christina Hendricks and Jordan Peele. And when it came time to meet Hanks, she couldn't have been caught more off guard.
"I was going into one of the sessions and they were like, we're gonna do a little bit of like [behind the scenes] on this one, so we're gonna get your hair and makeup done when you get here," explained Maki, who said she would up running late that day and ran into the studio in "the nastiest bun you'll ever see," sweatpants and an oversized jacket.
"Of course, that day I had like a giant pimple, a stress pimple on the side of my face," Ally continued. "So I'm walking into the Disney studio and they're like, 'Come on, Tom's just coming right down' and I'm like, 'Tom? In three years of being here, I don't remember any Tom.'"
That Tom, of course, was Hanks.
"You hear his footsteps and a big boisterous 'Hey!' and I'm like, it's happening right now and the first thing I thought was, 'Hide the giant pimple on the side of your face!" she exclaimed. "It was the perfect way it could have happened, because it was like a 14-year-old awkward kid meeting their idol, meeting Woody for the first time. It was exactly perfect, how it should be."
Waiting for your permission to load the Instagram Media.
Now that the whole cast has finally spent some time together after recording most of their voice-work separately, Maki said it still took her a minute to realize she was one of them and no longer just a fan. Recalling a press day a little while back, she said taking a group photo with everyone was "something that happened in my life that I will never forget."
"I mean, my glam team actually had to remind me like, 'Hey so um... you know you're in the movie right? Like you don't have to act like a fangirl,'" she explained. "I truly thought like I was doing the photos and they were like, 'Ally its your turn!' I was like the fangirl that like won this amazing prize to be part of the cast for the day.'"
"I think I just kind of froze in my own body," she recalled, "And then after, as I was driving home I was like, no that happened, Like that was real!"
Hear Ally in action when "Toy Story 4" -- which she said made her cry only "8 to 10 times" -- hits theaters this weekend.