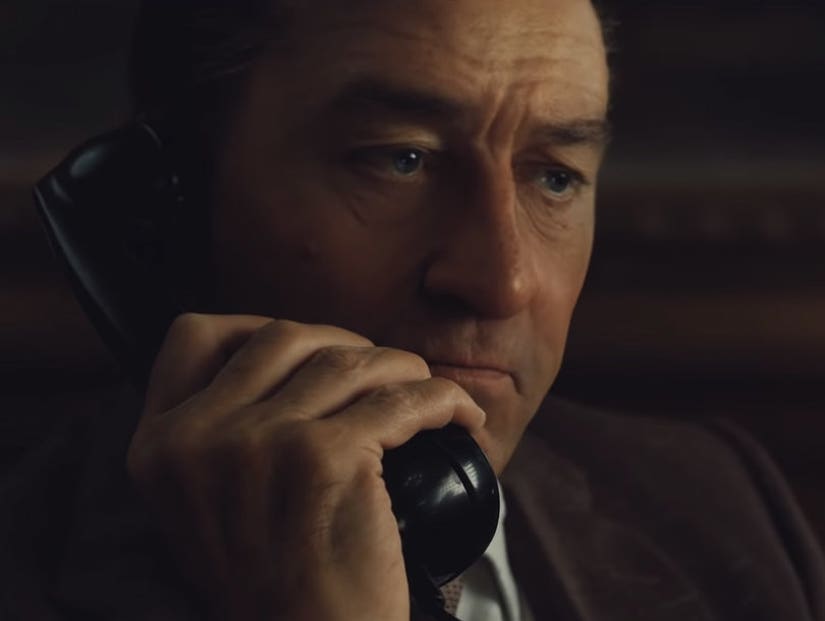 Netflix
"The Irishman" promises classic Scorsese gangster gore and drama in thrilling new trailer.
Robert De Niro famously played the younger version of Marlon Brando in "The Godfather Part II" -- but for his latest gangster flick the legendary actor does all of his own youthful scenes with the help of some de-aging technology.
Netflix just dropped the trailer for "The Irishman" directed by Oscar winner Martin Scorsese and it has everything you'd expect from a signature Scorsese gangster flick: bullets, blood and a star studded cast including De Niro, Al Pacino, Joe Pesci, Anna Paquin, Ray Romano and Harvey Keitel, among others.
In addition to what looks like award worthy performances, a little Hollywood magic has been thrown into the mix with phenomenal de-aging technology, allowing De Niro and his costars to volley between their present and younger selves for believable story telling.
Watching the trailer's shadow cloaked scenes, dramatic camera angles, spot-on period costumes and set design it's no surprise the two-minute teaser has already started simmering whispers of Oscar contention. Albeit a bit morbid, it's almost comforting to see the trio of academy award winners, De Niro, Pesci and Pacino, on screen together gunning people down, destroying evidence and figuring out how to take care of business without government meddling.
The streaming service has described the movie as, "an epic saga of organized crime in post-war America told through the eyes of World War II veteran Frank Sheeran (played by De Niro), a hustler and hit man who worked alongside some of the most notorious figures of the 20th Century."
With a reported $200 million budget, Netflix is betting big on the film, adapted from the 2003 book "I Heard You Paint Houses" by Charles Brandt.
"The Irishman" will make its world premiere at the 2019 New York Film Festival as the opening night selection. It will drop on Netflix and hit select theaters this fall.