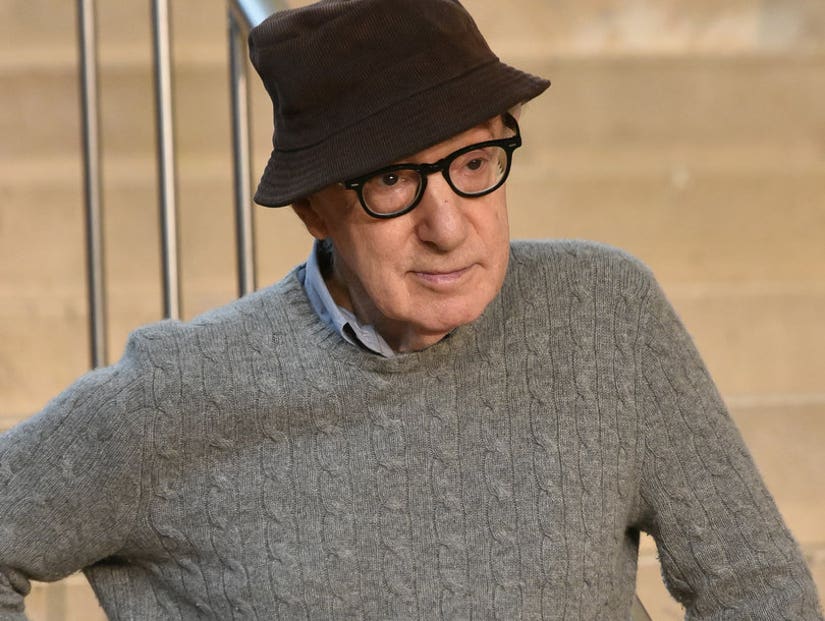 Getty
The filmmaker still believes he should be the "poster boy" for the MeToo movement.
Woody Allen championed every cause important to the #MeToo movement before it was even a movement, at least according to the director himself.
While promoting his new film "A Rainy Day in New York" ahead of its French premiere, the controversial filmmaker was asked this week if he regretted saying in 2018 he "should be the poster boy for the #MeToo movement" in response to renewed allegations of sexual abuse from adopted daughter Dylan Farrow .
Allen's response: "No, I should be. Not at all."
"I've worked with hundreds of actresses, not one of them has ever complained about me; not a single complaint," he continued, according to France 24. "I've employed women in the top capacity for years and we've always paid them the equal of men."
"I've done everything the MeToo movement would love to achieve," Allen concluded.
Allen's multi-film deal with Amazon crumbled in 2018 amid the renewed allegations from Farrow, and his comments about the #MeToo movement were cited by the streaming company in their termination of his contract. The legendary director hit back with a $68 million lawsuit.
Farrow's allegations stem back to 1992, when she was seven years old, amid a custody battle between her mother Mia Farrow and Allen. Two official investigations were launched following the allegations, which Allen has denied repeatedly, but no charges were ever brought upon the filmmaker.
"This is something that has been thoroughly looked at 25 years ago by all the authorities and everybody came to the conclusion that it was untrue," Allen said in an interview on Argentinian TV in 2018. "And that was the end, and I've gone on with my life. For it to come back now, it's a terrible thing to accuse a person of. I'm a man with a family and my own children. Everyone wants justice to be done. If there is something like the #MeToo movement now, you root for them. You want them to bring to justice these terrible harassers, these people who do all these terrible things. And I think that's a good thing."
The director and writer's comments during his French press tour for "A Rainy Day in New York" came after Dylan Farrow reacted to statements made by long-time Allen collaborator Scarlett Johansson . The actress defended the auteur, saying she believed him despite Farrow's decades old allegation.
"If we've learned anything from the past two years it's that you definitely should believe male predators who 'maintain their innocence' without question," Farrow tweeted. "Scarlett has a long way to go in understanding the issue she claims to champion."
(And my apologies in advance for disrupting her google alerts again)

@RealDylanFarrow
"How do I feel about Woody Allen?" Johansson asked herself during an interview with THR published Wednesday, she then answered, "I love Woody. I believe him, and I would work with him anytime."
Allen directed Johansson in 2005's "Match Point," 2006's "Scoop" and 2008's "Vicky Cristina Barcelona." The "Avengers: Endgame" star said she sees Allen "whenever [she] can."
"I have had a lot of conversations with him about it," Johansson said. "I have been very direct with him, and he's very direct with me. He maintains his innocence, and I believe him."
When asked if her position seems dangerous to have in today's #MeToo environment, Johansson replied, "It's hard because it's a time where people are very fired up, and understandably. Things needed to be stirred up, and so people have a lot of passion and a lot of strong feelings and are angry, and rightfully so. It's an intense time."