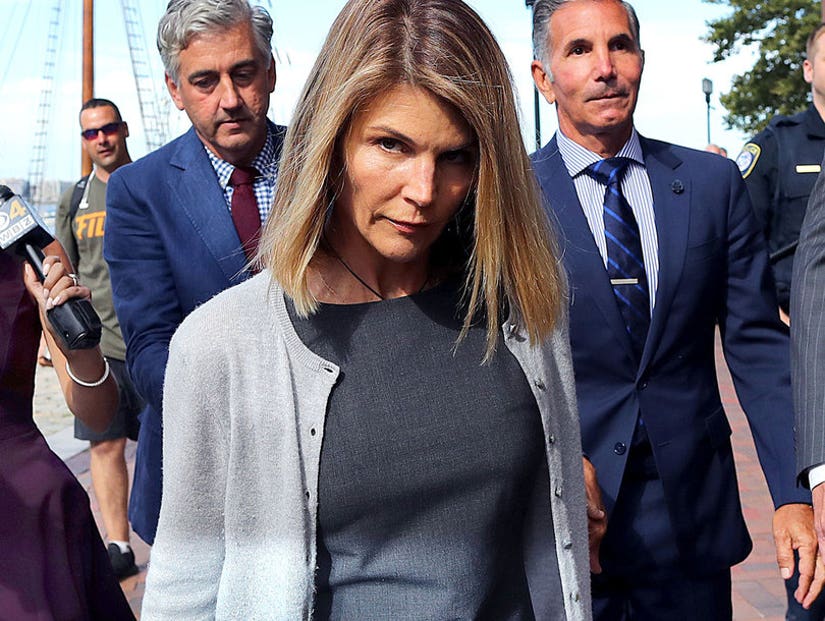 Getty
She and husband Mossimo Giannulli are sticking by their guns.
If she didn't plead guilty with a possible 20 years in jail, she sure wasn't pleading guilty with 50.
Lori Loughlin has refused to switch her plea against the third round of charges brought against her in the wake of what has been dubbed Operation Varsity Blues.
The actress, along with her husband Mossimo Giannulli, entered on Friday morning a plea of not guilty to the latest charge of federal bribery.
The couple are among the dwindling number of accused who are continuing to fight against the charges in the college admission scandal.
They are part of the group of 33 affluent parents originally accused of using Rick Singer's "side door" into elite colleges, who either allegedly paid to have test scores altered, have fake athletic profiles set up, or both.
When the story first broke in March, the pair were accused of conspiracy to commit mail fraud and honest services mail fraud, crimes that carry a maximum sentence of 20 years.
When they pleaded not guilty, extra charges of conspiracy to commit money laundering were tacked on, doubling the max penalty to 40 years.
Earlier this month, four other parents decided to switch their plea to guilty, but not Loughlin and Giannulli. Further charges of federal programs bribery were then added to the list, bringing Loughlin and Giannulli's potential punishment to 50 years behind bars.
The prosecutors strategy was recently described as "shameless coercion" by University of Chicago Law School emeritus professor Albert Alschuler.
"It's distressing that the Operation Varsity Blues defendants have been subjected to such unconscionable leverage, but in a sense it's good that the Boston prosecutors are so shameless," he told TooFab.
"Those monsters have no idea they are monsters, and they have no qualms about openly coercing guilty pleas even in this high-profile case. How much more time will Lori Loughlin get than Felicity Huffman if she sticks to her guns and is convicted?"
Felicity pled guilty to conspiracy to commit mail fraud and honest services mail fraud, admitting she paid $15k to have her daughter's SAT scores secretly corrected.
She served 11 of the 14 days in prison she was sentenced to. She was also ordered to pay a $30,000 fine and serve 250 hours of community service.
Lori and Mossimo meanwhile are accused of having fake crew profiles for both daughters set up to gain admission to USC, even though neither rowed competitively.
On Friday they also requested to waive their need to appear in court to be arraigned on the new bribery charge later this month.