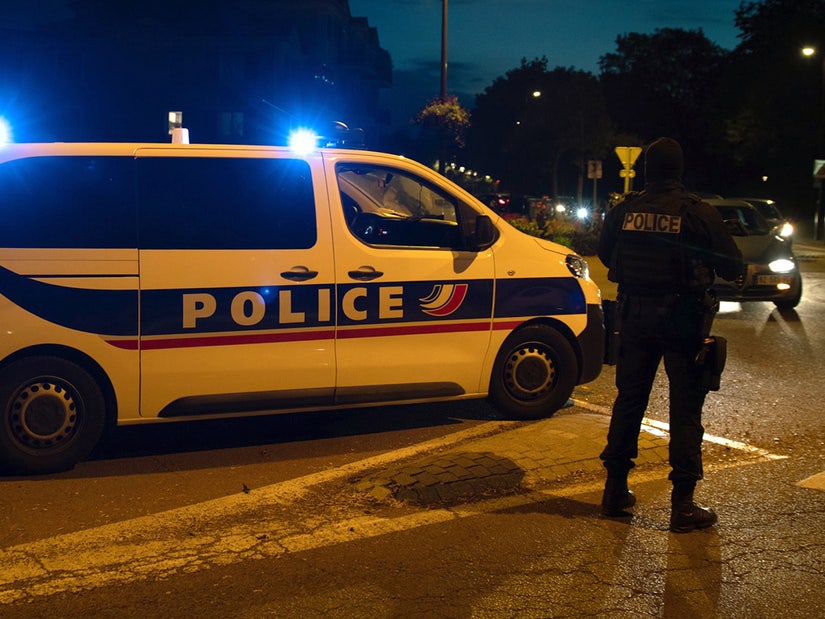 Getty
The 13-year-old wasn't even in school the day she was supposedly suspended for objecting to a cartoon of the Prophet Muhammad.
A French schoolgirl has admitted to making up a lie that got her teacher beheaded ten days later.
Samuel Paty was decapitated outside his school by an 18-year-old man in October, after one of his students was supposedly suspended for objecting to him showing cartoons of the Prophet Muhammad.
But it has now emerged the 13-year-old was not even in school on the day he supposedly kicked Muslims out of his class so he could show "a photograph of the Prophet naked."
The girl's lawyer Mbeko Tabula said she was off sick the day in question.
"She lied because she felt trapped in a spiral because her classmates had asked her to be a spokesperson," he told AFP.
But according to Le Parisien, the girl had actually been suspended the day before for repeatedly skipping class; she admitted inventing the lie to hide the truth from her father.
"She would not have dared to confess to her father the real reasons for her exclusion shortly before the tragedy, which was in fact linked to her bad behavior," the paper reported.
The furious father ignited a hate campaign against the 47-year-old history and geography teacher and filed a legal complaint, even prompting condemnation from Muslim countries.
Ten days later he was murdered by an 18-year-old Chechen man, Abdullakh Anzoro, who was subsequently shot dead by police.
The girl was charged with slander, and her father arrested for being a "complicity in a terrorist killing," the Independent reported.
It emerged after the murder that what had actually happened was Paty, as he had done in similar lessons on free speech before, had warned students he was about to show a depiction of the Prophet Muhammad, and that any student who might be offended could close their eyes.
The victim's family claim the girl's family knew she hadn't been in class that day, and the real reason why.
"So to come and say now, sorry, I believed my daughter's lies, that's really weak," their lawyer Virginie Le Roy told RTL radio.
original story 10/16/2020 2:16 PM
A teacher has been decapitated outside his school near Paris, according to authorities.
French police responded to the suspected terrorist incident in Conflans-Sainte-Honorine on Friday, after witnesses claimed a man had hacked off the victim's head with a kitchen knife in broad daylight.
The suspect threatened police before fleeing the scene; he was chased to the nearby town of Eragny-sur-Oise.
There police claim he continued to threaten with a gun and refused to surrender; believing he may have been wearing an explosive vest, a bomb squad was also scrambled.
After he refused to drop his weapons, officers shot him dead. A rifle and knife were found alongside the body.
Sources told Le Parisien that the victim was a history teacher, who just a few days earlier had shown caricatures of the Prophet Muhammad to his students during a course on freedom of expression.
The publication said the suspect was just 18 years old, and of Chechen origin. He had allegedly posted a gruesome video of the severed head right before the fatal confrontation with police.
It was also reported he tweeted: "To Macron, the leader of the infidels, I executed one of your hellhounds who dared to belittle Muhammad".
Witnesses said he shouted "Allahu Akbar" — Arabic for God is great — before being shot dead.
In 2015, 12 people were killed when two gunmen opened fire at the offices of satirical newspaper Charlie Hebdo, over its publication of cartoons of Mohammed — considered blasphemy punishable by death by Islamic extremists.
After Friday's attack the publication — which is now based at a secret location for safety reasons — condemned the "horrific and revolting" act, in which "a teacher was murdered for exercising his profession by a religious fanatic".