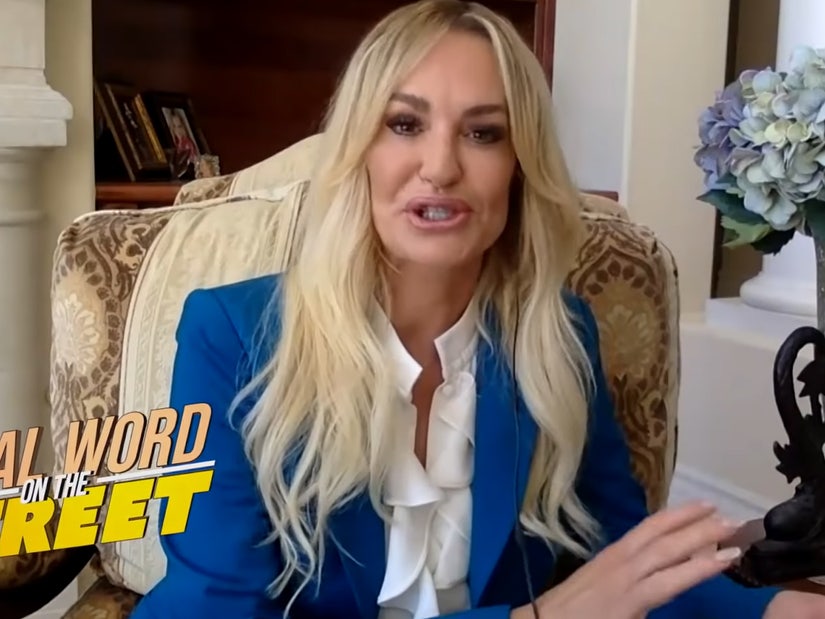 Bravo
Armstrong says she would have been a better reality star if she "didn't have to go home to so much stress and anxiety."
Armstrong revealed that her daughter Kennedy is 15 now, meaning she has "good days and bad days" with the teenager. She also touched on the fallout between former costars Kyle Richards and Lisa Vanderpump -- saying it was "heartbreaking" to watch and something which really "surprised" her to see.
"I never thought that would happen," she said of all the women teaming up against LVP, before refusing to pick sides herself.
Looking back at her time on the show, she said the one thing she would change about her past was, "of course, not being in an abusive relationship." Taylor was married to Russell Armstrong while on the show and claimed he was both physically and verbally abusive toward her. After the allegations went public and she filed for divorce, he committed suicide.
"If I would have had a support system at home, I would have been a lot better, a lot more controversial on the show between the cast members if I didn't have to go home to so much stress and anxiety," Taylor told Cohen. "Living that while you're filming and then going home ... I wish I would have had a Kyle or a Ken to go home to."
Taylor has been happily married to John Bluher since 2014.
While on WWHL, she also reacted to the now-infamous cat meme involving one of her more serious moments on the show. She said it's been "so strange" to see that take on a life of its own -- and added she even had a phone conversation with the cat. "Kyle and I just laugh," she added, "I did 2 interviews about it yesterday and I don't think it's ever gonna end."
Cohen also asked her the last time she spoke with Brandi Glanville -- "Never and thank you" -- Kim Richards -- "Not since we stopped filming and again, thank you for that" -- and Camille Grammer, with whom she is still in contact. She added that she still speaks with Kyle and Adrienne Maloof as well. When asked who would consider a return to their shows, Armstrong also raised her hand.
Other tidbits from the episode:
- Gretchen said she and Slade Smiley are "content in our current arrangement" and don't really plan on getting married. She would also return to RHOC, if the money and fellow cast members were right.
- Jill doesn't think she and Bethenny Frankel will ever mend fences and said her biggest regret on the show was not hashing things out with her former costar at Ramona's apartment when she had the chance. They last spoke right after Bobby's funeral, which viewers saw on the show. She'd consider a return in a friend capacity.
- Phaedra said "resolution is always possible" when it comes to making up with Kandi Burruss. She also didn't feel the ned to "clear up anything" when given the chance.
- Jacqueline said her autistic son is "doing really well" now and said he's gone from not really speaking to singing complete Frank Sinatra songs. When asked if she and Teresa Giudice could ever be friends again, she said, "Do I want to? Not really. I never say never, because you don't know what's gonna happen."
- Adriana said she was "newly single and ready to mingle" after separating from her husband Frederic in 2020. She also added that she was probably the "thirstiest" in the cast when it comes to wanting to return to the spotlight.