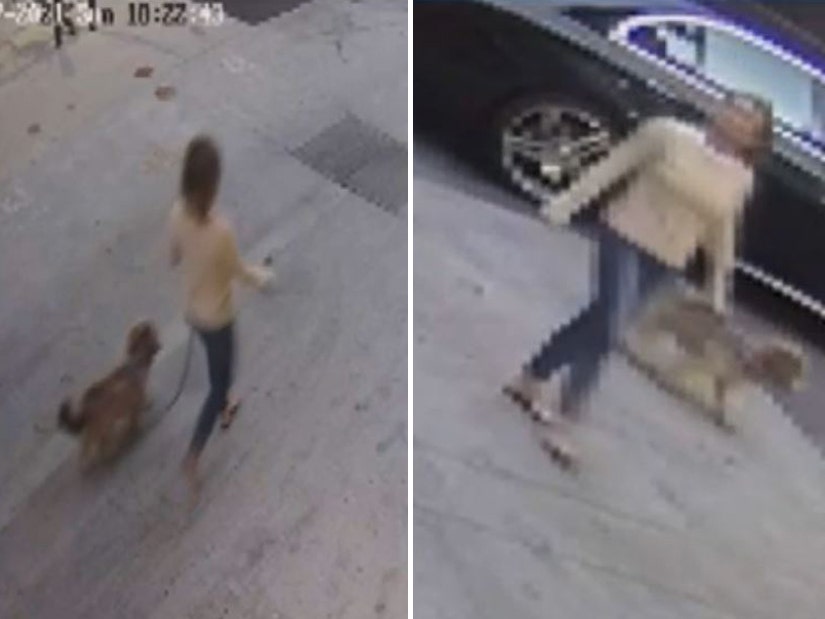 CBS LA
Meanwhile custody court documents reveal a history of "psychotic episodes".
update 11/17/2021 1:23 PM
New footage has emerged of Heidi Planck walking her dog past the Hope and Flower Building in downtown LA -- less than one hour before her pet mysteriously turned up alone on the 28th floor.
The security video, obtained by CBS LA, shows the 38-year-old with her pet, Seven, in the alleyway behind the apartment building.
Friends of the missing mom have been poring over the tape looking for clues -- and believe they found some.
"Her dog didn't get downtown on her own," one told the outlet. "So, this video has just kind of given us confirmation that hovering around that area these last three weeks has been the right place to be. Now we know for a fact that she was down there. That's the first real evidence we have of that."
"It strikes me that she doesn't have her purse," another friend, Natalie John, pointed out. "If you look closely, she has a mask in her right hand, the dog is walking with her, he's wagging his tail."
"So, I think that the mask definitely suggests that she's going into a building or an intent to go into a building of some sort."
A third friend added: "If she was heading back to that building, how did she get back in. If it's such a secure building and she had nothing on her, how did she get back in."
A fourth friend, Danielle Nadolny, urged any witnesses to come forward.
"With the short span of time between the video and the dog being found, it just seems like that may have been the last place somebody's seen her."
Meanwhile, it has emerged that Planck previously suffered a number of "psychotic episodes," according to custody documents obtained by Daily Mail.
Back in 2015, as Planck and her ex husband Jim Wayne were battling for custody of their then-four-year-old son, he claimed she once trashed the boy's bedroom before jumping out of the window and climbing onto neighbors' roofs semi-naked, turning an electrical circuit breaker on and off.
He said this happened after he had to come and collect her from a Rite Aid because she said it was "too intense," and that she repeatedly tried to feed him a plate of bacon as he drove her home.
According to the court papers, two days later she checked herself into a psychiatric facility, but on her second day there she called her husband and asked to be taken home, because the facility was "scary" and "they are molesting me."
Wayne claims in the papers she also questioned why she had a C-section scar, and was in denial she had a child.
Wayne also stated in the papers that his wife was addicted to painkillers, and that he feared their son was at "immediate risk of harm."
The former couple shared custody from 2017, but Wayne was granted full custody upon Planck's recent disappearance.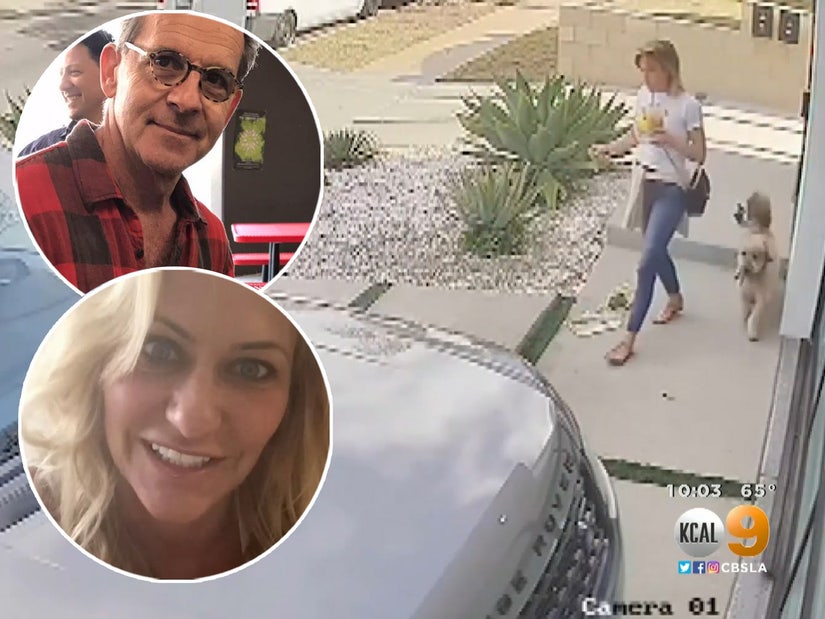 KCAL/Facebook
Jim Wayne (pictured, above) believes his ex-wife's mysterious disappearance may be connected to her job.
He told Fox News he received a phone call from a Securities and Exchange Commission (SEC) official on October 21, the day after Planck failed to pick her son up from school.
He said the investigator quizzed him about her boss Jason Sugarman, a managing partner at her firm Camden Capital, who is charged in a $43million fraud scheme.
"I don't know how she got my name and I don't know how she got my number, but she called me and started asking me questions about Sugarman," he said. "Something's dirty here."
Planck, a controller and executive assistant, had told family and friends that the company had "some tax filings that were due" and had complained that "her boss has her name on so much of their corporate paperwork," according to Wayne.
He said investigators have since confiscated whatever electronic devices belonging to her they could find — as well as their son's phone.
Wayne said that to his knowledge, his ex-wife had no connection to the apartment building where her dog was found.
He confirmed the owners "weren't being very collaborative" with police initially, but have since begun cooperating after a warrant was obtained.
Wayne himself searched its parking garage, but could not find Planck's car there
"It's an enormous building," he said. "So, I'm just, I'm totally bewildered by this. This is completely puzzling why we haven't found out anything."
Wayne said the former couple's son turns 11 on Tuesday and wants his mom there for his birthday.
"The poor kid, man," he said. "He just needs to know what the hell happened to his mom. And he's going to have to have some kind of closure somewhere."
A Los Angeles mom who vanished during half-time of her son's football game has not been seen for more than two weeks.
Heidi Planck suddenly ran out on her 10-year-old's game in Downey without warning on October 17, taking her dog with her. In a bizarre twist, the dog turned up hours later on the 28th floor of an apartment building in Downtown LA, 12 miles from her home.
Security footage from Planck's home in Reynier Village shows her leaving to head to the game on the morning of the 17th, with her dog, Seven. Police have not been able to locate her silver Range Rover, her purse, phone or personal computer.
Planck's concerned friends told CBS2 that the building management has so far refused to cooperate with police; they will not allow a search of the parking garage or release security tapes without a warrant.
"It seems to us that everything stems from that building where her dog was found," one friend said.
Planck's ex-husband Jim Wayne told the broadcaster she appeared "distracted" at the game. When she didn't turn up to pick up their son Bond at school on October 20, a missing persons report was filed.
"If you have seen anything, anything at all, we have a 10-year-old boy at home who's looking for his mom," Wayne told the broadcaster. "And we need to find his mom. People don't just disappear."
"For him not to have heard from his mother for this long — something is seriously wrong."
The little boy shared the final text her sent to his mother after she disappeared: "Where are you?"
"I said 'can you please call me back? You haven't called me back two days in a row.'"
Planck's friends confirmed she is an attentive and devoted mother who would not just disappear of her own volition.
On Friday night, police obtained a warrant to search Planck's home; footage shows several federal investigators and agents from LAPD Robbery and Homicide division enter the house with guns drawn, with sources telling CBS2 they expected to find a dead body.
No body was found; however agents did thoroughly search the home, and left with several files and documents.
Another possible facet to the investigation is Planck's employer: according to her LinkedIn page, she works as a Controller for Camden Capital, which is under a federal securities investigation for possible fraud charges.
According to the LA Times Jason Sugarman, a managing partner at the firm, was charged in 2019 for his alleged part in a scheme that defrauded investors to the tune of $43million. His business partner Jason Galanis was sentenced to 189 months in prison the following year for the same scheme.
Per the publication, Sugarman is a minority owner of LAFC and son-in-law of Hollywood mogul Peter Guber, who in turn is also a part owner of LAFC, as well as the Golden State Warriors and LA Dodgers.
Planck is described as white, 5'3" tall and weighs about 120 pounds, with blond hair and blue eyes.
She was last seen wearing jeans and a gray sweater driving a 2017 gray Range Rover with a black-and-yellow California license plate of U840X0.