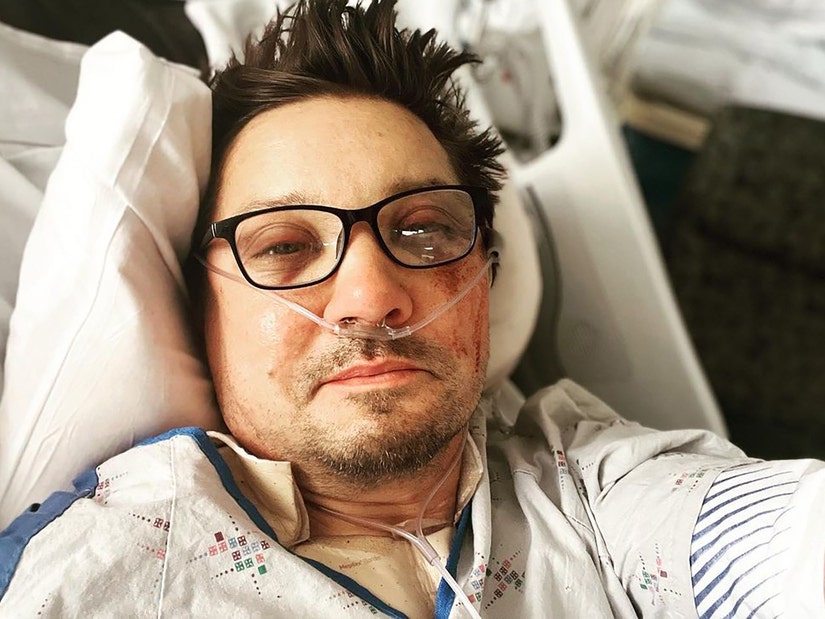 Instagram
He thanked fans for their support.
update at 3:30pm PT on 1/3/23
Jeremy Renner just updated fans from the hospital, sharing a selfie from his bed showing off his scratched up face.
"Thank you all for your kind words. 🙏. Im too messed up now to type. But I send love to you all," he captioned the photo (above).
Earlier in the day, his rep confirmed that the actor was "moving snow from his driveway on Sunday so that his family members could depart his home after spending New Years together" when the accident happened.
"He was also helping clear out the snow of his neighbor's home as everyone up there had been without power for 24 hours and there had been a large snowfall," added his rep. "So he was helping everyone in trying to clear out the snow so people could get out."
update 1/3/2023 1:11 am pt
Mark Ruffalo took to Instagram on Monday to ask Marvel fans for prayers after "Avengers" co-star Jeremy Renner's snow plowing accident.
Posting to his Instagram Stories, Ruffalo shared a news report about Renner's accident, adding the caption, "Prayers up for our brother on a full and speedy recovery. Please send healing goodness his way."
James Gunn shared a similar sentiment, tweeting, "My heart is with @JeremyRenner," followed by a praying hands emoji.
According to TMZ, Renner suffered blunt chest trauma and orthopedic injuries in the accident. The actor underwent surgery and is currently listed in critical but stable condition.
original story 1/2/2023 7:42 am pt
Jeremy Renner was hospitalized on New Year's Day following an accident involving a snow plow.
"As of now, we can confirm Jeremy is in critical but stable condition with injuries suffered after experiencing a weather related accident while plowing snow earlier today," his rep said in a statement.
"His family is with him and he is receiving excellent care," the statement concluded.
"Upon arrival, deputies coordinated with Truckee Meadows Fire Protection District and REMSA Health to arrange for medical transport of Mr. Jeremy Renner via care flight to a local area hospital," said officials. "Mr. Renner was the only involved party in the incident."
"The Washoe County Sheriff's Office Major Accident Investigation Team is currently looking into the circumstances of the incident."
No other details were made immediately available, though TMZ reported Renner's Snowcat ran over one of his legs and he was losing a lot of blood from the injury. A neighbor put a tourniquet on his leg until paramedics arrived and took him away via helicopter.
Renner often shows off the snowy conditions around his home on social media. A few videos posted to his Holiday archive in the last two weeks show him driving a plow around his property with the captions, "Pave new paths. Holiday adventures," "Who is excited for the Holidays?" and "Nearly done with sledding hill for the kids."